Pollinators may seem to be simply the hummingbirds, bees, and butterflies that appear suddenly in a garden, visiting briefly and then disappearing again to do whatever it is they do outside of our daily lives. However, pollinators are much more. They are a vital link in human wellness – critical to our food systems and natural ecologies – while also deepening the sensual quality of our homes, gardens, and cities. They touch our lives in ways unseen, but also in ways that are remarkably present. In a changing world, pollinators are increasingly valuable in bringing people back into cities and helping people thrive in dense urban environments.
A Vital Link to Life and Human Wellness
Generating ecosystems and bringing substantial benefits to our health and the economy, pollinators are a vital link in life. They naturally interact with flowering plants, supporting agriculture and food systems around the world.
Honey bees pollinate about $10 billion worth of crops in the United States each year. However, of all the crops that make up most of the world's food supply, only 15% are pollinated by domestic bees, while at least 80% are pollinated by wild bees and other wildlife.
Pollinators are declining due to habitat loss and fragmentation, pesticides, and the impacts of pollution. Estimates suggest that more than 40 percent of insect pollinators — primarily native bees — are highly threatened. Without pollinators, we would not have the abundance we enjoy in our kitchens, gardens, parks, or natural areas.
If pollinators are the invisible infrastructure for plant reproduction, urban vibrancy is the secret sauce of cities.
Urban vibrancy is the buzz, vitality, and creative energy that propels economic growth and cultural achievement in our highest density areas of human habitation. This vitality is evident through many factors, but most commonly through the importance of physical diversity in the built environment.
Jane Jacobs highlights the key factors to creating vibrancy in urban areas: the contribution of multi-functional districts, small-scale blocks, diversity of uses, age and form, intensity of use, and overall density. These factors, along with quirkiness and variety of urban forms, nurture a stimulating and energizing urban character.
The same also applies to vibrancy in nature. Richly biodiverse natural areas have spaces that come alive at different times of day and night, corridors and plant communities that promote interaction between different species and individuals, a range of mature and emergent plant species, and a density of plant communities to support high levels of life.
This overlap is not surprising. Humans are natural beings with a preference for what E.O. Wilson coined as biophilic experiences. Vibrant cities naturally echo the qualities of richness, diversity, and stimulation afforded in healthy ecosystems.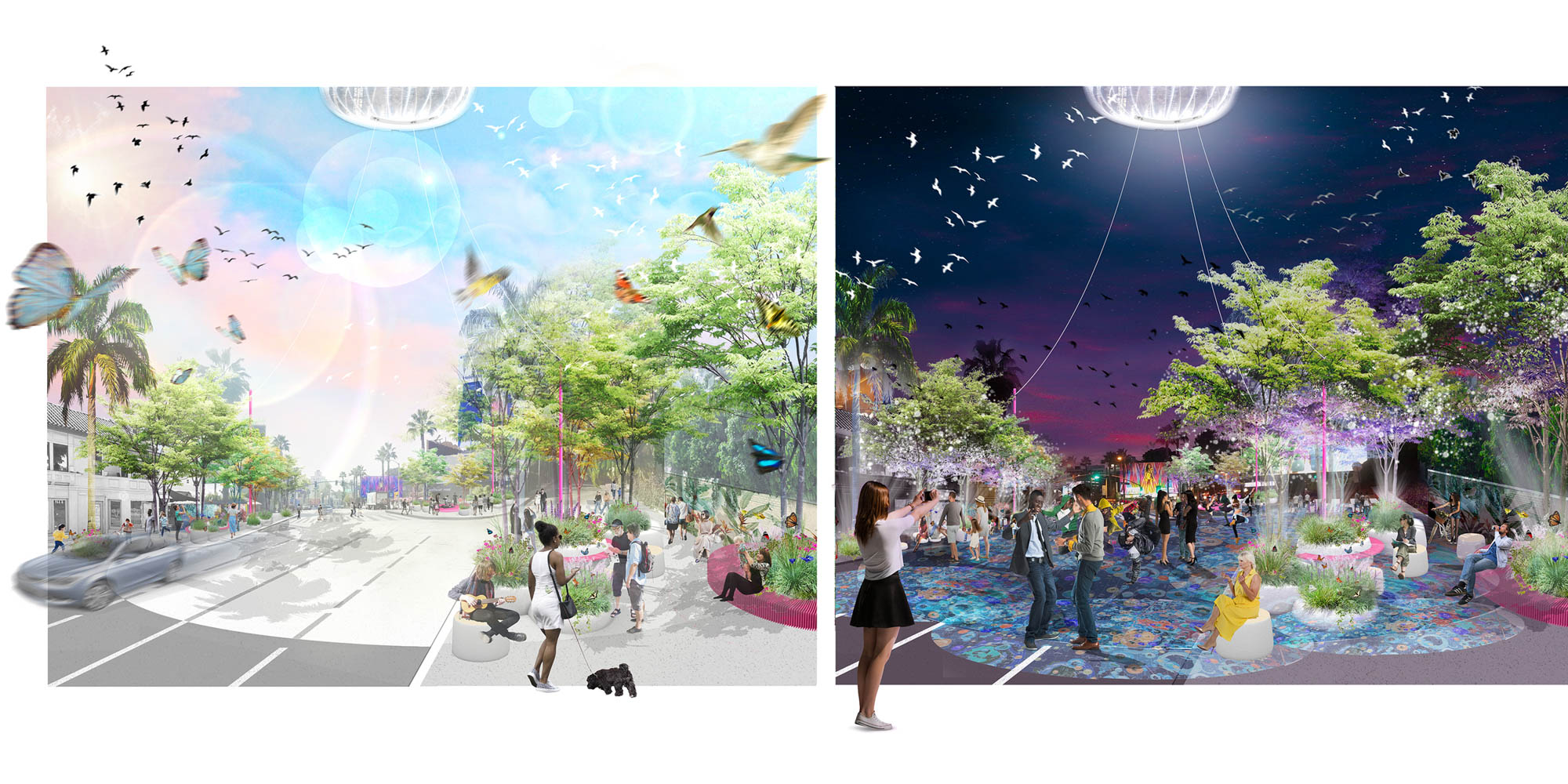 What is the Future of Cities?
However, the COVID-19 crisis has put a new focus on urban vibrancy by casting light on the perceived challenges of density, posing a "new" death of the city. This "death" is directly linked to the sudden loss of urban vibrancy due to the massive public health crisis. During the pandemic, trends in densification paused or even reversed as people who had the ability moved from major urban metro areas to find open space, cheaper housing, and better quality of life. In some cases, they sought refuge in nearby suburbs, while in other cases, entirely new regions of the country. Whether this shift is temporary, or a more permanent migration remains an open discussion.
To curb the exodus, cities need to engage in fighting back against the challenges that have been exposed. COVID-19 highlighted in stark relief pre-existing themes of high-cost and space restrictions, and boiled over with job losses, deprivation of social infrastructure, and the need to work from home, all of which changed people's perceptions of their urban space.
The spectacle of the city became eerie rather than vibrant, and the community's perception of space changed. Many people gained a new flexibility to work from anywhere and an opportunity presented itself to reduce costs, expand space, and reconnect with nature. It can be argued that major cities have become competitively disadvantaged, while emergent micro-urban or second-tier growth cities have become en-vogue as perceived refuges for a better life.
Austin, Texas, and Nashville, Tennessee are trendy growing metro areas. Bozeman, Montana now graces the op-ed section of the New York Times, and Boise, Idaho features one of the hottest housing markets in the country. While some of these trends predated COVID-19 – with causes ranging from cost-of-living to state taxes to weather preferences – the pandemic dramatically fueled this transition.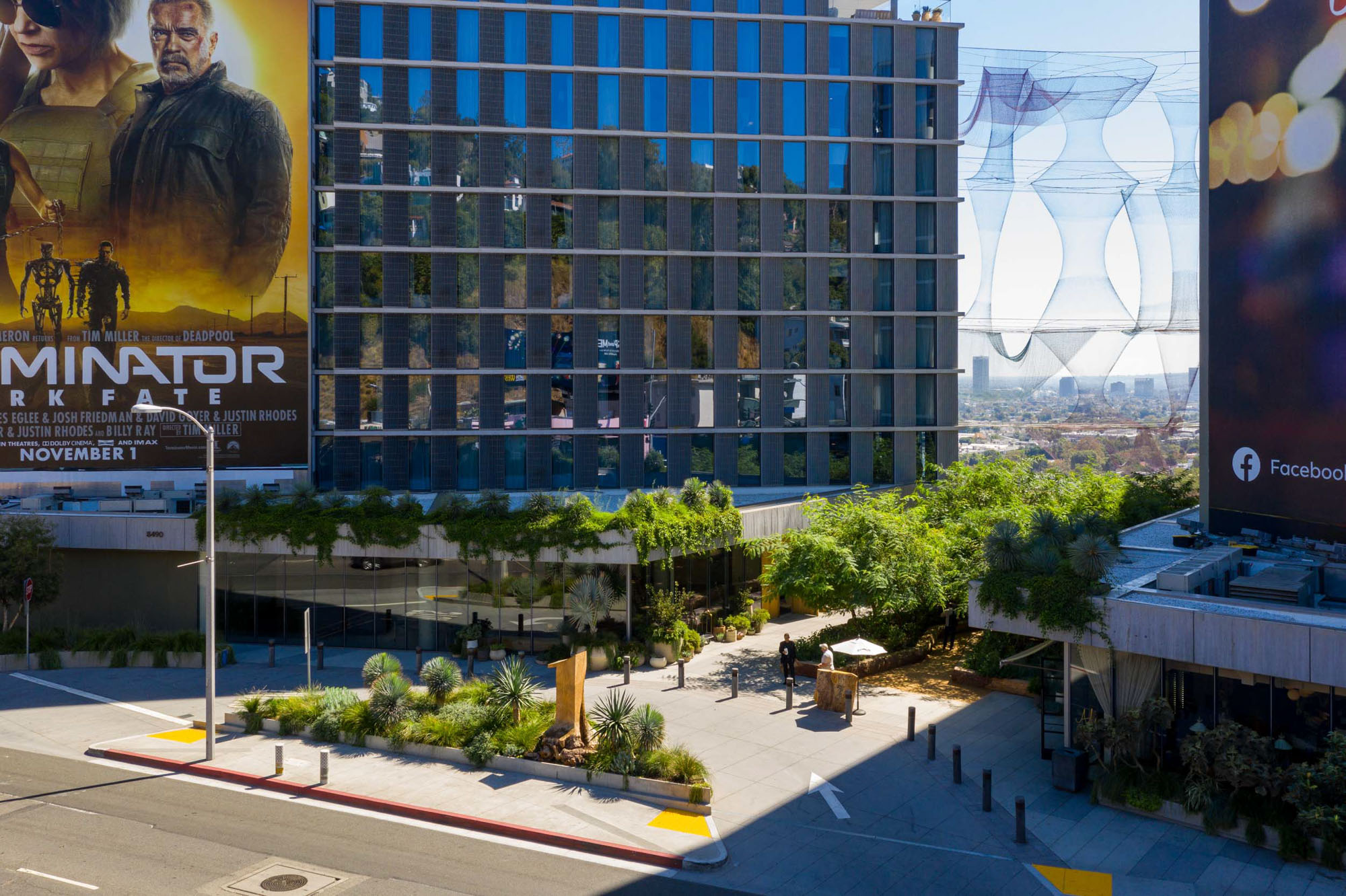 If the trends are correct, what can cities do to renew themselves, function better and compete more thoroughly? What lessons can be gleaned from the places witnessing unprecedented growth? And how can these emerging areas preserve the qualities that make them so attractive in the first place?
While there is a lot to unpack there, including how socio-economic reform and political interventions are key to re-attract people to cities, refocusing on quality of life, connection to nature, and overall wellness are important outcomes. The pandemic has underscored the need for healthy ecosystems to protect human wellbeing. It has also spotlighted people's desire to be closer to nature.
Cities need to become greener places where people can feel more connected to nature. Doing so will not only improve urban environmental quality, but also boost urban vibrancy.
The Role of Pollinators in Vibrancy of the City
Pollinators and cities face many challenges. We see a role for pollinators to play a critical part in enhancing the vibrancy of a city and advocate to save pollinators as essential ecosystem links.
Inherently, pollination is a spectacle and pollinators contribute to the spectacle of the city. Pollination is defined by displays of exuberance and a wealth of fecundity and wellness. Flowers tempt bees, bats, butterflies, moths, flies, and countless other insects that are less visible or charismatic, soar, climb, and practically dance for nectar and pollen.
Through their effusive efforts, bright and delicious fruits, vegetables, seed pods, and future flowers are created, providing critical vitality to our lives. This liveliness also enhances architecture, gardens, buildings, and regions.
The National Cherry Blossom Festival in Washington, D.C., drives enormous economic impacts through tourism. It captivates the nation and enhances community life as neighbors and residents mingle with blossom pilgrims to smell, touch, and observe the wonder of thousands of cherry trees blooming together.
Yearly planting programs at the Magnificent Mile and the ever-changing enhanced prairie of the Lurie Garden in Millennium Park tempt residents and heighten the experience of Downtown Chicago throughout the year. Similarly, the heady scent of jasmine fills neighborhoods with warmth and floral elements during spring and summer blooms in Southern California.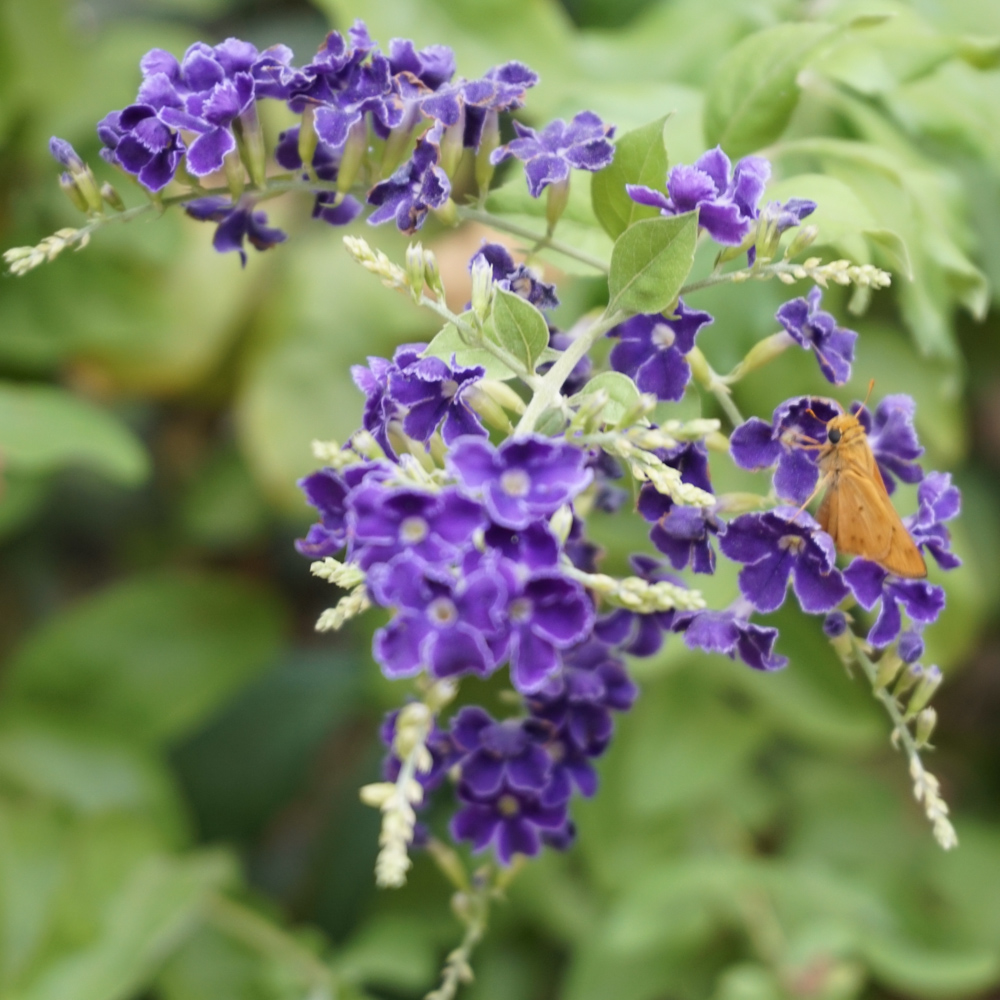 Pollinators are an elegantly simple but powerful strategy for promoting vibrancy and maintaining urban economic competitiveness.
Pollinators Create Rich and Vibrant Places
Pollinators are a beloved part of the "cast of urban characters." Like all great urban residents, they roam the city, exploring it for treasures with their own distinctive style. They appear and disappear in a search for food or shelter. Sometimes they are a spectacle en masse, like the bats who draw people to Austin's bridges every evening to observe their journey out to hunt at night, or the huge butterfly migrations which have arrested Los Angeles periodically, filling the streets and skies with clouds of butterflies.
Other times, they are solitary neighbors who coexist with us in our daily patterns, arriving at our yards, windows, and terraces. Some become a part of our morning or evening rituals, contributing to the everyday, predictable rhythm or hum that makes cities feel homey and humane. The busy bee, the flitting hummingbird, the bat at dusk, and others contribute to the unfolding diversity of vibrant urban areas.
Not only do pollinators enliven our days, but they're a key link to urban health. Pollinators support biophilic experiences for urban residents – a fundamental component of mental and physical health. These characters are necessary for the cognitive health of all citizens, creating rich and vibrant places that also feel humane, healthy, and promote well-being. They also support a robust ecology and biodiversity. Pollinators are correlated with plant diversity. The more pollinators, and the more diverse the range of pollinators, the more plant species are likely to live in our remnant natural areas, but also potentially our streets, parks, and yards. In diversity, we get more abundance.
Integrating Pollinators for Urban Vibrancy
RIOS is exploring how design can support pollinator habitat to enrich and promote greater urban vibrancy through a series of public and private projects.
Recent centralized efforts along Sunset Boulevard in West Hollywood, CA have studied how programming biodiversity can enhance street life. Sunset Blvd. is a place of urban spectacle, full of billboards, nightclubs, celebrity tours, and some of the outsized architecture expected on an urban strip in Los Angeles.
But it also winds along the base of a hillside whose canyons still drain to a historic wetland obscured beneath the urban fabric of West Hollywood. These hills and wetlands historically supported critical habitat for pollinators migrating great distances from the north. They still exist today in the path of mass butterfly and bird migration patterns, including the Western monarch migrations and the Pacific Flyway.
Through a series of projects, RIOS has enhanced urban habitat to create better urban places for people in one of the densest areas of Los Angeles.
IAC – The Living Billboard
As part of a repositioning project of an existing building on the Sunset Strip, RIOS inverted the nature of the billboard along Sunset Blvd. to become a display of pollinator habitat anchoring an expanded urban plaza rather than an enticing display of commerce. The shape of the canopy and the arrangement of the California-native plants that bring the canopy to life evoke the nearby Santa Monica Mountains, carrying the surrounding landscape up the side of the building over 3,000 square feet of structure. Hummingbirds and butterflies have been observed visiting the wall throughout the year. The greenwall provides biophilic views to adjacent office buildings, residences, and the active streetscape below, while also creating a canopy for more protected seating and outdoor dining to occur.
1 Hotel – Biophilic Hospitality
RIOS completed landscape and interior improvements at the newest addition to the 1 Hotel portfolio in West Hollywood. The design exalts naturalistic experience to support a biophilic and wellness-influenced hospitality brand. The exuberant planting strategy spills down the building and reaches out onto the street to reinject green into the urban realm. This intensity maximizes the experience of the exterior and interior spaces, and the design envelopes you in a natural experience through the surrounding materials like wood and clay along with an abundance of plants and flowers at every glance. Native plants support pollinators while contributing to the unique identity of the property.
Sunset Prototypes – Green Gateways and Biodiverse Streetscapes
Based on the success of IAC and One hotel, RIOS has been integrating pollinator habitat as fundamental elements of a series of recent placemaking and urban streetscape projects across the strip. While each project creates unique identity, the linked focus on habitat links each project into a more coordinated strategy of augmented pollinator health to enhance the urban realm in a meaningful way. Concepts for the Sunset Gateway competition, and a series of new billboards and commercial developments are increasing the imprint on the Sunset Strip. As the projects go online, we are excited to see the impact of overlaying an ecological layer onto this urban boulevard.
Deploy Pollinators to Bolster Urban Life
Cities are critical places for human health and wellness, and key players in the effort to fight climate change. Vigorous, dense cities help preserve undeveloped land and reduce consumption of resources.
To succeed, cities should consider utilizing pollinators to help halt the loss of critical ecosystem services and rebrand cities as places of health, restoration, and ecological spectacle.
Pollinators can enhance street life through greater diversity within a city's shared "front yards" and distributed networks. By integrating biodiversity in public spaces, cities can promote rejuvenation for residents, and remake the city as a truly vibrant place.
IAC – Sebastian Salvadó, Naseema Asif, Brent Jacobsen, Asaf Dali, Michael Poirier
1 Hotel – Nate Cormier, Ruth Siegel, Elisabeth Weinstein
Sunset Projects – Andy Lantz, Naseema Asif, Dami Olufowoshe, Yessenia Juarez, Cecilia Brock, Nate Cormier, Vicki Li, Mimi Yang, Lin Cheng