Waikiki Private School Student Center
Celebrating the Campus Experience
RIOS developed a conceptual design plan for the new Waikiki Private School Student Center in Honolulu, Hawaii. The design transforms the heart of the campus with a new facility that serves as a hub of activity for the entire school community.
We reimagine the school's 25-acre campus as a multilevel facility, encompassing indoor and outdoor gathering spaces, administrative offices, classrooms and lounges, a kitchen and dining hall, a health and wellness center, and rooftop event spaces with prominent views of the skyline.
The project reframes and celebrates the campus experience, provides a multifaceted and dynamic solution to create a community, showcases the science of sustainability and place, and inspires the imagination of the school's future leaders.
Inspired by the lush landscapes of the Hawaiian Islands, the design would integrate landscape from site to building to experience, connecting visitors to nature with biophilic expression.
A Spiritual and Social Heart
The buildings respond to the context with forms that stay low to preserve the blue-sky views of Waikiki. Emphasizing the scale of urban design, the proposed design connects significant points of entry to the social and spiritual heart of the campus. The eastern entrance to the Student Center connects the recreational fields and lower-level student experience with an expressive moment of form-making and visual excitement.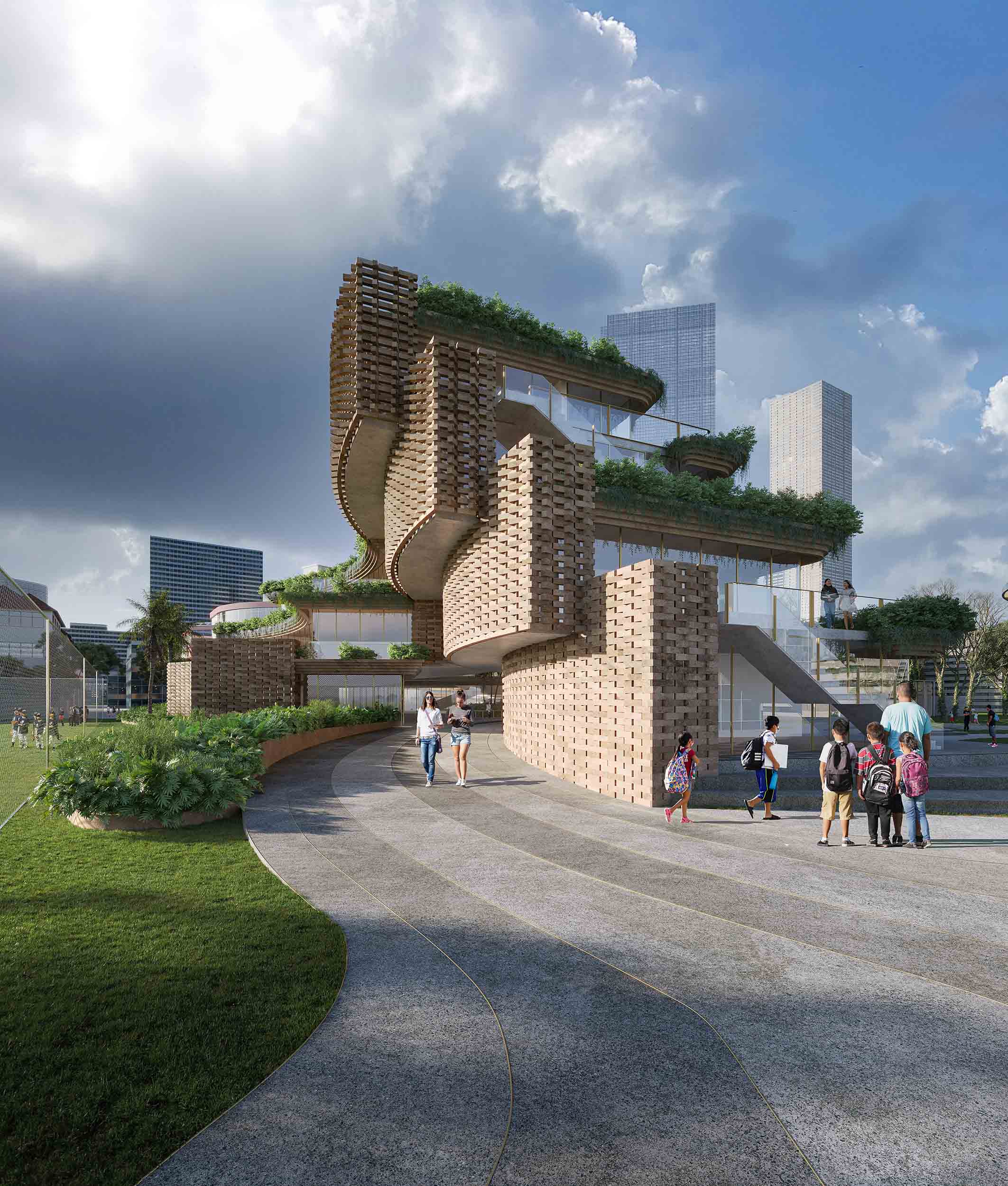 At the heart of our Waikiki Private School Student Center proposal is the importance of merging the spiritual center of the campus found in St. Alban's Chapel with the new center of campus made physical by the Student Center. At the nexus of converging paths that connect the parking structure and the path along the recreational fields, the center of the Student Center celebrates this merge with a framed view of St. Alban's Chapel.
Inherent to the primary form of the building massing, new centers are emphasized to extend building amenities concentrically out and into the site. These new centers complement the recreational fields, upper-level student facilities, and lower-level student facilities.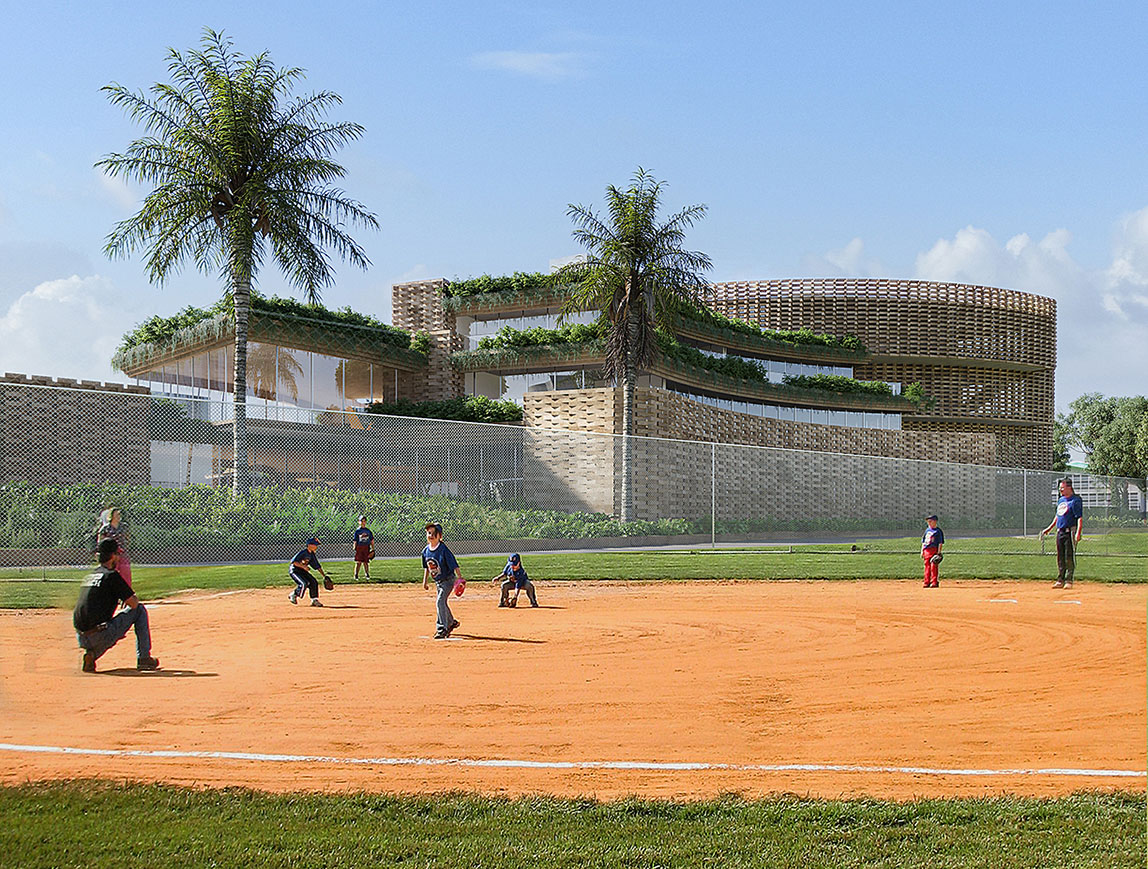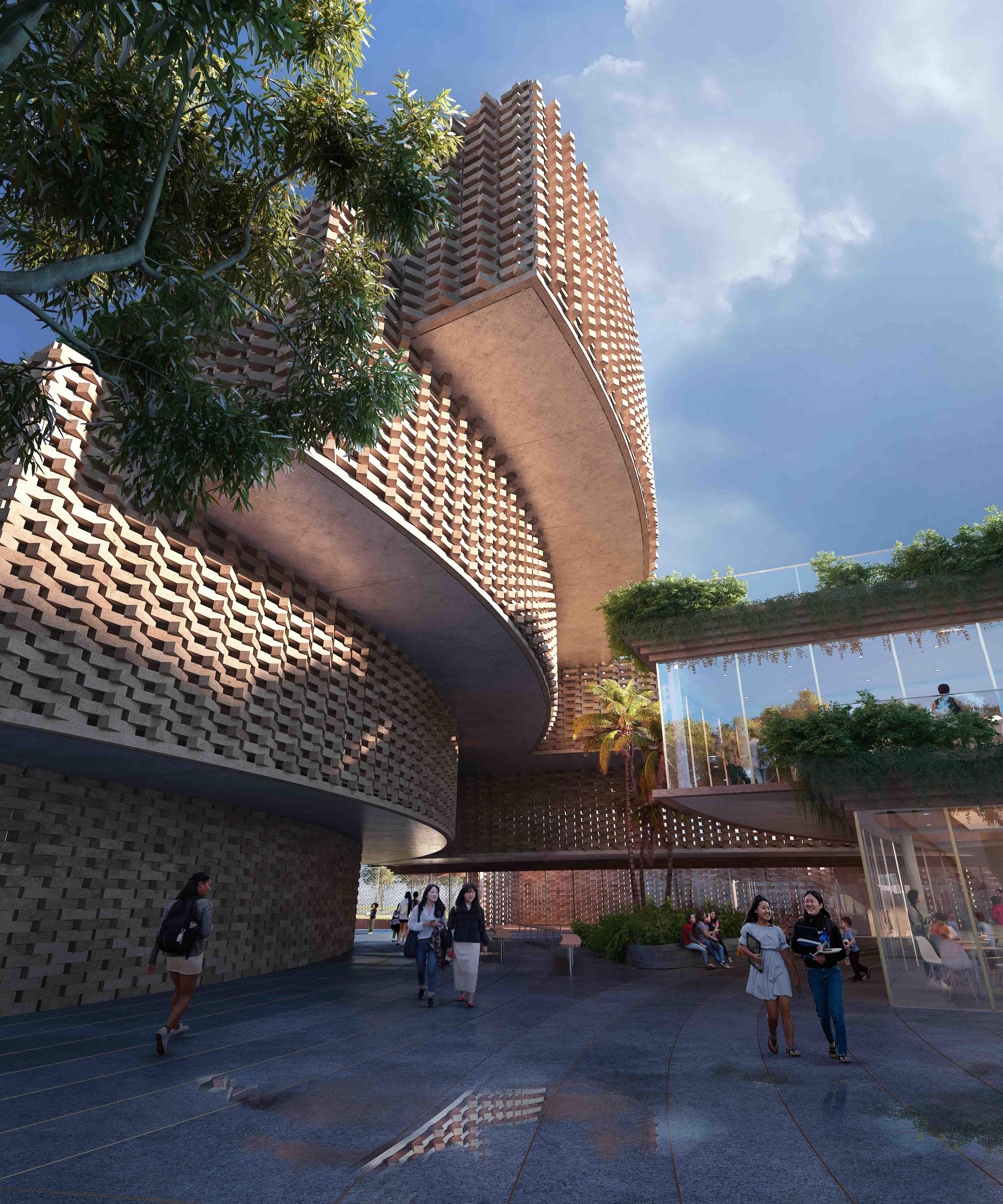 The design of the overall massing allows clear communication within the building of the various programs. Using the backdrop of the articulated brick façade, wellness and dining programs are visible from the recreational fields. In its culmination, the architectural form and expression provide a forward-thinking and contextually inspired opportunity for the future growth of the campus.
Nighttime at the Student Center
The façade comes to life at night, animating the activity of the classrooms while providing a dreamy backdrop for the first and second-floor dining spaces. In its day-to-night transformation, the faculty and staff would utilize the ample space provided between the two floors to activate evenings with an abundance of event-based programming. The spaces would connect the activity of the indoors to the dynamism of the exterior with lushly planted terraces, a central water garden, and a trellis that makes the ground floor commons.
Façade Development Studies