ROW DTLA incorporates 100 years of Los Angeles history into an ambitious 21st-century commercial district linking downtown to L.A.'s burgeoning arts district. A century ago, this site was the terminus of the Southern Pacific Railroad, a hub of a different kind, where goods were unloaded from railroad cars, loaded onto trucks, and delivered across Southern California. RIOS re-envisioned ROW DTLA for a new future as a multifaceted retail and office destination.
RIOS' design reimagines the 30-acre campus by embracing its historic character. Through the use of industrial materials and raw utilitarian details, the design transforms ROW's long rows of warehouse-style buildings into 1.3 million square feet of creative office space. Over 100 unique retail stores and 30,000 square feet of space for the arts (including dedicated space for street art) enlivens the complex at all hours of the day and night.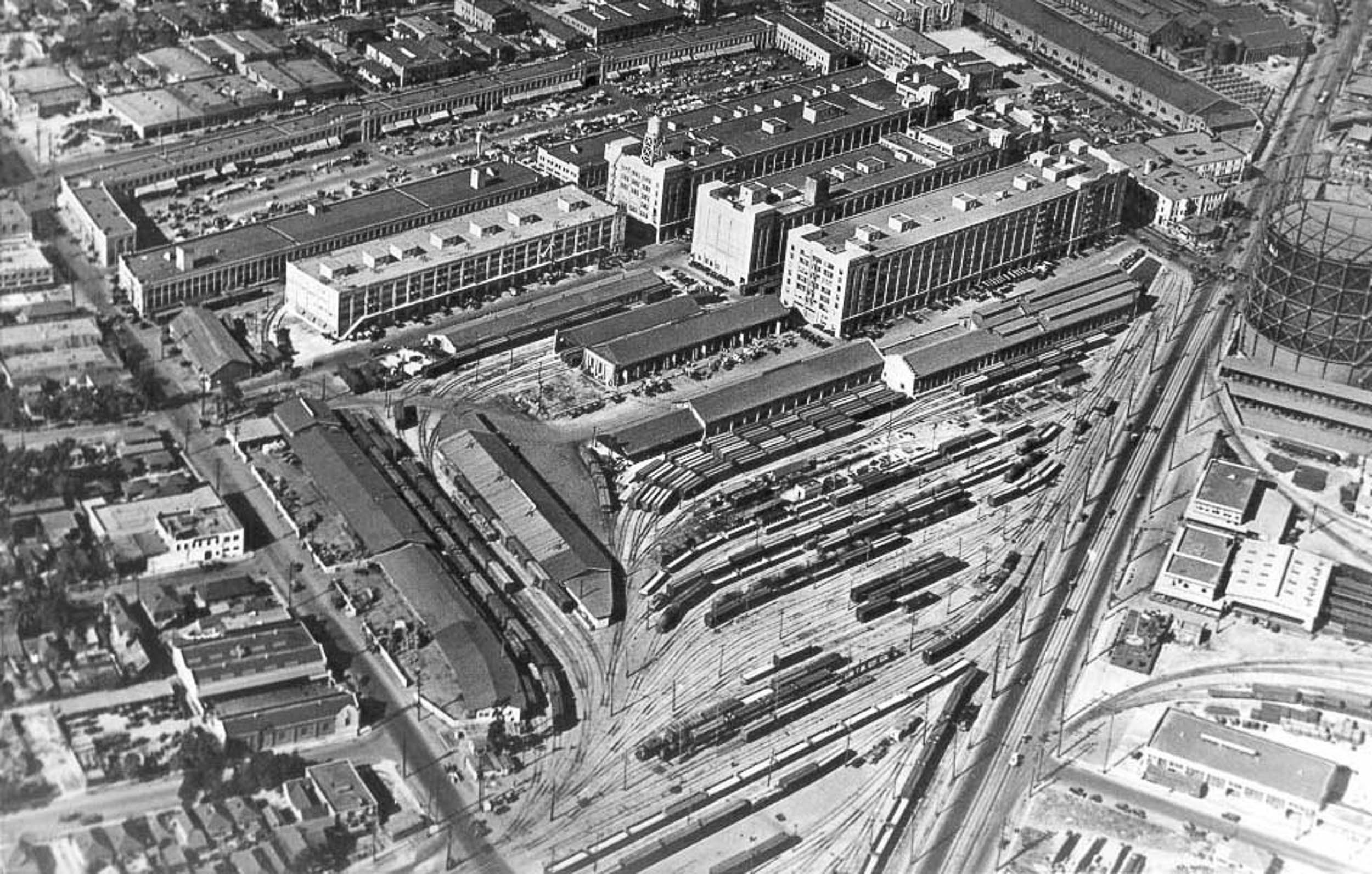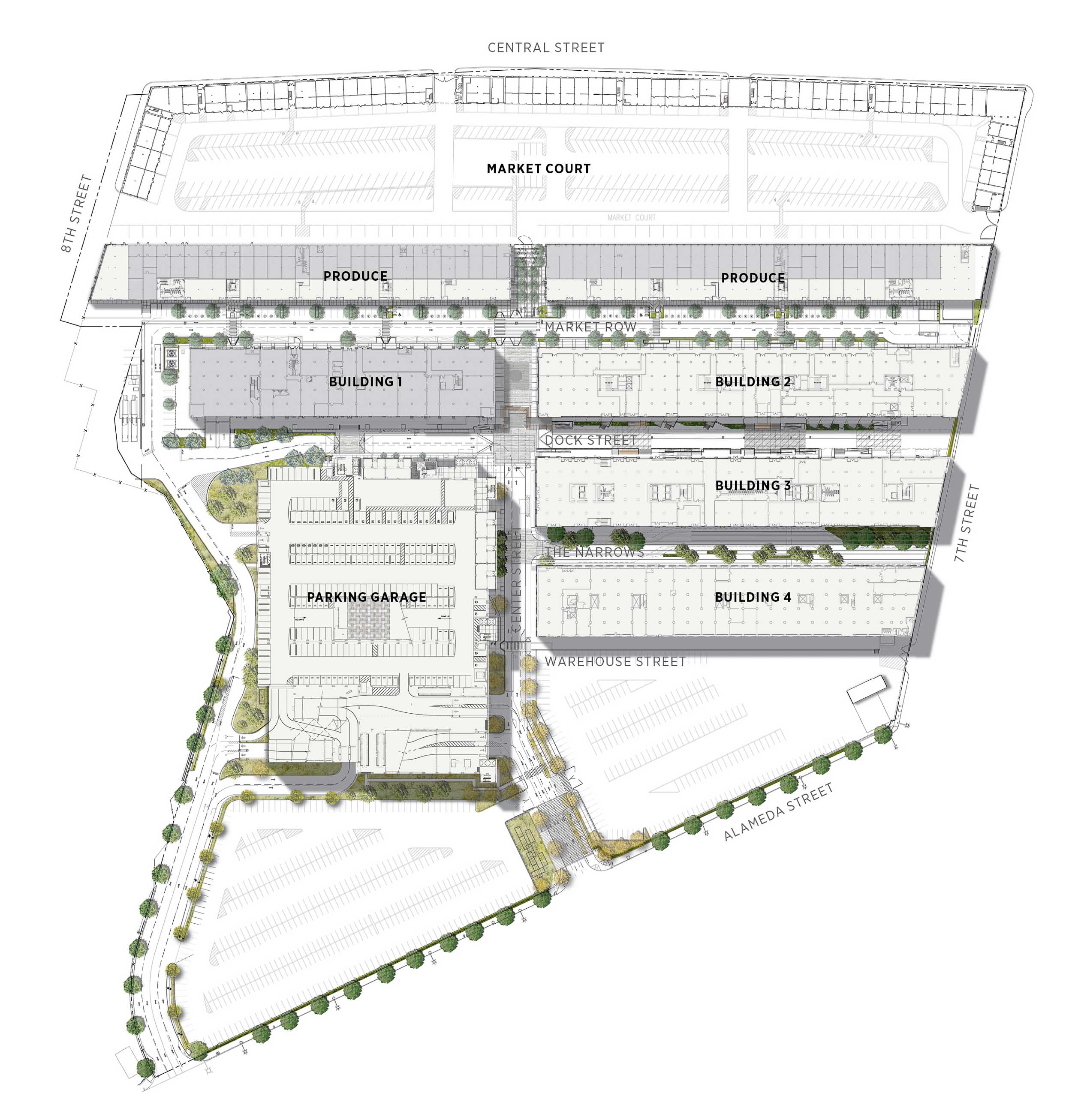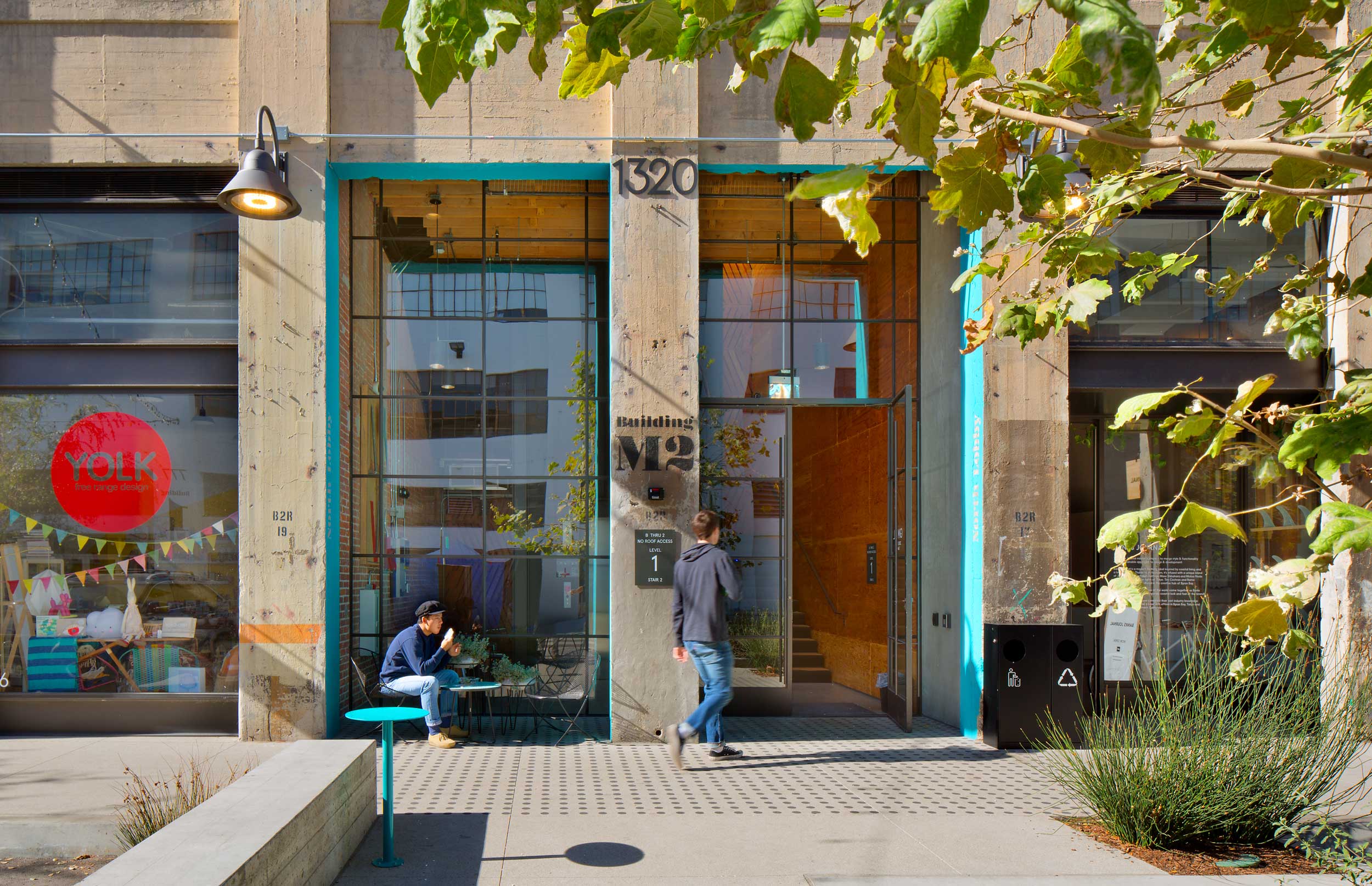 A light touch in the design highlights the area's authentic industrial details and gives an authentic posture to the evolving nature of this place. New entries to the buildings along Market Row each possess a redesigned lobby distinguished by wood patterns that evoke wood pallets that abound in the area. The spatial and material texture of the lobby stair and elevator invites users into the expansive, loft-like creative workspaces above.
Market Row is the district's high-end shopping street, punctuated by pleasant gardens for relaxing and people-watching. Dock Street remains open to deliveries in the early morning, but during the rest of the day, its dock-height sidewalks become ROW's dining terrace. Casual grandstand seating encourages lingering.
The existing 7th Street Produce Market, where L.A.'s bodegas have long sourced their fruits and vegetables, remains largely unchanged in this new urban area, serving as a vivid reminder of the area's historic origins.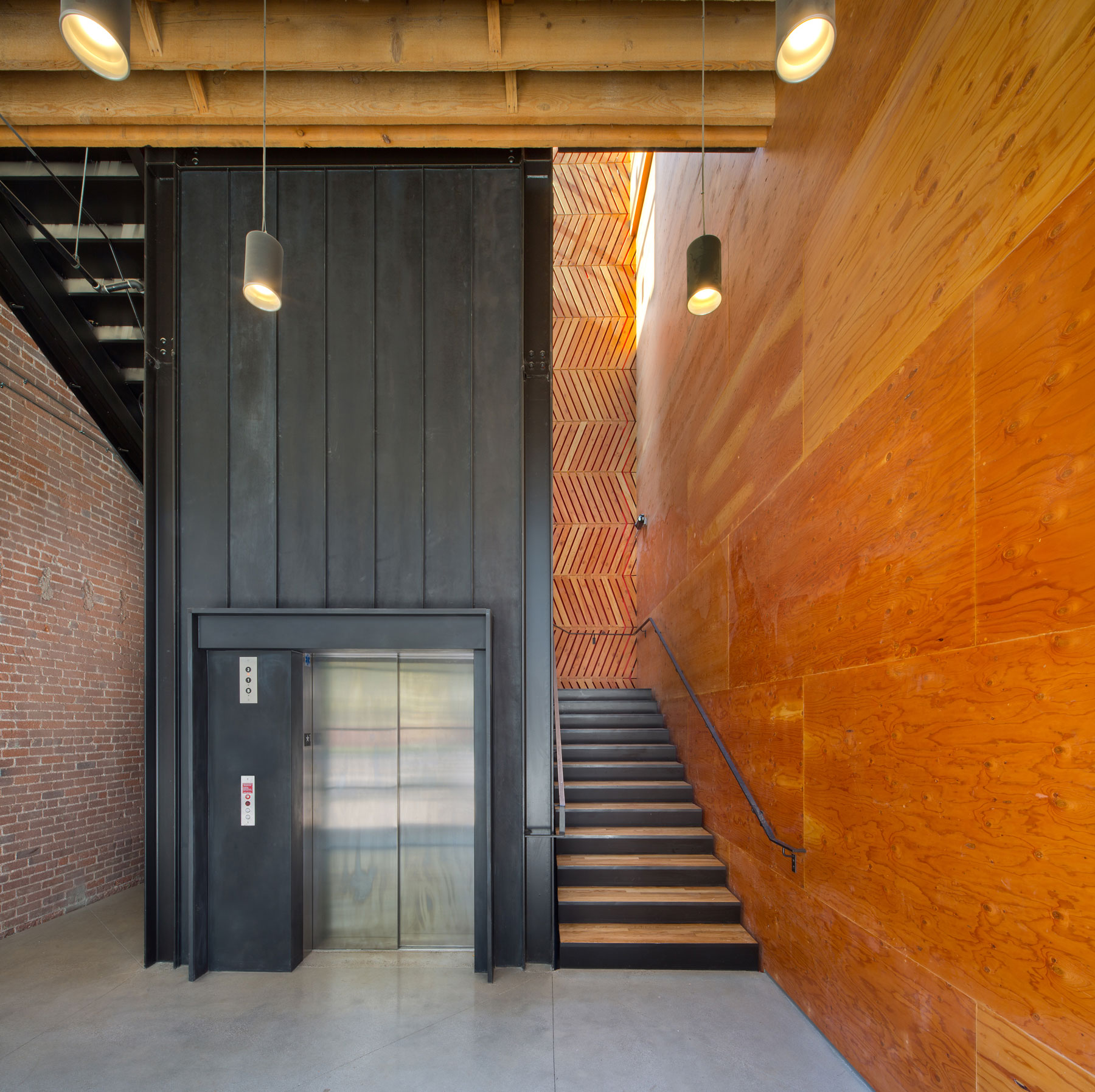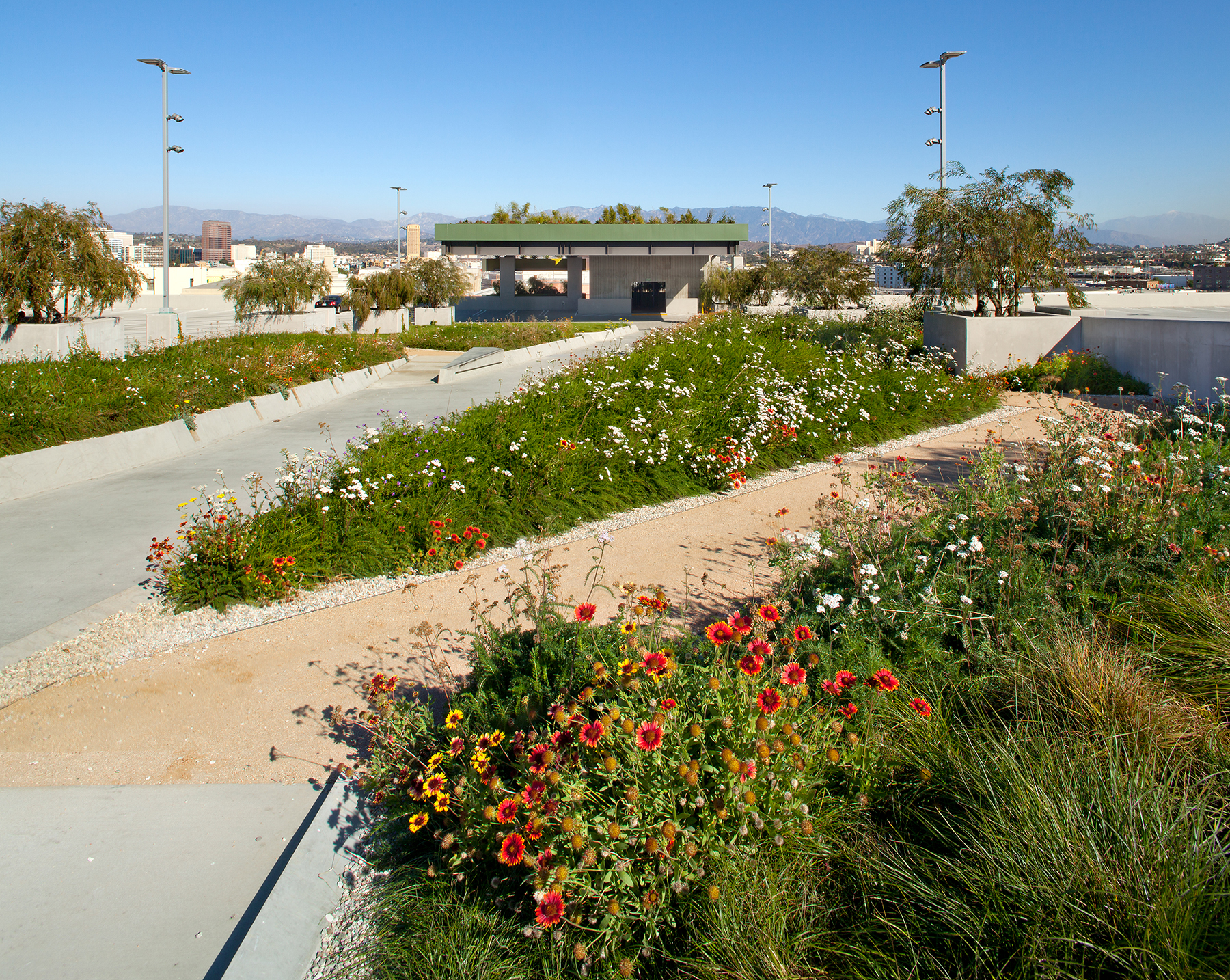 At the southwest corner of the site, a cascading rooftop park appropriates a more recent addition: a 10-story 4,000-space parking garage. We enveloped its walls with greenery and laminated the ground floor with retail to bring a pedestrian scale to the entire structure.  It's emblematic of our landscape approach to the entire site, which encourages nature to gradually encroach on the old industrial site, harkening back to an even earlier, pre-industrial era. 
How can graphics and wayfinding play a role when a building or site has a past? The branding at ROW DTLA is carefully integrated to respect the history of the place, using industrial elements, art, and signage to create memorable moments and wayfinding throughout the multi-use development.