Mixed-Use Meets History and Hollywood
RIOS developed a master plan and concept designs in support of the entitlement process for the Crossroads of the World site, a historic Hollywood, California landmark on Sunset Boulevard. Originally built in 1936, Crossroads was intended as a unique outdoor shopping center, but instead became home to countless Hollywood professionals who have used the location for studios and creative office space, in addition to filming.
Targeted for LEED Gold certification, the seven-acre mixed-use development revitalizes 60,000 sq. ft. of the original Robert V. Derrah-designed buildings and constructs a 31-story, 308-key hotel, a 32-story apartment tower, and a 30-story condominium tower. The project adds 950 units of housing, 185,000 sq. ft. of new retail space, and 95,000 sq. ft. of creative office space.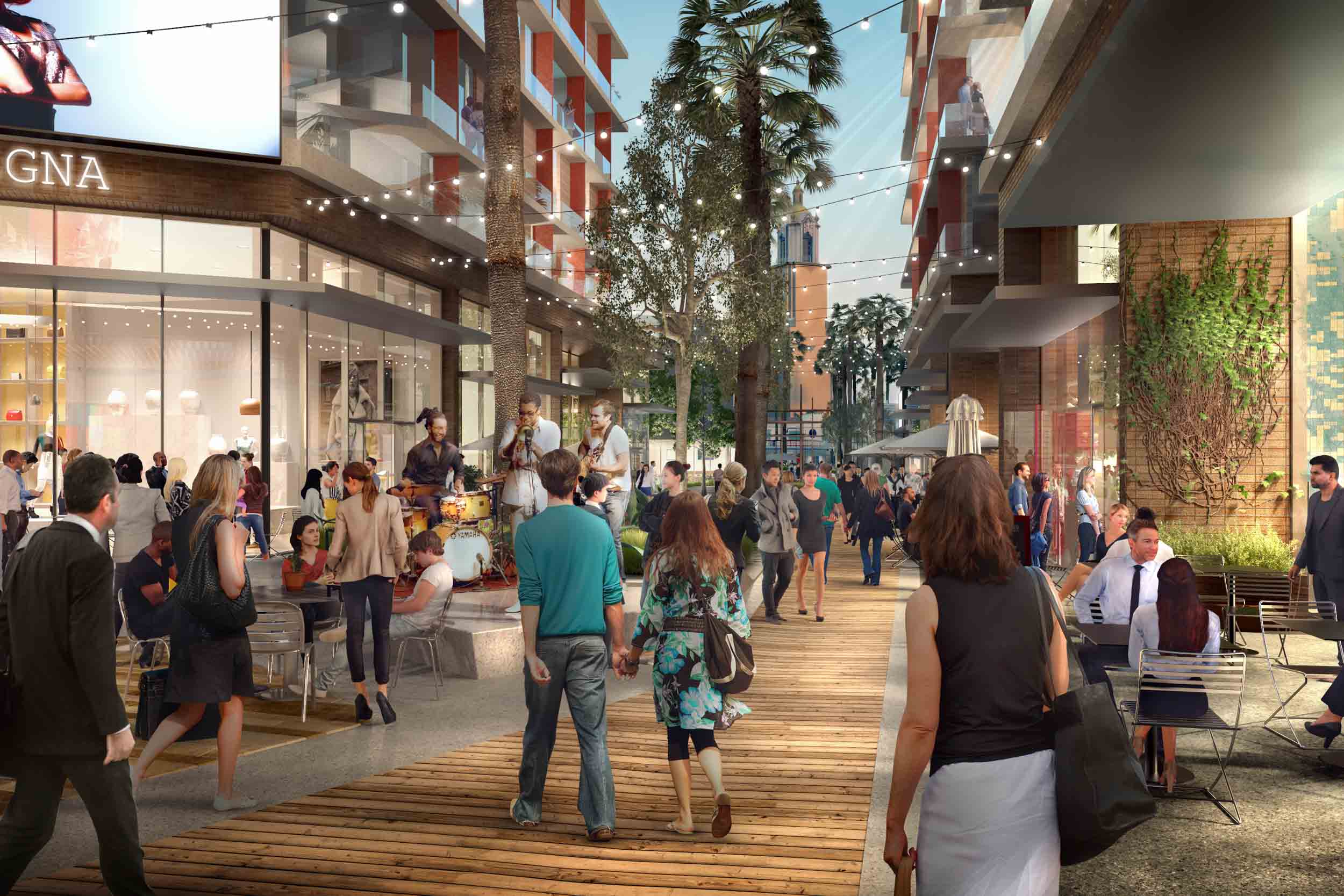 The design, in collaboration with SOM, provides distinct new high-rise towers located across three city blocks that anchor the site at three prominent thoroughfares. These are linked by a diagonal, pedestrian-only retail paseo that connects the existing iconic globe-topped spire on Sunset Boulevard with a new hotel at Highland Avenue and Selma Avenue. Las Palmas Avenue is also re-aligned to enhance vehicular connectivity and access.
Programming and activation will be spread throughout the length of the paseo and include interactive water features, public art, food and beverage, seating, and planting throughout. In addition to incorporating open space in the public realm on the ground floor, our concept also provides access to open rooftops and terraces throughout the site.
The goal of the design for the development is to create an animated new district that is connected to the urban fabric of Hollywood while retaining Crossroads' recognizable identity.