Wenli Lake Landmark Buildings 文礼湖地标建筑
Cascading Gardens of Quzhou
RIOS' submission for the International Competition for the Conceptual Design of Landmark Buildings of Quzhou envisions a symbiosis between a flourishing urban environment and the dynamic forces of nature. Our design, which placed among the top 20 submissions, capitalizes on the strategic positioning of the site, acting as a crucial connector between Quzhou's urban infrastructure and its pristine natural systems. By incorporating two interconnected and permeable living towers, alongside the Central Eco Valley, the project aims to create an inviting gateway that fosters a vibrant and dynamic dialogue between the cityscape and the serene Wenli Lake.
Nature-Inspired High-Rise Design 受自然启发的高层设计
Most high-rise developments keep nature outside, relying on energy-expensive systems to maintain a sealed and conditioned environment. This proposed design offers an alternative system, inviting nature into the building and creating interstitial spaces that can help generate energy efficiencies, achieve sustainability goals, and provide green spaces for gathering, thereby increasing users' wellness. The new buildings participate in the ecology by providing habitat and improving the thermal comfort of the surrounding environment.
Tall towers create a gateway to Quzhou Smart New City on Wenli Lake, stepping down at the center to relate to the context of the "City Garden Corridor" buildings. As part of the "Creative Park Corridor," the buildings will engage with the waterfront at both the podium and tower levels. The "Central Eco-Valley" climbs up through the buildings in a series of cascading terraces at different scales.
Connecting Quzhou's Lake and Ecology 连接衢州湖与生态
Inspired by Quzhou's site conditions as a city formed by lush natural mountains and river passes, these landmark towers are fittingly born from nature. A series of cascading gardens faces the waterfront at every level, creating an ecosystem of public and more intimate green spaces for gathering. This façade connects the lake and surrounding ecology with the built environment, positioning it as a new gateway in the ever-evolving heart of the city.
The garden towers foster Quzhou's resilient future as a hub for ecological and social well-being, integrating nature, technology, and a dynamic landscape.
Optimal Façade Design 最佳立面设计
The structures prioritize energy efficiency, sustainability goals, and users' well-being through interstitial spaces that allow nature inside. The façade is designed to provide optimal protection from the elements, featuring a glazed outer scrim for shielding against wind and rain, a brise soleil for solar shading and cooling, and operable glass louvers that facilitate natural ventilation, manage humidity, and control HVAC usage within the atrium, office, and hotel interiors.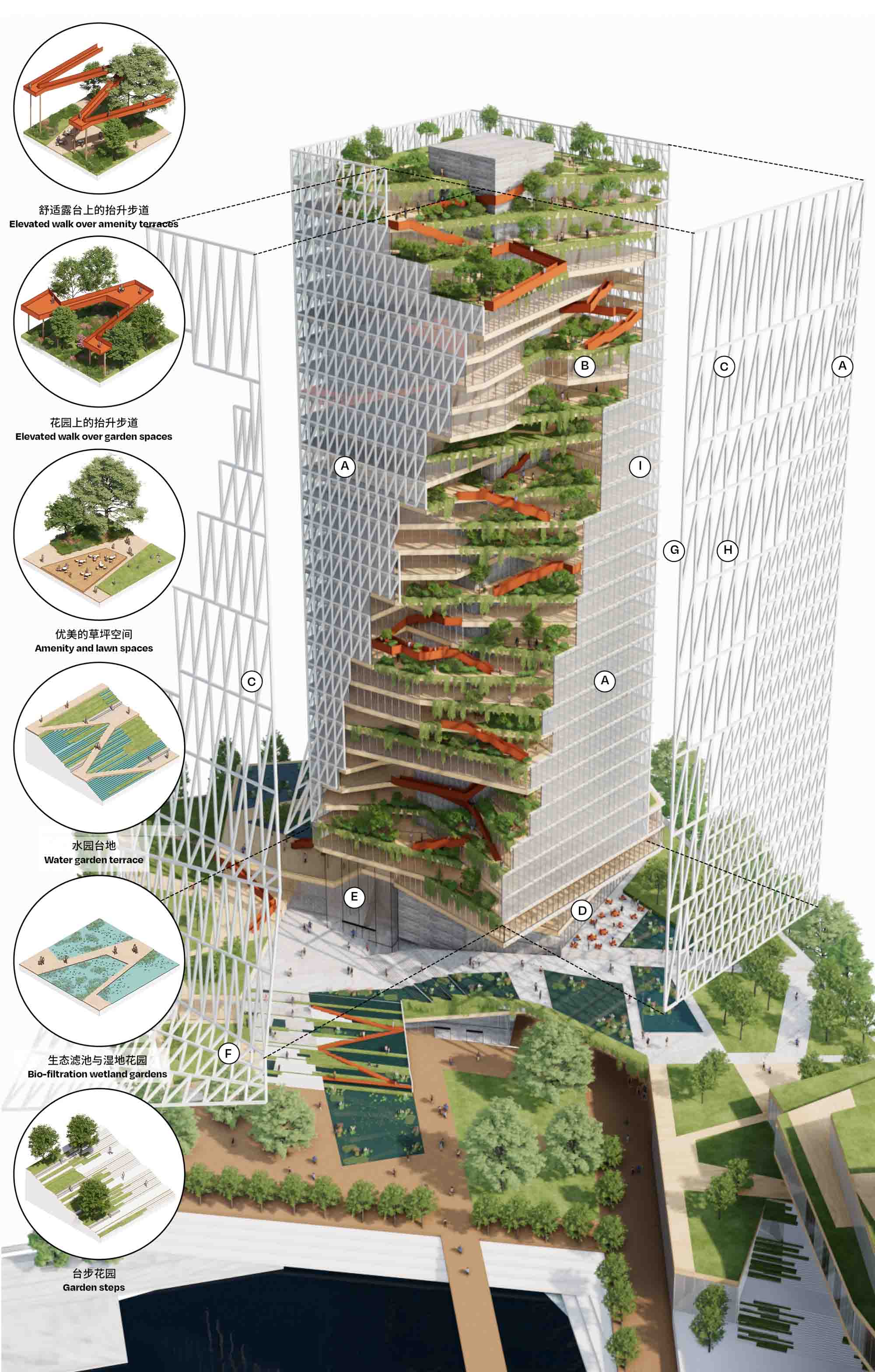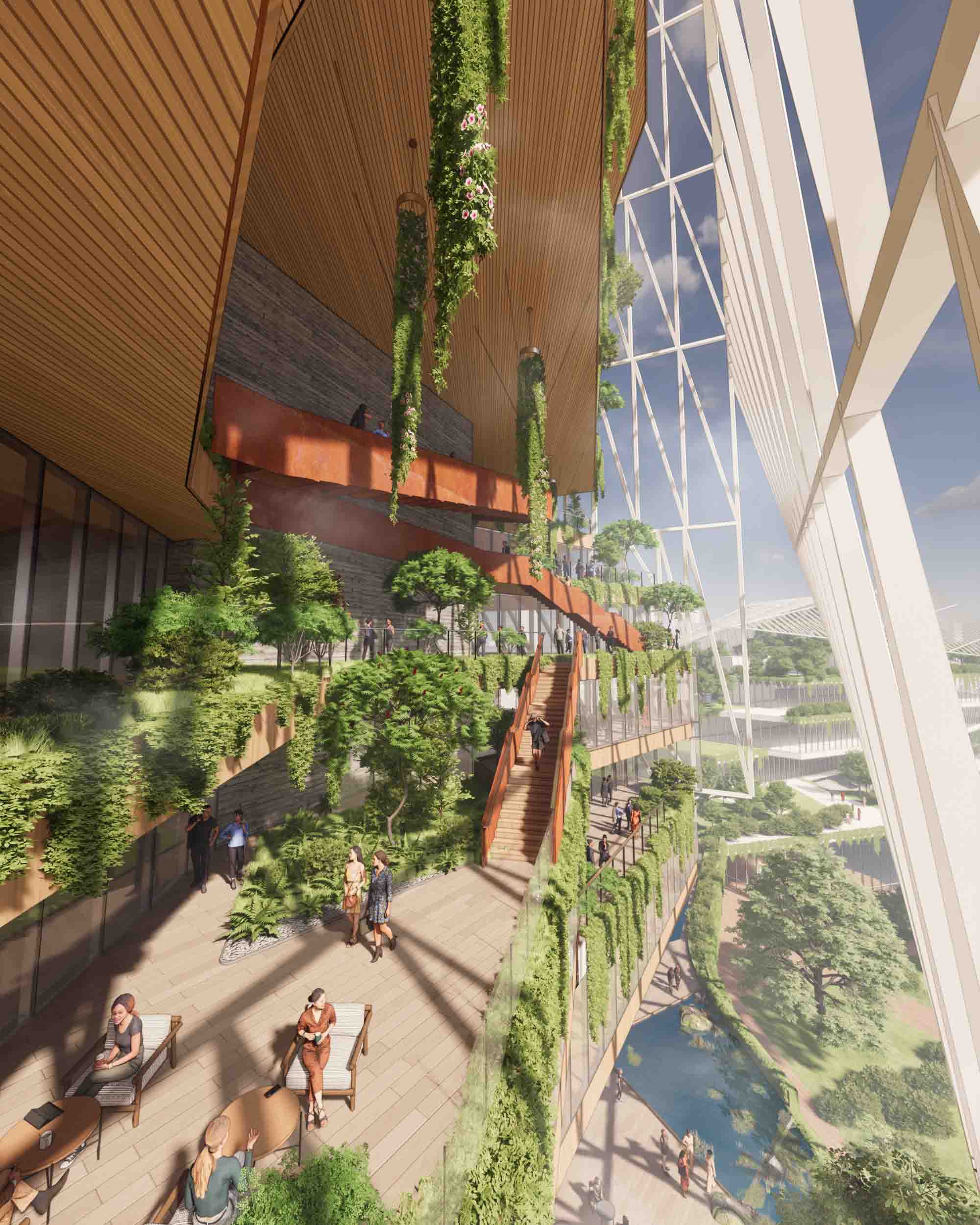 Effective Stormwater Management 有效的雨水管理
The cascading terraces play a crucial role in the site's stormwater management plan. Rain gardens on the terraces and bio-retention tanks at the plaza level collect and reuse rainwater, sustaining the gardens across the towers and podium while also minimizing and slowing the release of stormwater into the city's system.