Celebrating Our Shared Humanity and Planet
Universal Plaza creates a central gathering place for everyone with amenities and engaging elements, providing a central gathering place for everyone in Tigard, Oregon. Situated between the city's main street and the wetlands of Fanno Creek, the project merges the urban realm and the natural world, connecting to the neighboring creek and designed with local plants and materials. Visitors will be invited into the plaza through various activations that inspire gathering, community, and play, including a new interactive water feature, a super-structure canopy, porch swings, ample seating, and community amenities. The plaza's canopy and landscape will wrap around the water feature, creating a layered experience for exploration and discovery.
This public space represents a celebration of the universal elements of our planet, along with the universal values of inclusivity, justice, and freedom.
Located just outside of Portland, Oregon, the 1.2-acre site is located between the Fanno Creek Trail and Tigard's Main Street and transit center. The site serves as a catalyst for downtown's future redevelopment while balancing the neighborhood's immediate needs by providing a cultural hub for the community.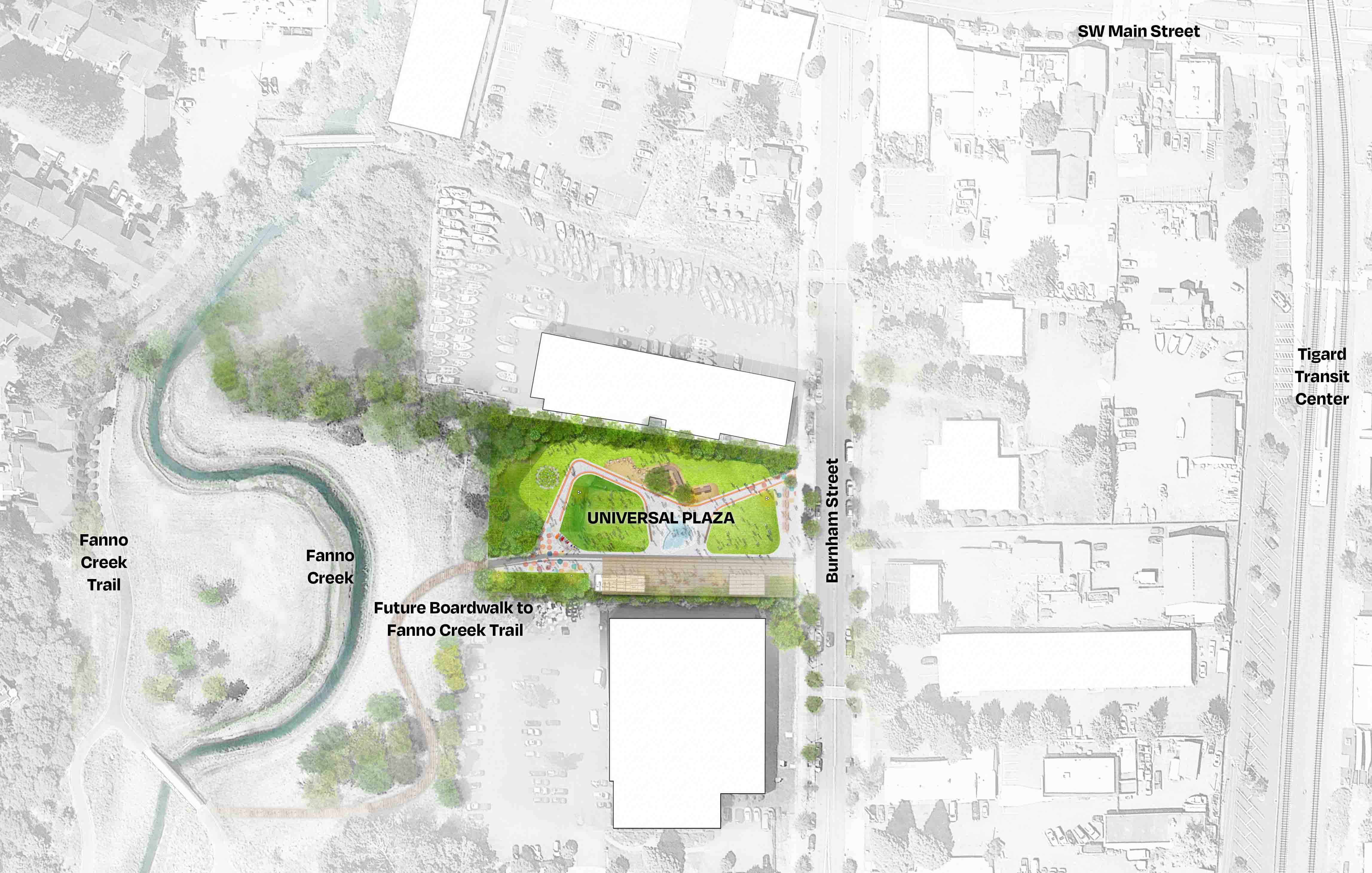 Accessibility and Landscape Design
The easily accessible plaza is designed for equitable communities by connecting downtown and the regional Fanno Creek Trail system, providing a boardwalk that promotes walking or cycling. Our design team ensured an inclusive design process where community members volunteered to become "Design Advisors" that allowed each advisor to weigh in several times on all aspects of the project. From extensive community outreach to an engaging test pilot program, the final design has universally enthusiastic support from the community.
The planting approach adapts to the Pacific Northwest ecology, which allows the landscape buffers on two sides of the plaza to bloom in a changing spectrum of colors throughout spring, summer, and early fall. The landscaped lawns also accommodate family-friendly programs all year long.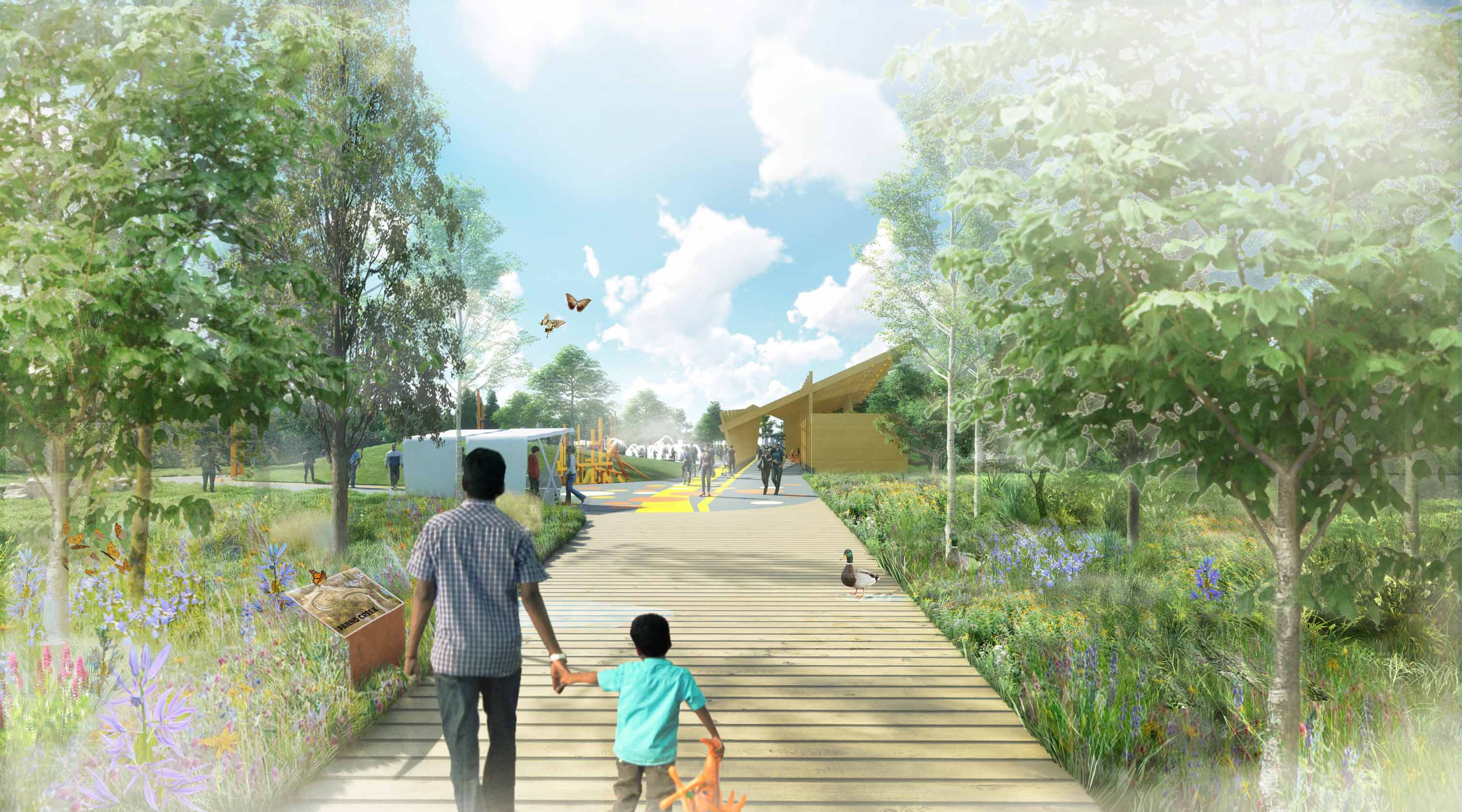 The super-structure canopy will connect community rooms, concession spaces, and restrooms with a linear timber-frame structure. This will provide shade and weather protection, creating a promenade for markets, food vendors, education, and performance.
The canopy utilizes simple post-and-beam timber construction and angled steel bases to create a visually expressive and dynamic roof. One end of the canopy opens to downtown, while the other embraces the Fanno Creek landscape.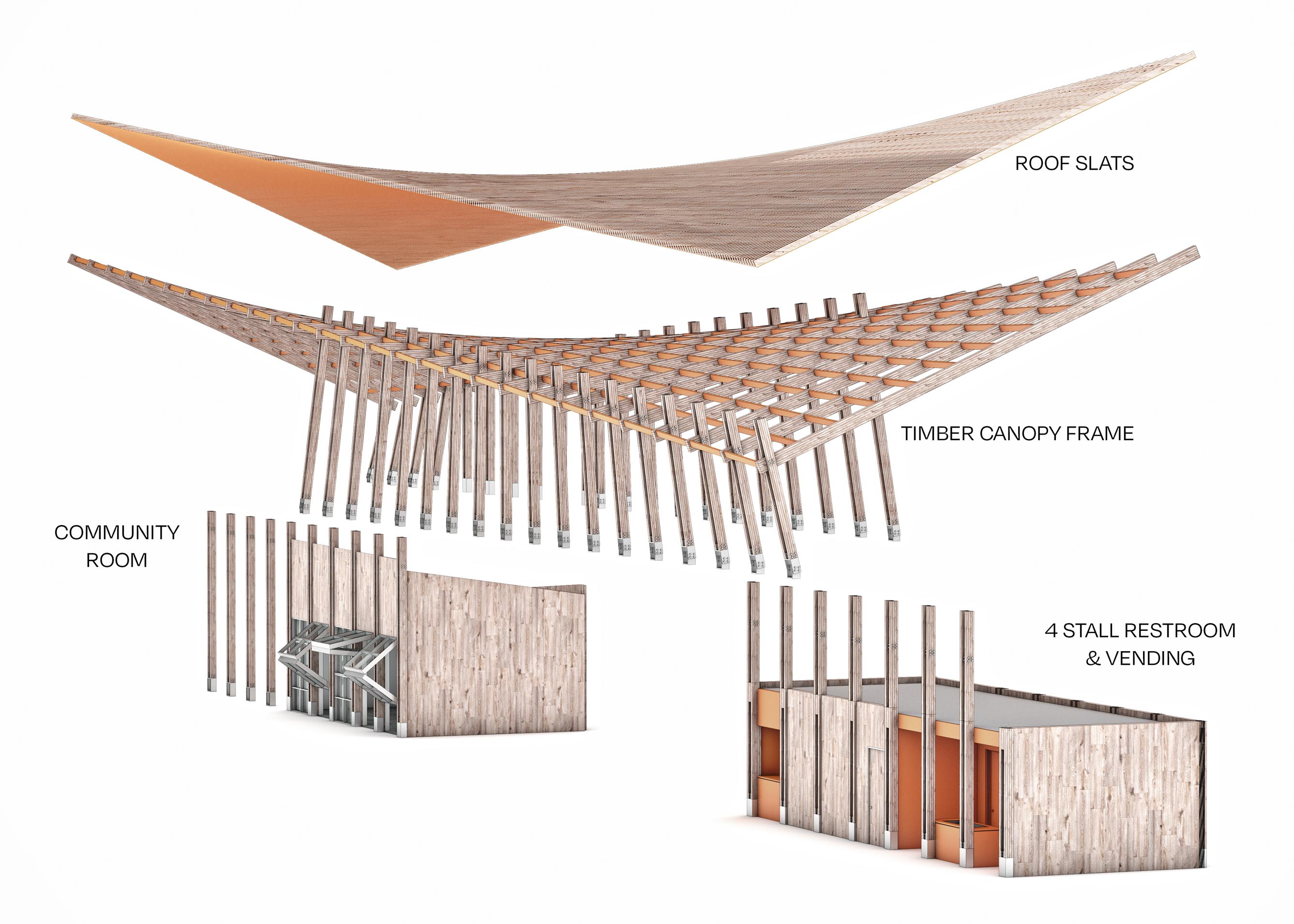 The heart of the plaza features a multi-functional interactive water feature. Working with leading-edge design collaborator Fluidity Design Consultants, the fountain will create an element of surprise and delight with a combination of a scrim pool, a mist feature, and choreographed tunnels of arched fountains, all of which can work in conjunction or in isolation. The design of this feature is scaled to consider both the immediate community, as well as those who seek destinations for events. As the city's first splash pad, the water feature will create an element of surprise and provide a one-of-a-kind experience at Universal Plaza.
Client: City of Tigard
Project Manager: Shiels Obletz Johnsen
General Contractor: P&C Construction
Civil and Structural Engineer: KPFF
Water Feature Design & Engineering: Fluidity Design Consultants
MEP: Interface Engineering
Ecological Services: Pacific Habitat Services
Irrigation: Sweeney & Associates