Downtown LA's Shared Backyard
A simple green space for all to experience the delight and imagination of nature in a shared backyard.
Most residents of Downtown Los Angeles trade away personal open space to enjoy the vibrant urban experiences of the revitalized city center. Our design for South Park Commons emphasizes a green and simple space for young and old to experience the delight and imagination of nature in a shared backyard.
The design for this quarter-acre park includes a series of unique garden rooms so visitors can find a variety of spaces for respite in the park. It also allows for the community to enjoy shared activities and programs, with space for small performances, movies in the park, and readings. A restaurant terrace is situated on the south side of the park which promotes socializing and activating the park at all times of day.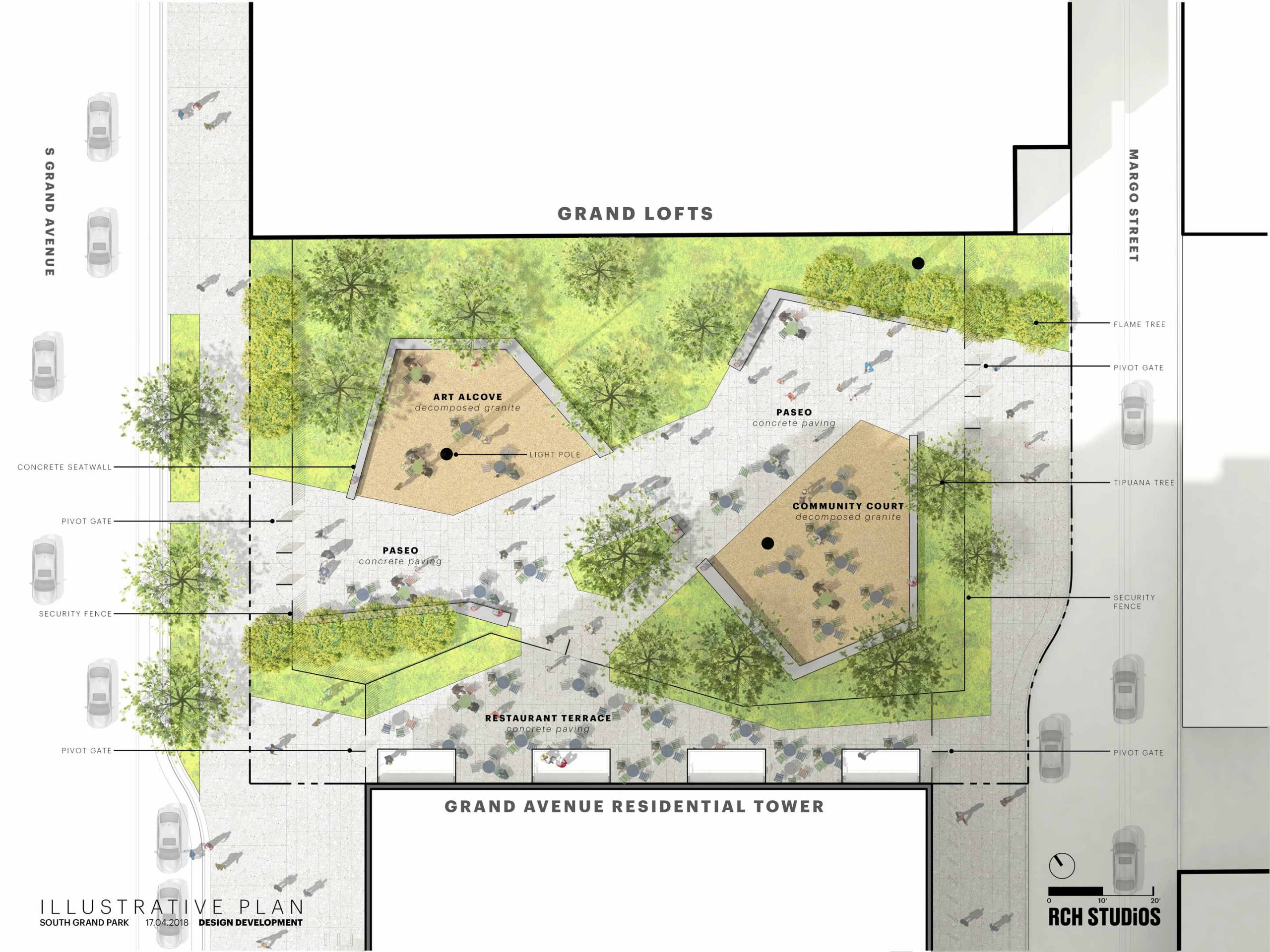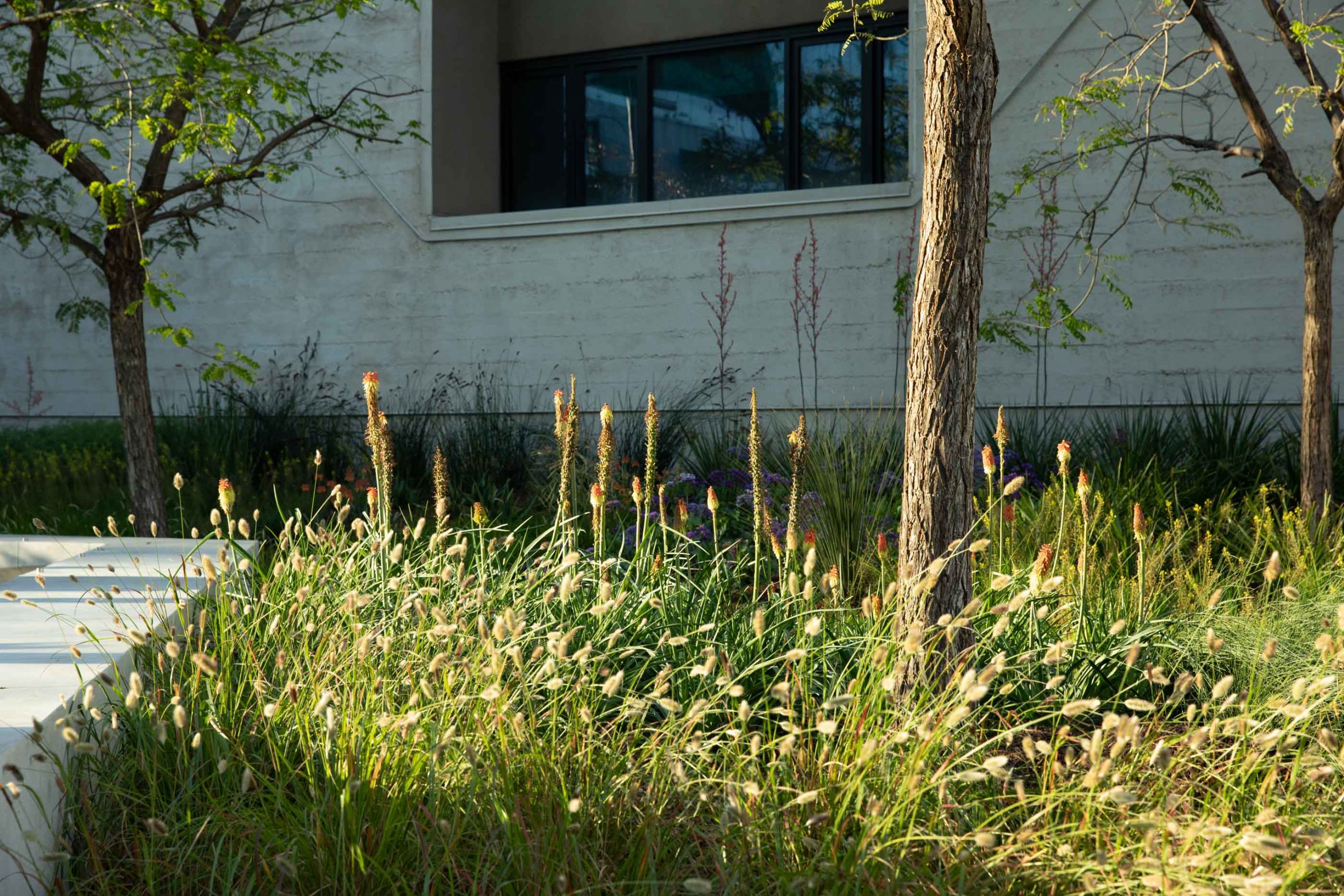 Over 50 species of flowering plants, grasses, shrubs and trees have been planted in the park. These selections are a robust and resilient mix of native and adapted plants that bring enjoyment and seasonal interest to this small urban site.
Views into the park and through the park have been intentionally framed from different approaches by angling the fins on the fence enclosure that surrounds the site.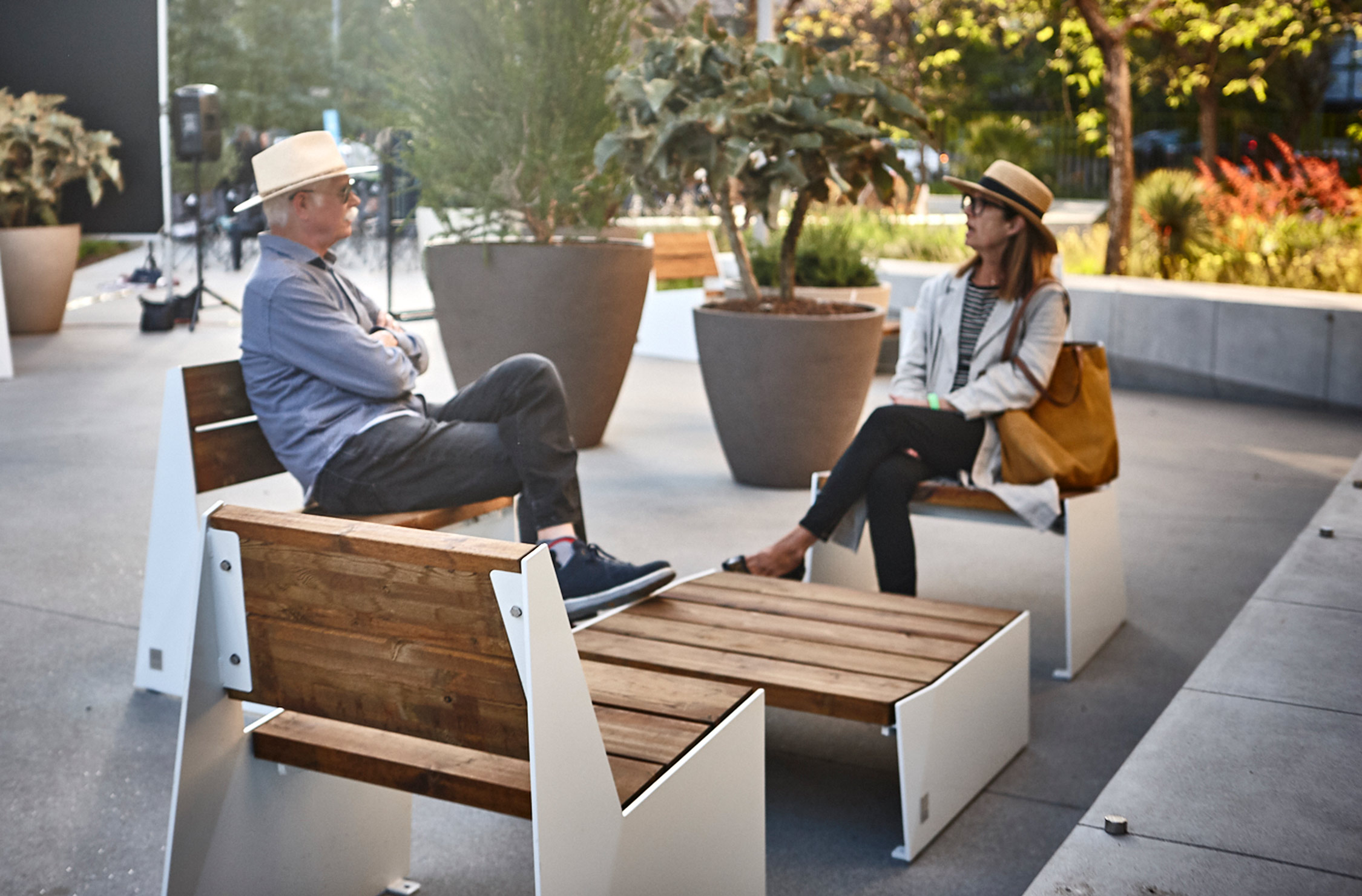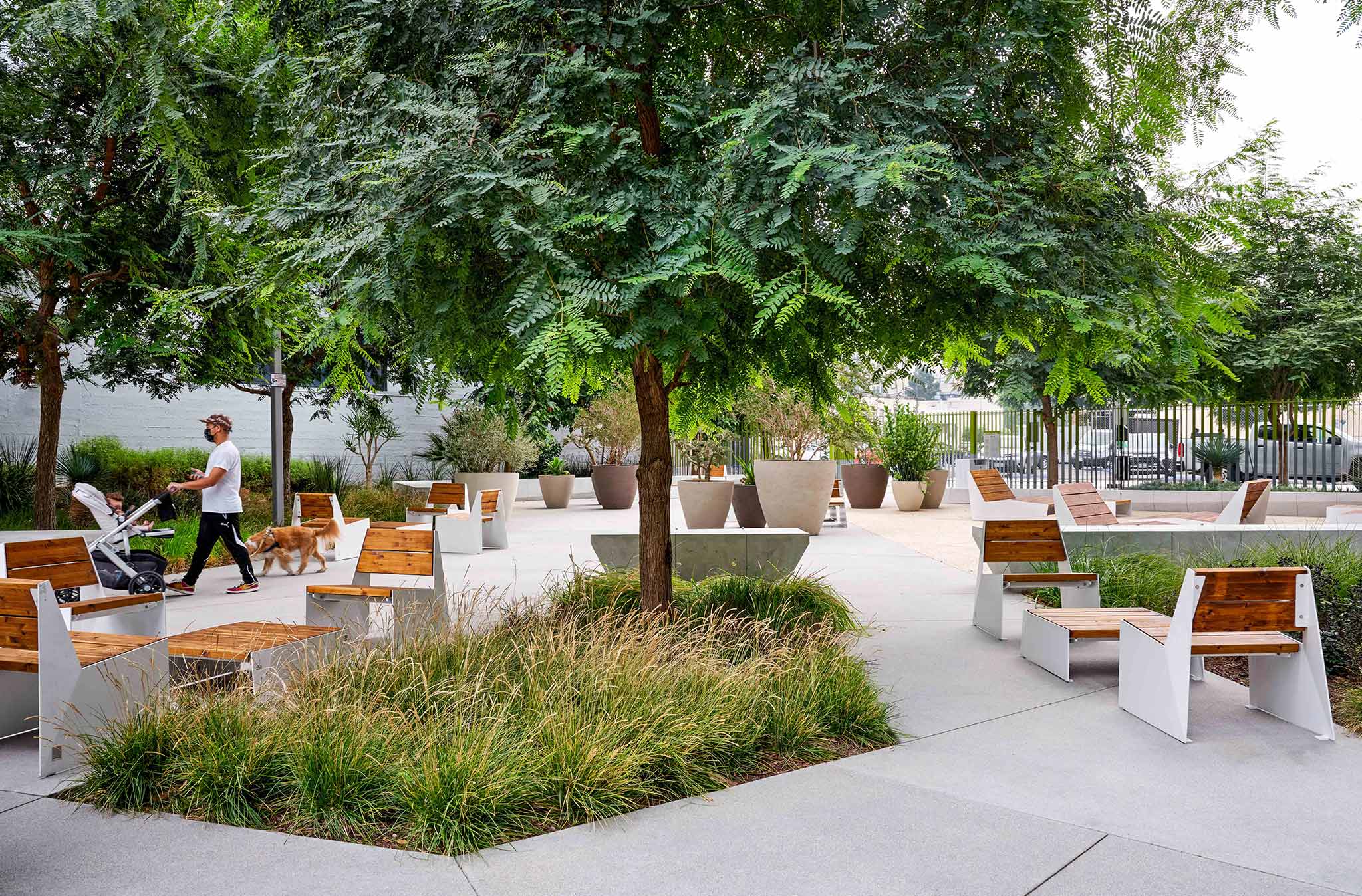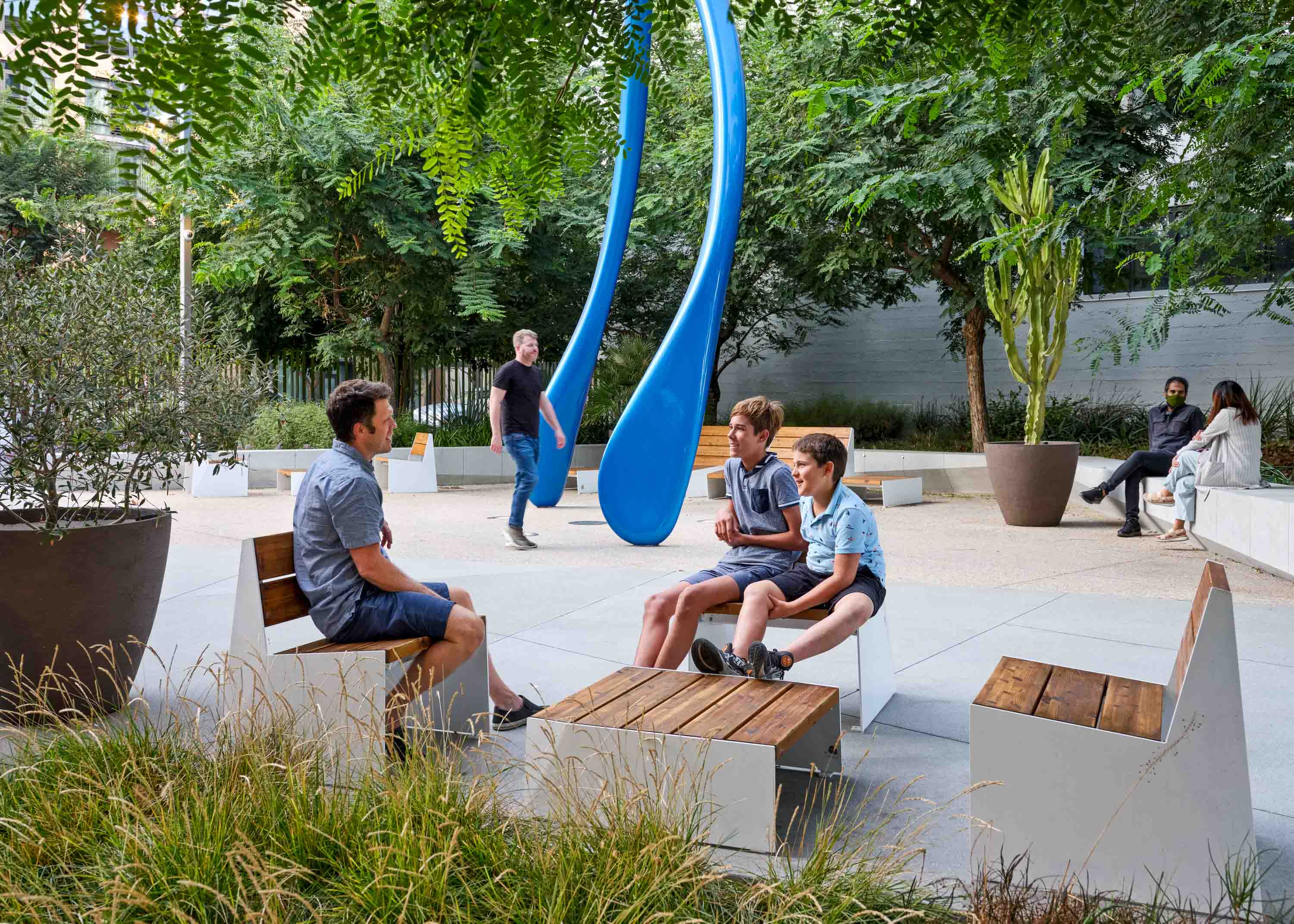 The dynamic nature of the park layout aims to promote socialization and intimate gathering by way of incorporating absorbent geometries – shapes that promote sitting and interacting with others in urban spaces. The sculptural forms of integrated seating elements were designed with comfort and durability in mind. 
Large tree specimens were carefully chosen to have an immediate impact and provide shade for the park. An emphasis on providing downtown with a unique, unusual and distinctive mix of species motivated the botanical curation for South Park Commons.
One of these views frames a central art piece that acts as a civic anchor and symbol for those who have come to Los Angeles for a different life. Artist Jonathan Paul, otherwise known as Desire Obtain Cherish, has incorporated a 24-foot tall metallic blue sculpture of a wishbone titled Lucky Break into one of the park spaces. According to the artist, "Wishbone luck has been a popular pastime for centuries. It symbolizes the promise of good luck. The saying "get a lucky break" comes from this tradition, which is a common theme for people from around the world who flock to Los Angeles."