L.A. Lights the Way Design Competition
The citizen fixture streetlight design embodies the values and optimistic spirit of Los Angeles: it's sculpturally beautiful, sustainable at all levels, and supports a diverse urban community. The efficient aluminum frame is a singular, sculptural form that holds several functions addressing safety and functionality while creating a design icon for an urban culture at the vanguard of art, technology, and social issues.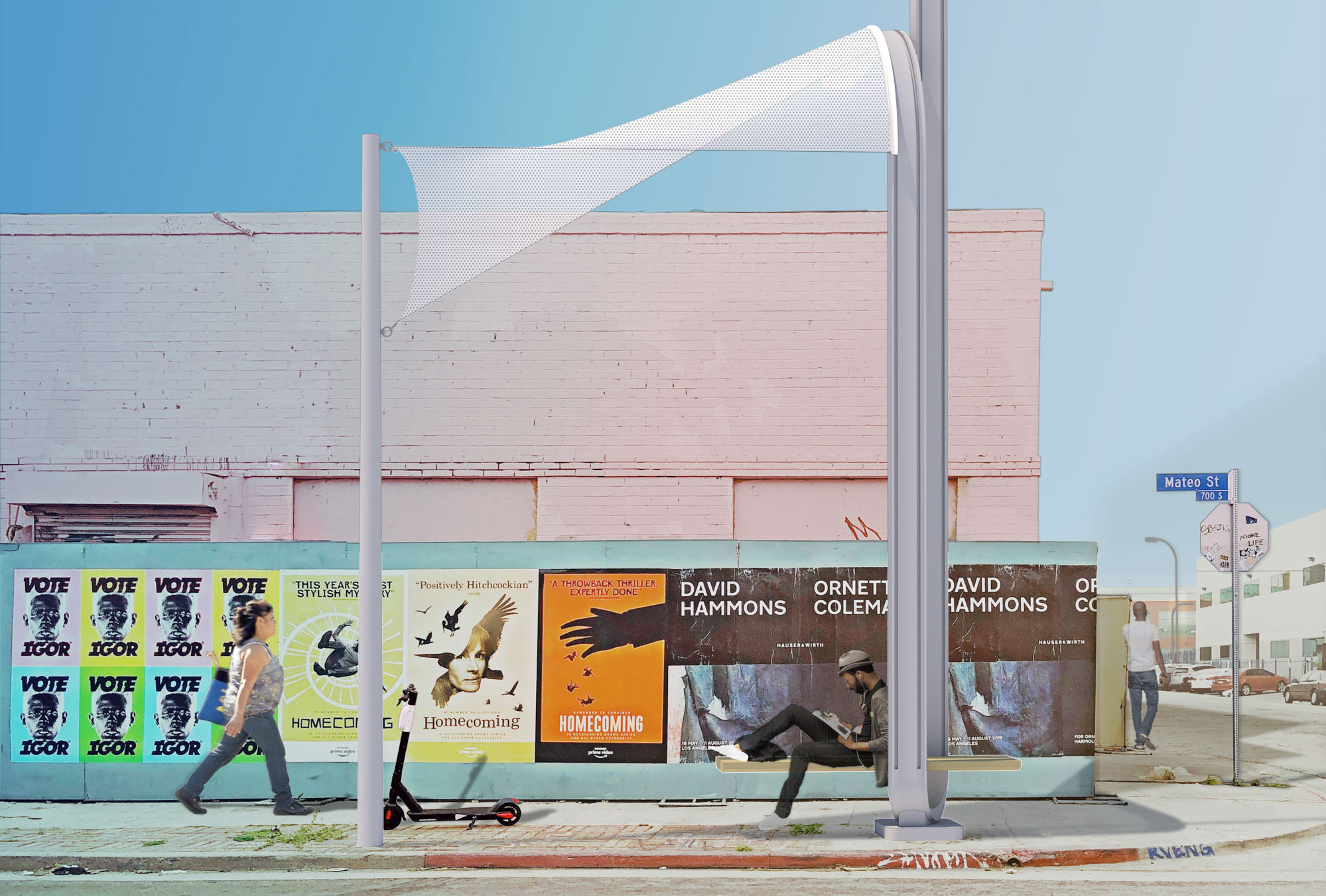 1. Beautiful Simplicity: The loop is both a structural solution and a frame to visually organize the equipment the streetlight supports to contain the visual clutter along our streets.
2. Ecological Engineering: The design uses an efficient structural shape and section to reduce material overall; it can be made from 100% recycled aluminum equal to 10,000 beverage cans; it's designed for longevity to accept a kit of parts that can maintain, update, and upgrade into the future.
3. Practicality: The design can mount onto existing foundations and its clip-in system ensures flexibility as new needs arise and new technologies replace old ones.
4. Healthy Streetlife: The fixture simultaneously supports the community at the civic and individual scales; its sculptural form is a robust armature to enhance pedestrian life with community signs, benches, and bike racks in addition to the required program.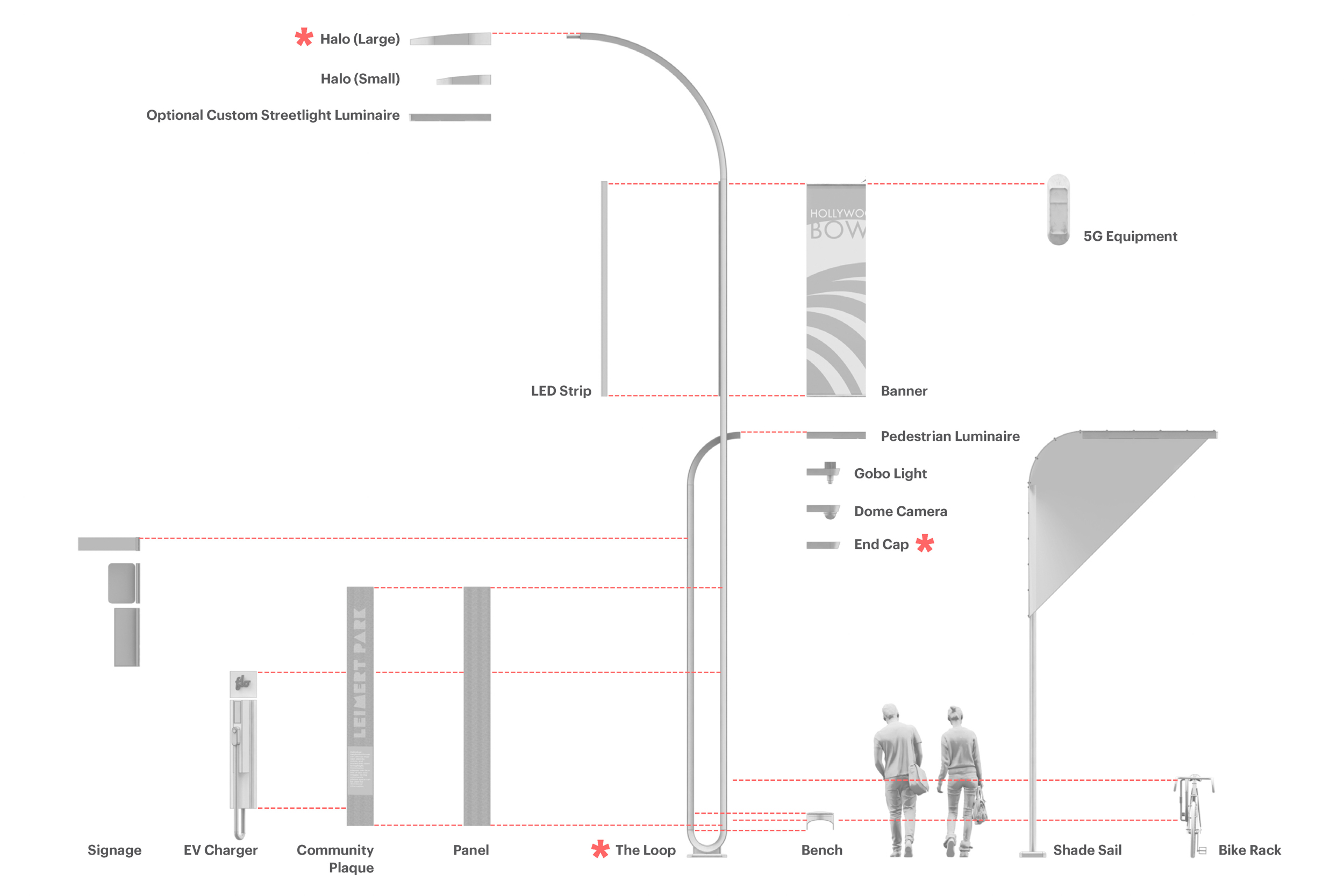 The streetlight is designed to adapt, infinity combinable and resists obsolescence through its flexibility.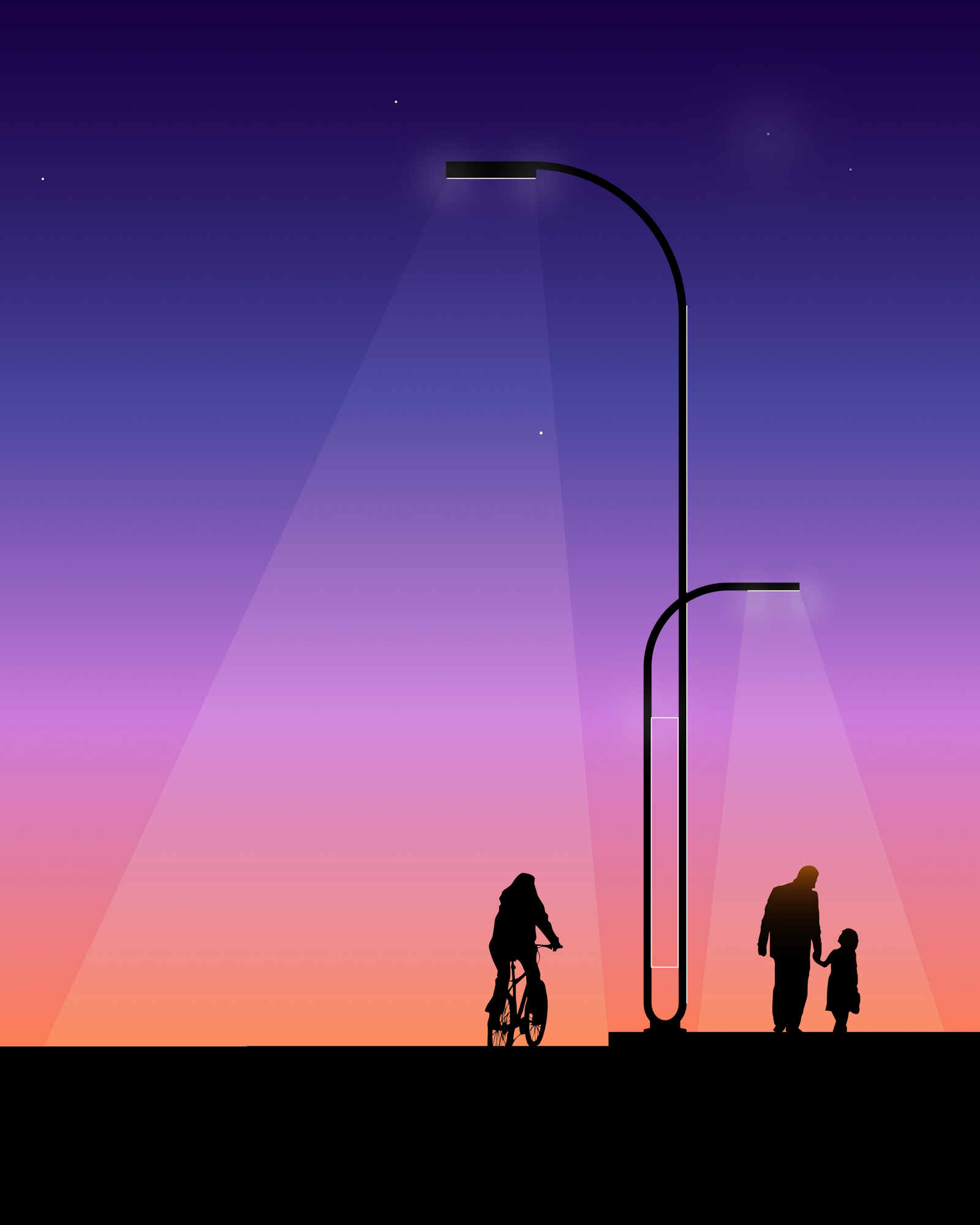 Wide and narrow, old and new, commercial and residential, tree-lined and bare, L.A. streets present many contexts and opportunities for the streetlight. In a single looping gesture, the design transforms a simple aluminum extrusion into an efficient frame visually unifying a hub of essential luminaires, technologies, signage, and other functions. The shape has integrated tracks allowing attachments along its entire length anticipating future needs. The slim proportions allow it to fit over existing pole foundations.
At the upper reach of its elevation, an aluminum halo at the mounting tenon surrounds the luminaires providing a unified appearance as fixtures are updated to newer models.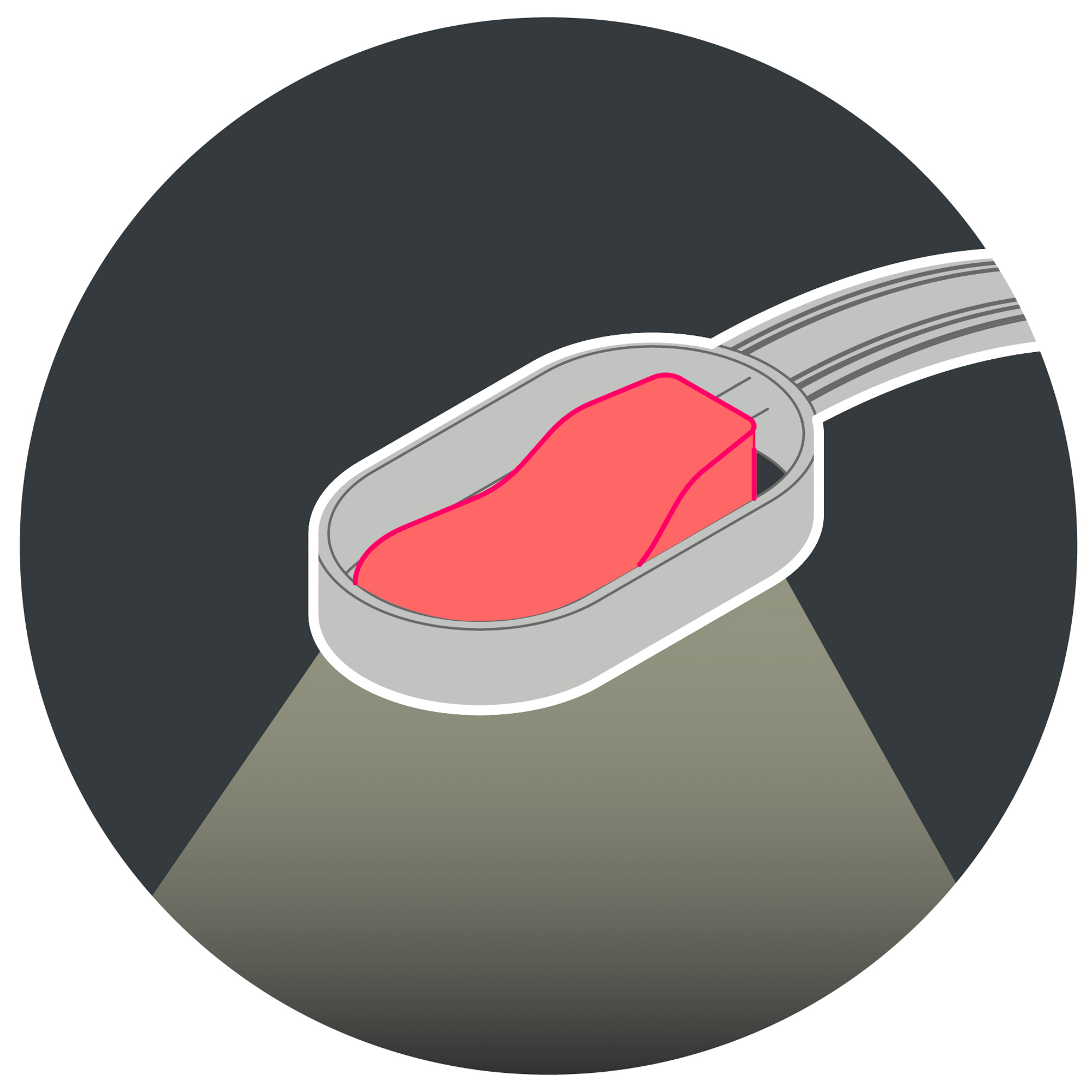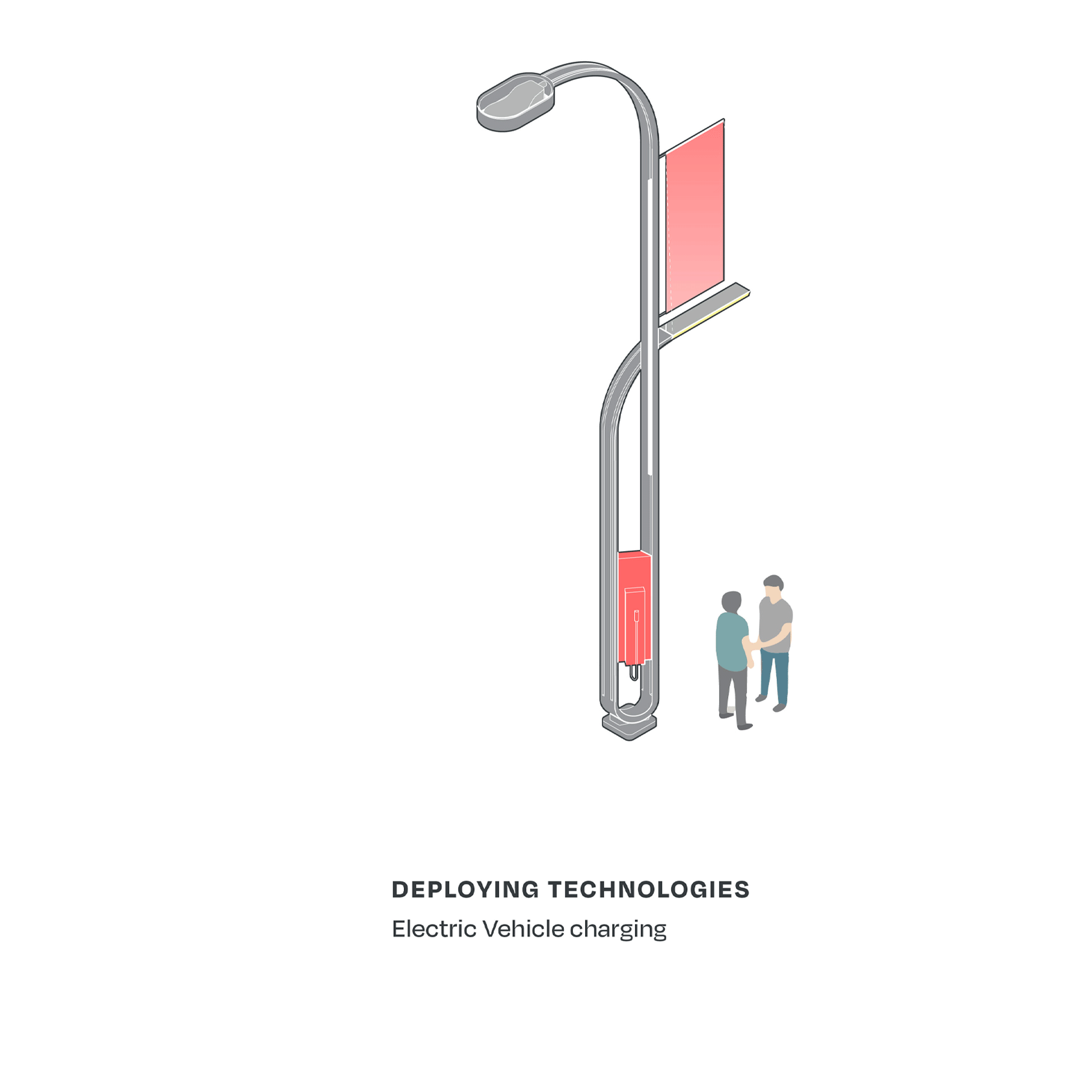 The straight aluminum extrusions curve at the base to form a looped frame where pedestrian-oriented accessories clip in. Above the base, the extrusion returns upwards and loops back to complete the sturdy frame and provide support for the pedestrian luminaires and shade sail.
The hollow aluminum form of the bench with a concealed tube frame provides a landing zone for pedestrians. The powder-coated aluminum finish reflects heat.
The Material: 10,000 Cans
The optimized section of the aluminum extrusion reduces the use of material. It's made from 100% recycled EPD aluminum, an ideal material because:
It uses 95% less energy to process than mined aluminum.
It can be processed from recycled beverage cans – about 10,000 are needed for one streetlight.
It's a readily available urban resource.
It connects the streetlights to a vital informal economy within Los Angeles, allowing people to contribute to beautification through recycling rebate programs.
This streetlight is for all people – whether they are collecting cans, waiting for busses, walking to light rail, parking on a crowded block, or driving through the city. As an ultimate measure of equity, it addresses people and vehicles equally and thinks globally about the health of our planet. It represents a future for everyone.