An Urban Oasis in Century City
The Century Plaza Hotel renovation reimagines the landscape of the original 1966 Minoru Yamasaki hotel, creating a pedestrian-friendly landscape that connects two avenues behind the hotel with a new streetscape, plaza, and retail pavilions along the Avenue of the Stars. Our concept of a walkable city within a city is achieved through elevating the iconic hotel's entry plaza to street level.
The overall design aligns the property with the urban paradise envisioned by the Greening Plan for Century City — also led by RIOS — and extends a better pedestrian experience connecting Avenue of the Stars, Constellation Boulevard, and the adjacent Westfield Shopping Center. Its planting palette incorporates many of the species outlined in the Greening Plan, creating a seamless botanical experience that extends from the streetscape through the plaza and the hotel lobby.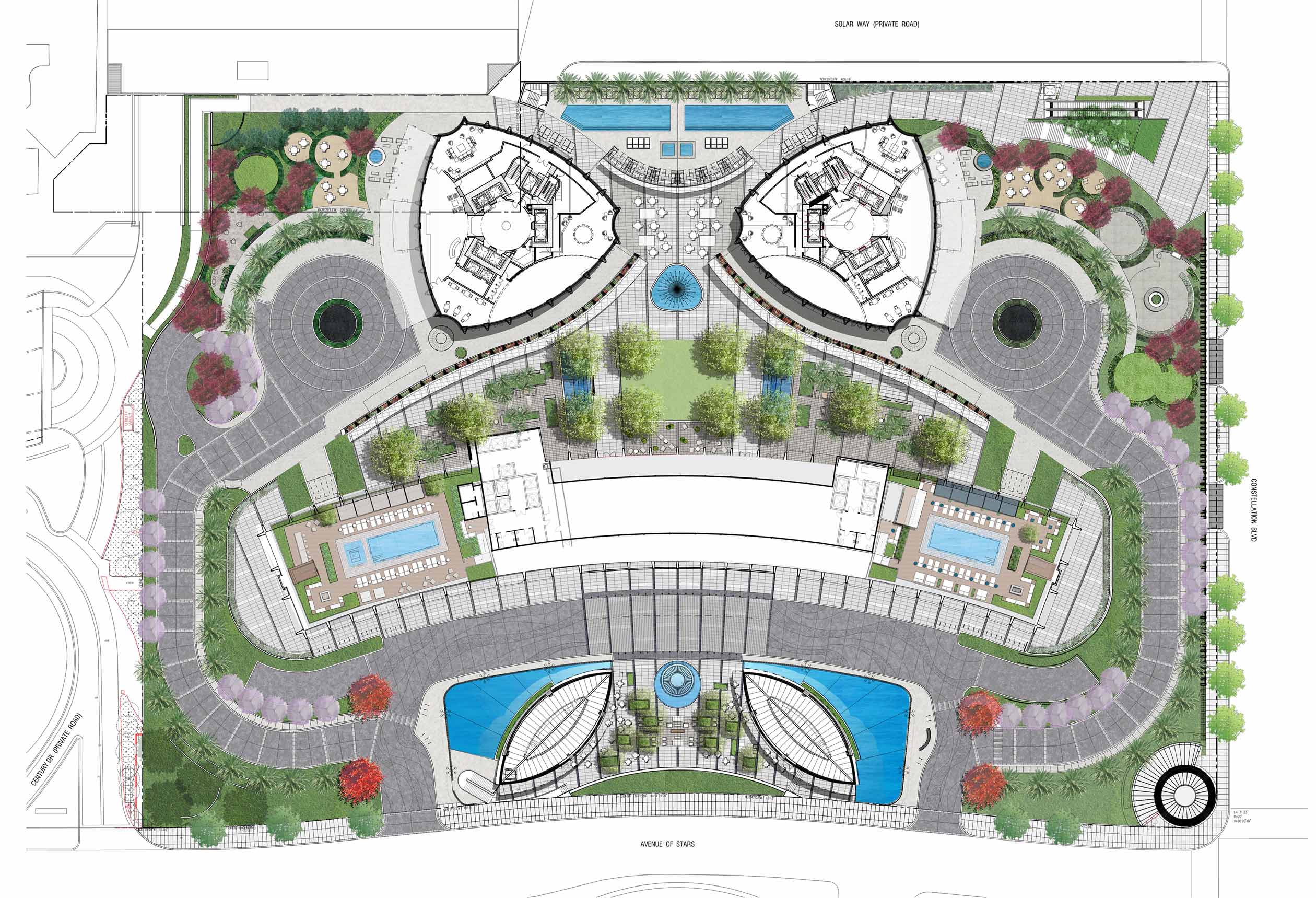 RIOS' role as landscape architect encompasses the entire site, from landscape forms to built furnishings to paving and planting. This comprehensive approach weaves a cohesive fabric that links the historic hotel to two new residential towers and retail spaces. Lush plantings are selected to harmonize with the site's micro-climatic conditions.
At the street, the design highlights two retail pavilions framing a plaza featuring a Jaume Plensa sculpture. The site is further enhanced by an inviting event lawn, elevated rooftop pool decks, and an array of gardens, forming a more active landscape to match the overall reinvention of the surrounding area.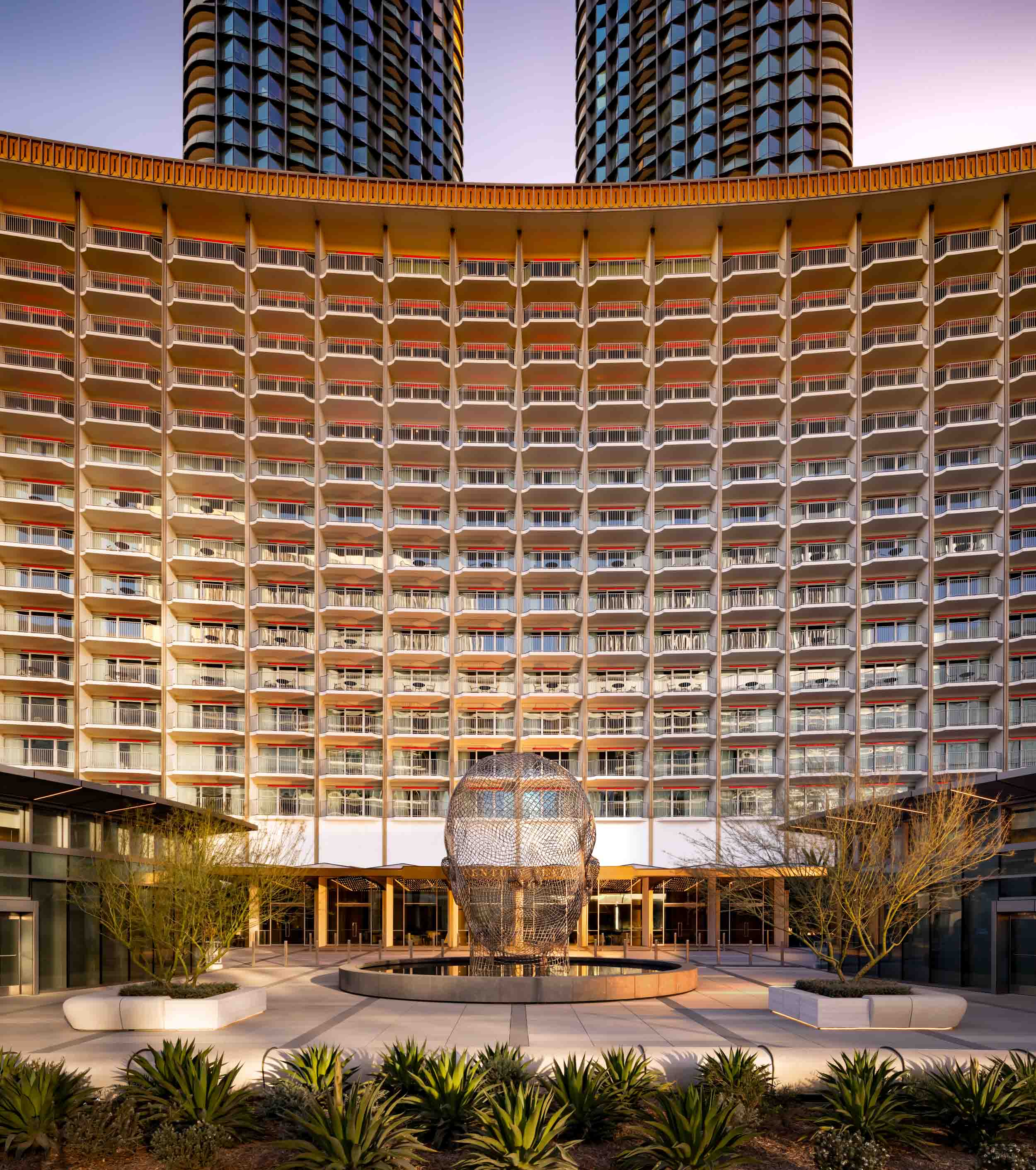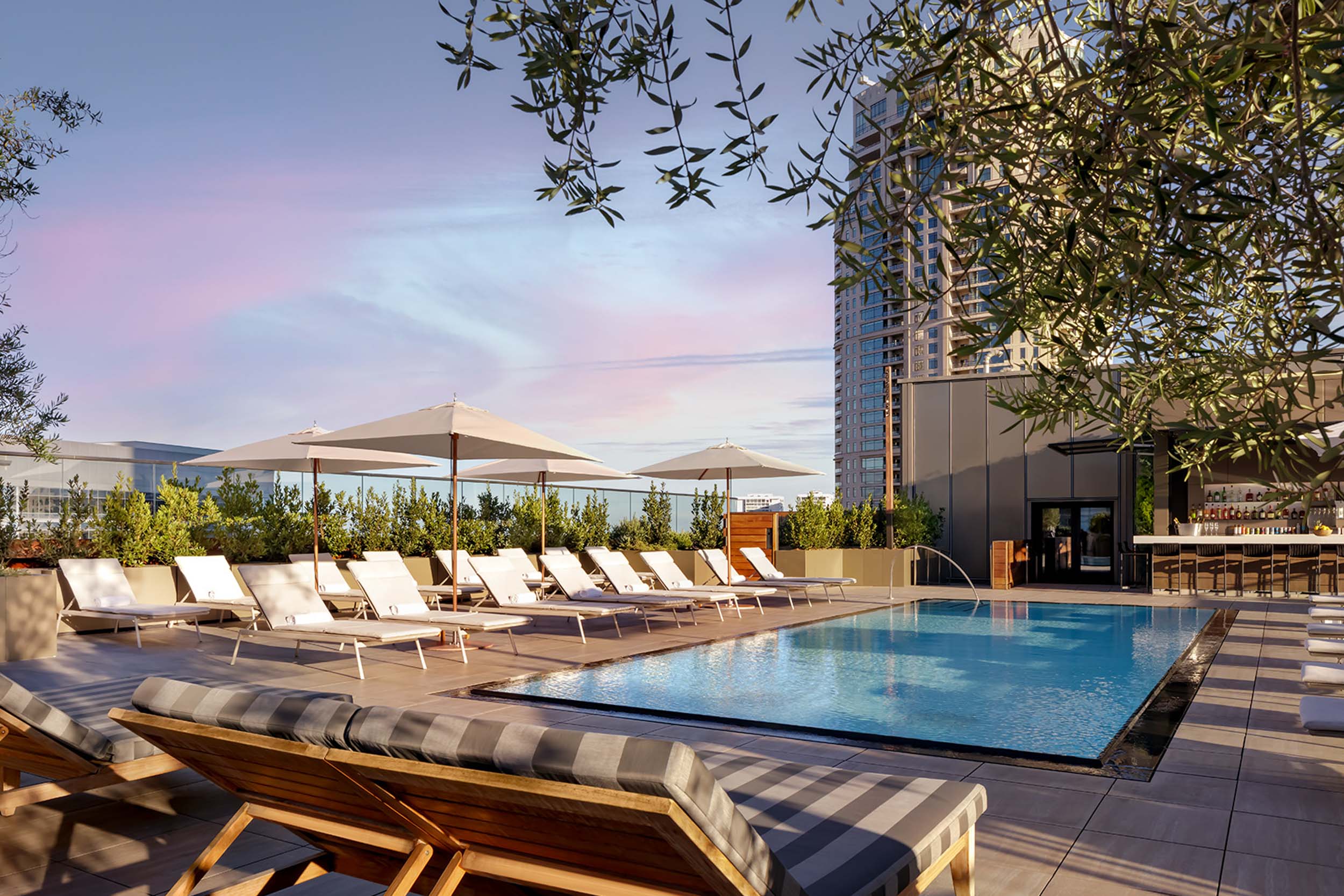 To honor Yamasaki's original plan of envisioning islands with serendipitous amenities amid water features, the site is sprinkled with fountains, pools, and water gardens. The innovative design achieves a circular and sustainable water system for collection, storage, and reuse. This system channels a majority of the site's runoff into underground cisterns, supplying water to the inner plaza and expansive podium gardens above.
Each fountain evokes a different mood through variations in basin elevation and water effects yet is unified by materiality and lighting. Serene reflecting pools, terraced waterfalls, choreographed animated jets, and colored lights infuse a sense of dynamism that is carried throughout the site.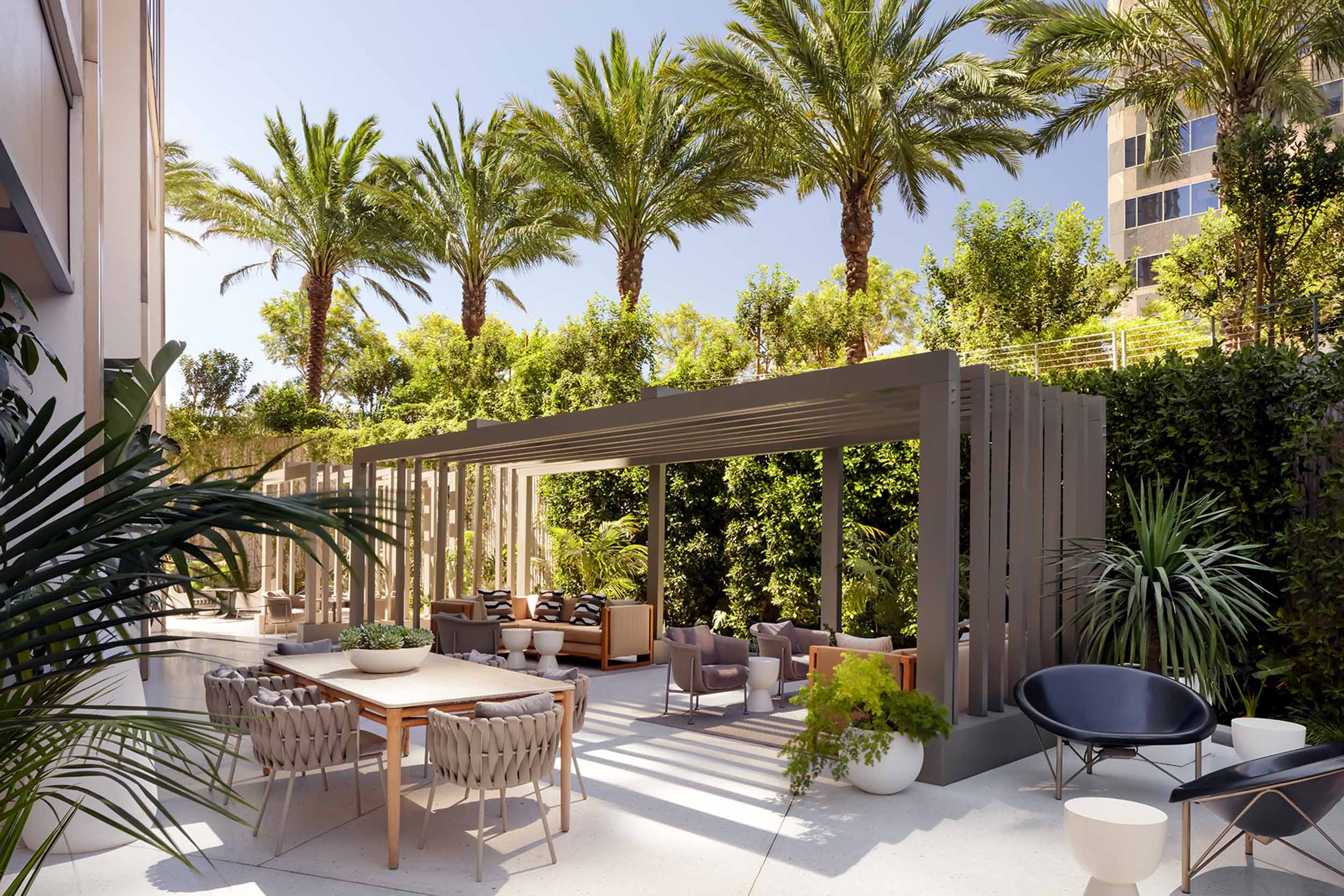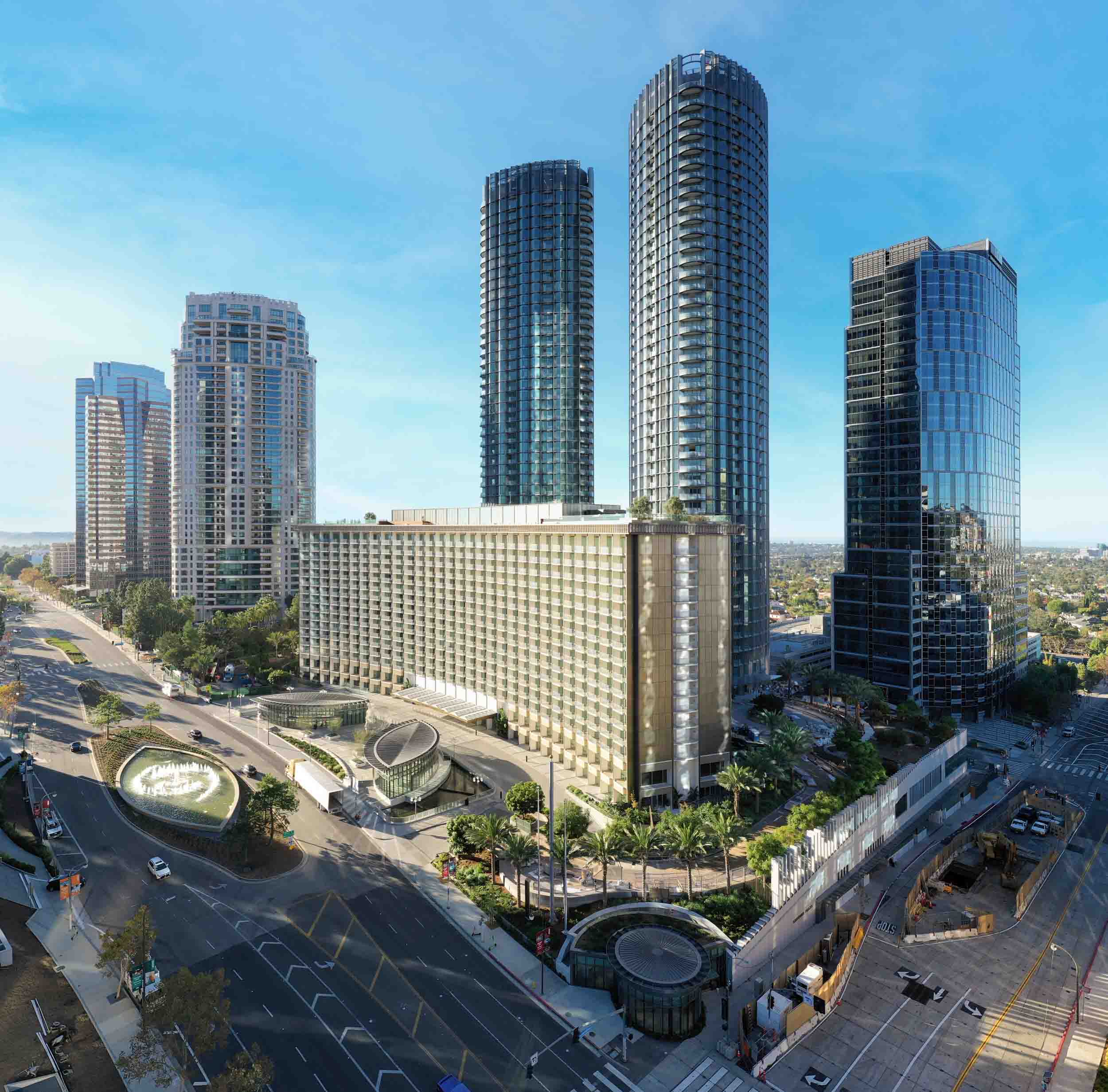 The twin residential towers, designed by Pei Cobb Freed & Partners, provide residents with access to private gardens, dog parks, and dedicated parking. These gardens lend each tower its own unique identity; the southern one embraces the Mediterranean climate of Los Angeles, while the northern one takes queues from gardens throughout southwestern Europe. Each garden is also equipped with flexible outdoor "rooms" for lounging, fitness, and a variety of activities.
At a material level, the streamlined, geometric paving design follows a matrix aligned with the radial grid of the hotel. Linear bands of granite are integrated throughout various elements of the landscape and podium architecture, establishing a unified spatial and material aesthetic.
Blending the hotel's original grid with a renewed material palette, the design honors the historic site's past while connecting it meaningfully and structurally to the future of Century City.