Treehouse Hotel Sunnyvale
An Agrarian-Chic Destination Celebrating the Rich Cultural Heritage of the Region
The Treehouse Hotel Sunnyvale will deliver a playful, welcoming, and relaxing escape for guests and the local community. Reviving Silicon Valley's agrarian heritage – from the fruit orchards that grew in the region to its modern barn character – the hotel will provide extraordinary moments for guests to connect with the natural environment using a palette for foraging and sensory delight.
Like its mission-driven sibling, 1 Hotels, the Treehouse Hotel delivers hospitality experiences rooted in wellness, conscious living, and commitment to sustainability. In collaboration with SB Architects, RIOS' landscape architecture team infuses the site with sensory delights for true retreat, with amenities and a natural setting one might expect at a Napa Valley spa.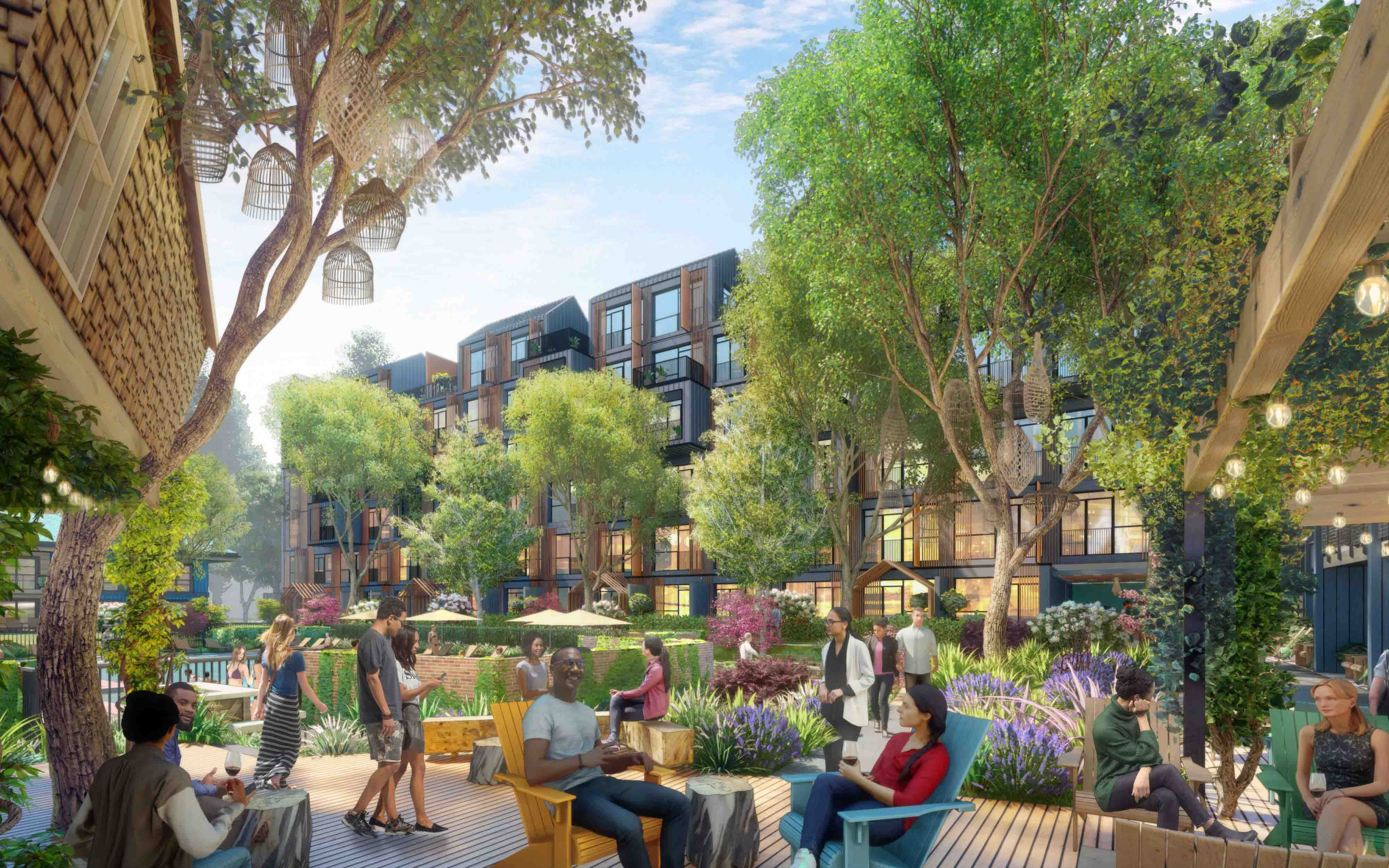 RIOS thoughtfully designed a series of outdoor rooms, including gardens, terraces, and courtyards, with nooks for moments of retreat and relaxation amidst nature. The landscape instantly and abundantly surrounds guests at first arrival from the entry heritage Oak plaza, unfolding in a series of lush, exuberant moments celebrating the site's natural environment and agricultural heritage.
The landscape design showcases hospitality as a holistic approach where the landscape is central to the guest experience.
Palette of plants hark to the site's historical ecologies, dotting the landscapes with meadows, native Oaks and dense woodlands, and interspersed with natural materials and artisan-crafted furniture that create intimate and otherworldly gathering spaces that spark sensory delight.
There is a layer of whimsey in this landscape, where visitors can step inside the property and nibble and forage while they roam the eclectic surroundings, all the while supporting deep ecological habitat. One can lounge under the cooling Redwood canopies, follow the path of a monarch butterfly to a native milkweed, and pluck an apple from just an arm's reach.
Architect: SB Architects
Landscape Architect: RIOS
Modular Tower Architect: Steinberg Hart
Civil Engineer: BKF Engineers