Once a non-descript tilt-up office building, the central courtyard of this 57,000-sq.ft. building becomes the focus of the transformation of this structure, which included architecture, landscape, and signage renovation. Initially an underutilized and under functioning courtyard space, the central outdoor space is now a vibrant outdoor room for all of the building's tenants.
Drought-tolerant native plants like ceanothus and deer grass throughout the campus's common areas keep the landscape a healthy green color while minimizing water use. The landscape strategy retained many of the site's existing camphor trees, integrating a wayfinding system and an ADA-accessible path ringing the courtyard landscape that ensure all members of the community will enjoy the new welcoming space.  
A slatted trellis structure around the main seating areas defines the heart of the courtyard, providing shade during the day and a lighted space at night. The directional slats also create privacy between the courtyard and adjacent offices. Various seating and lounge areas are now home to working lunches, creative collaboration, and casual conversations under the sunny San Diego skies.
The building's exterior elevations are also transformed; the painted façade signage picks up on the trellis motif. Each of the seven storefronts features a unique striped pattern that fits within a consistent overall context for the entire building. These bold, brightly colored signs add visual interest to an otherwise banal environment. Like the courtyard itself, the striped signs employ negative space as a prominent design feature.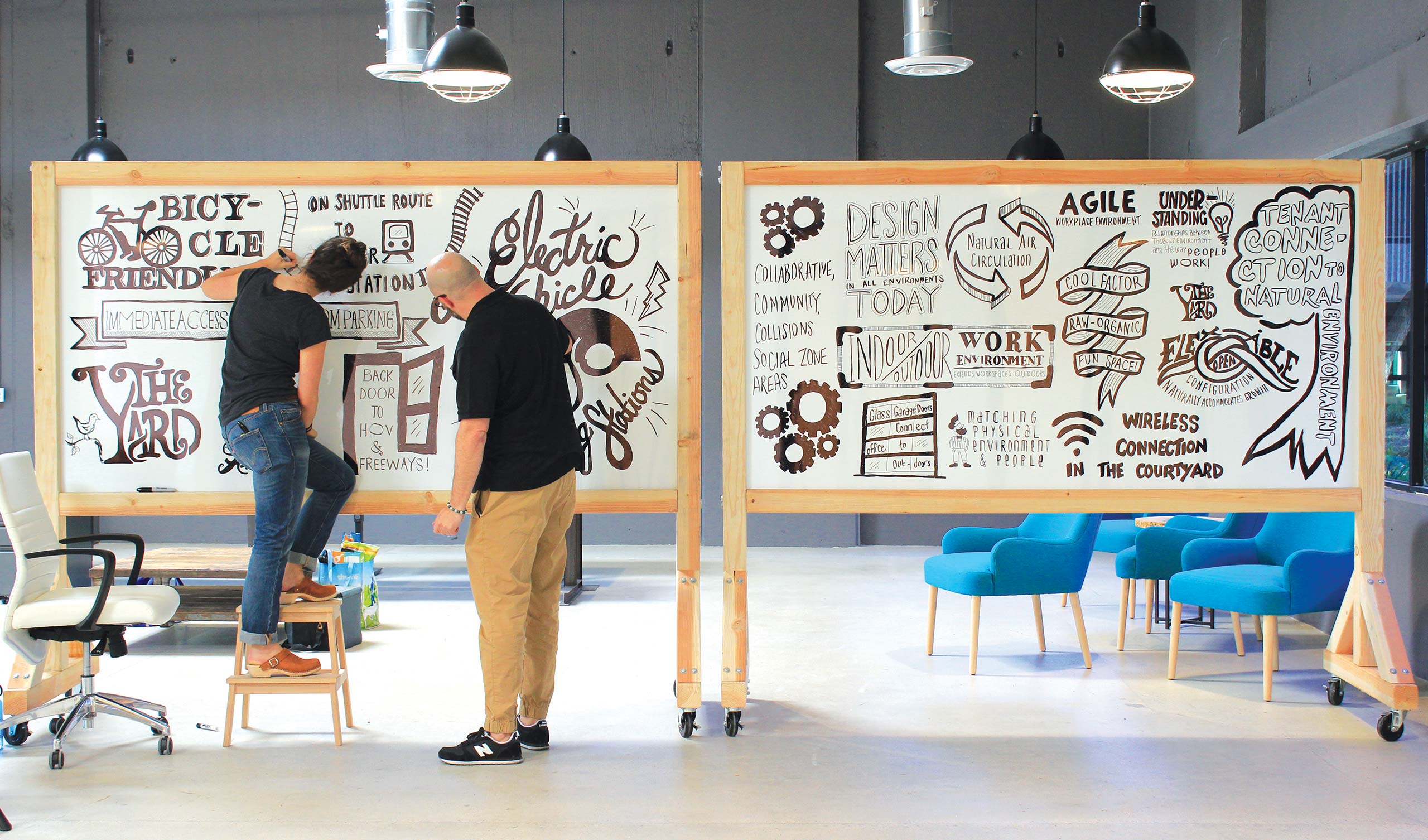 As part of the transformation, RIOS also created building brand to assist the Owner in leasing the building. The campaign featured a bright poster illustrating building amenities and improvements and was paired with hand drawn graphics illustrated in live motion on a white board for a leasing event.
The same hand drawn graphics are extrapolated at large scales to indicate amenity areas within a spec office suite created to allow the owner to showcase the open industrial potential of the building. The spec suite's design subdivides the large creative office environment with a meeting pod, reception area, open work areas, and a communal kitchen/bar to reveal the vast possibilities of The Yard.