Marc Rose and Med Abrous' All Day Café Concept Serves Playa Vista and Beyond with a Counter-Service Restaurant, Catering, and Much More
Los Angeles, CA (February 5, 2020) – Restaurateurs and creative visionaries Med Abrous and Marc Rose are proud to announce the opening of their beloved LA all-day café concept Winsome as the hospitality anchor of the 33-acre Playa District, which is owned by EQ Office and designed by RIOS. Upon its opening in Echo Park in 2016, Winsome garnered recognition from Bon Appetit as one of the year's Best New Restaurants.
"We're looking forward to being an integral part of this thriving creative hub, serving as a gathering place for community and collaboration," said Abrous and Rose. "Through our catering component, we're excited to provide thoughtful, creatively prepared food offerings to the Playa Vista area and beyond."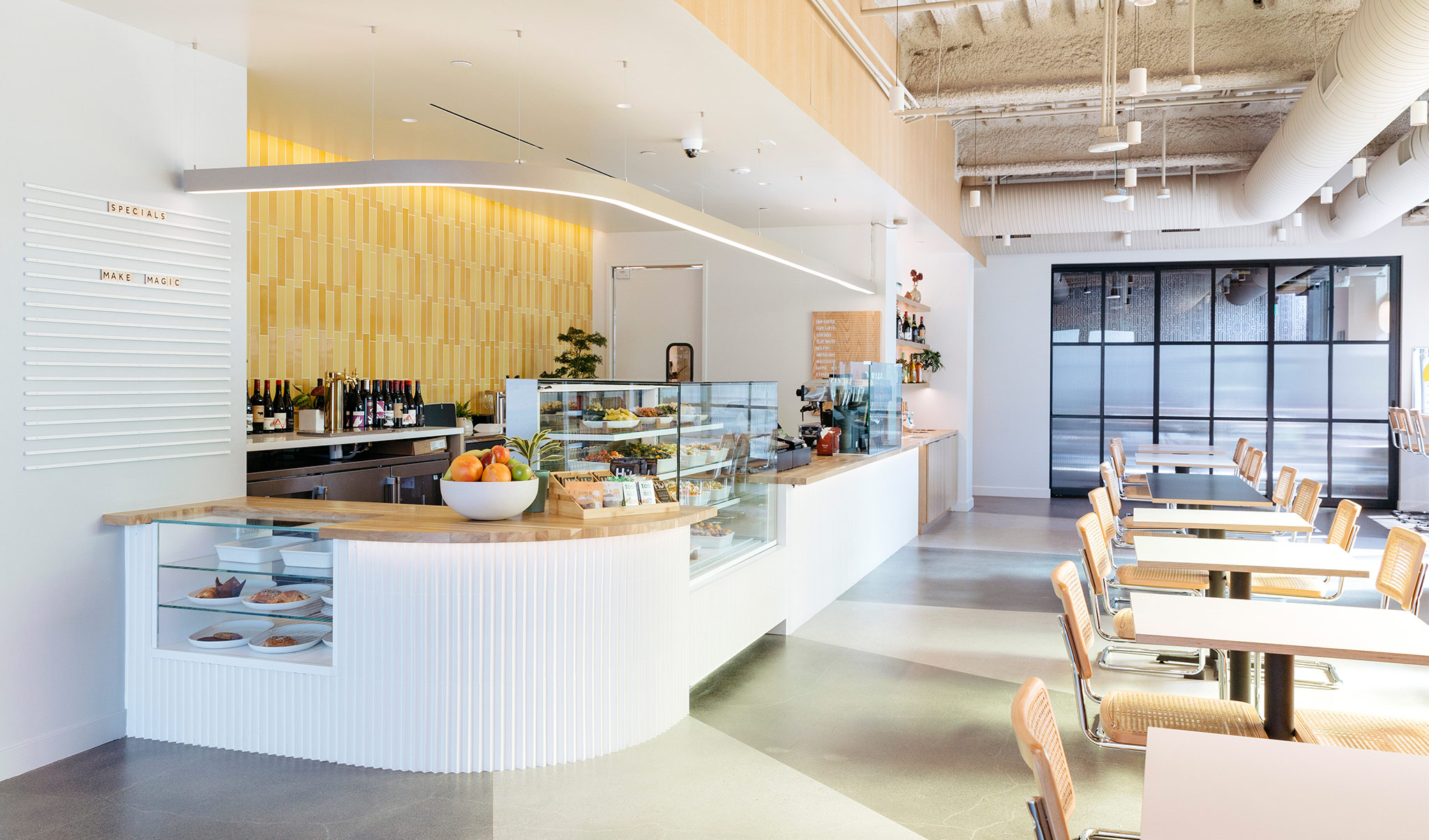 Through Winsome, Abrous and Rose plan to meet the needs of the Playa District and surrounding neighborhoods, providing an inclusive menu of Winsome's signature style and new additions complemented by beverage offerings crafted by award-winning bartender Gabriella Mlynarczyk (formerly of Accomplice Bar in Mar Vista and The Fat Radish in NYC) who also serves as Winsome's general manager. Highlights of Winsome's food offerings include market-driven options such as a prosciutto tartine with ricotta, pear, pepper jelly, saba and sourdough; grilled chicken salad with fennel, watermelon radish, avocado, basil, breadcrumb, baby romaine and buttermilk-poppyseed dressing; and, the mushroom french dip with caramelized onions, young gruyere cheese, methi, mushroom au jus, and french bread. A robust selection of prepared items will be available in the case with offerings ranging from curry chicken salad with mango chutney, golden raisin, apple and almond to charred zucchini and squash with olive oil, sea salt and lemon. Grab-and-go options will soon launch with sandwiches, salads, and other prepared items available for takeaway. Delivery and catering will also be available for nearby offices and events with the expansion of services coming in a few months.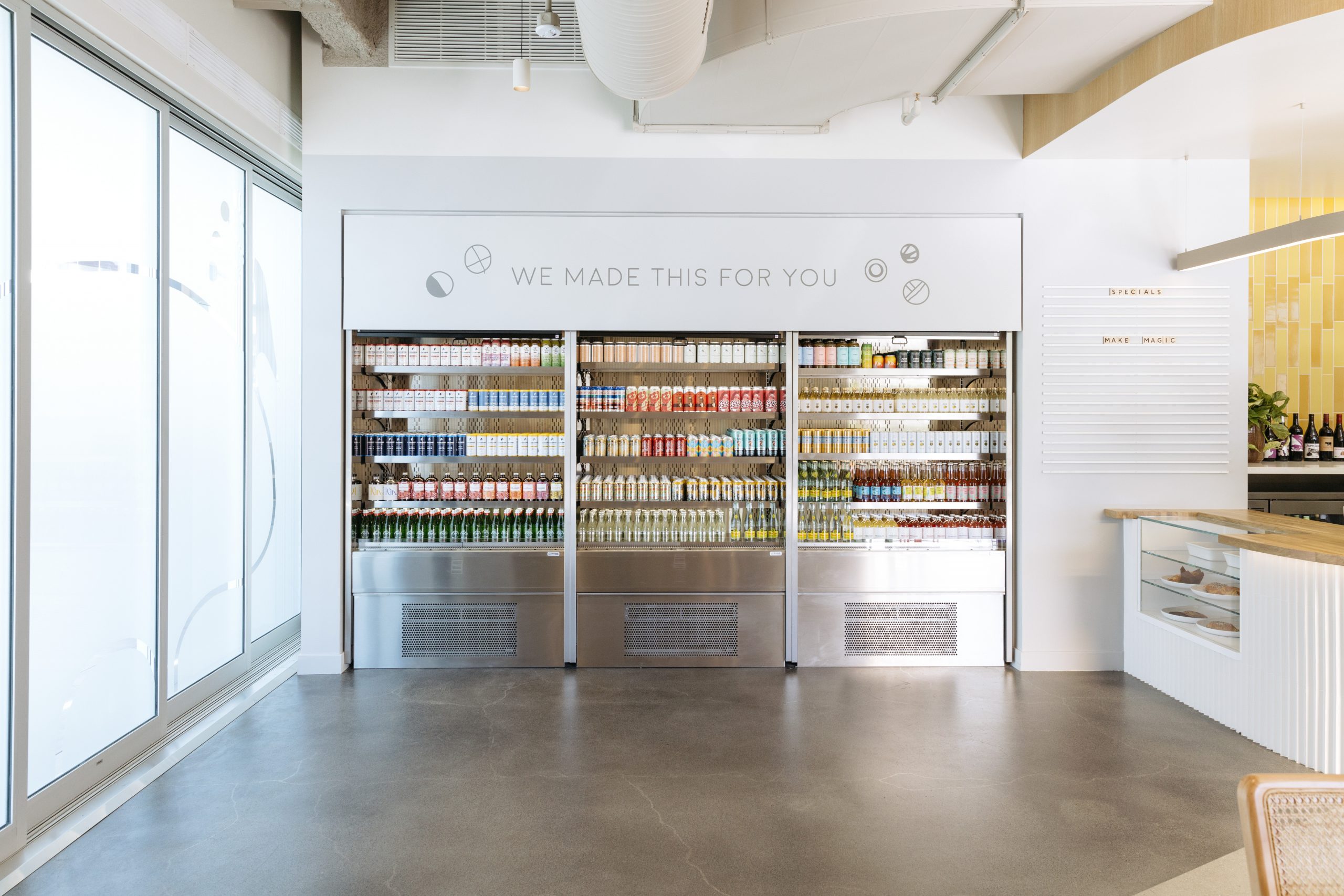 Winsome guests can also select from an extensive variety of beverage choices including a range of coffee options from premier roaster La Colombe as well as infused teas such as bergamot and jasmine along with a specialty matcha coconut latte and turmeric chai latte. Kombucha, cold pressed juices and housemade agua frescas including a toasted coconut, almond, and five spice horchata round out the non-alcoholic beverage offerings. A mix of biodynamic, organic wines available by the glass or bottle along with craft beer options from Mikkeller and 21st Amendment, among others, are also available for those looking to imbibe. Mlynarczyk, winner of accolades from Thrillist, Time Out and Tales of the Cocktail, is also crafting a full list of well-balanced cocktails that will launch in the coming months.
Dropping anchor at the EQ Office campus, Winsome is the latest addition to Playa District that currently offers premium tenant experiences from concierge services to fitness and wellness programming, all of which was designed by LA-based multidisciplinary design firm, RIOS. Winsome aims to serve as an extension of the campus' mission to create inspired spaces aimed at enhancing work and life quality, and fostering a sense of community.
"Winsome is a curated dining experience that fosters a sense of community. Inspired by the relaxed coastal environment of the beach, the design blends a sun-drenched color palette with blonde woods, white slats, and windswept forms. A curved counter anchors the central service area where staff engage with patrons in the dining and lounge areas," says Mark Motonaga, Creative Director, RIOS. "The flexible design employs a series of sliding pocket doors between the dining and lounge spaces to accommodate private events. Similarly, an aircraft hangar door retracts completely to connect with the outdoor dining terrace and seamlessly blend interior and exterior spaces."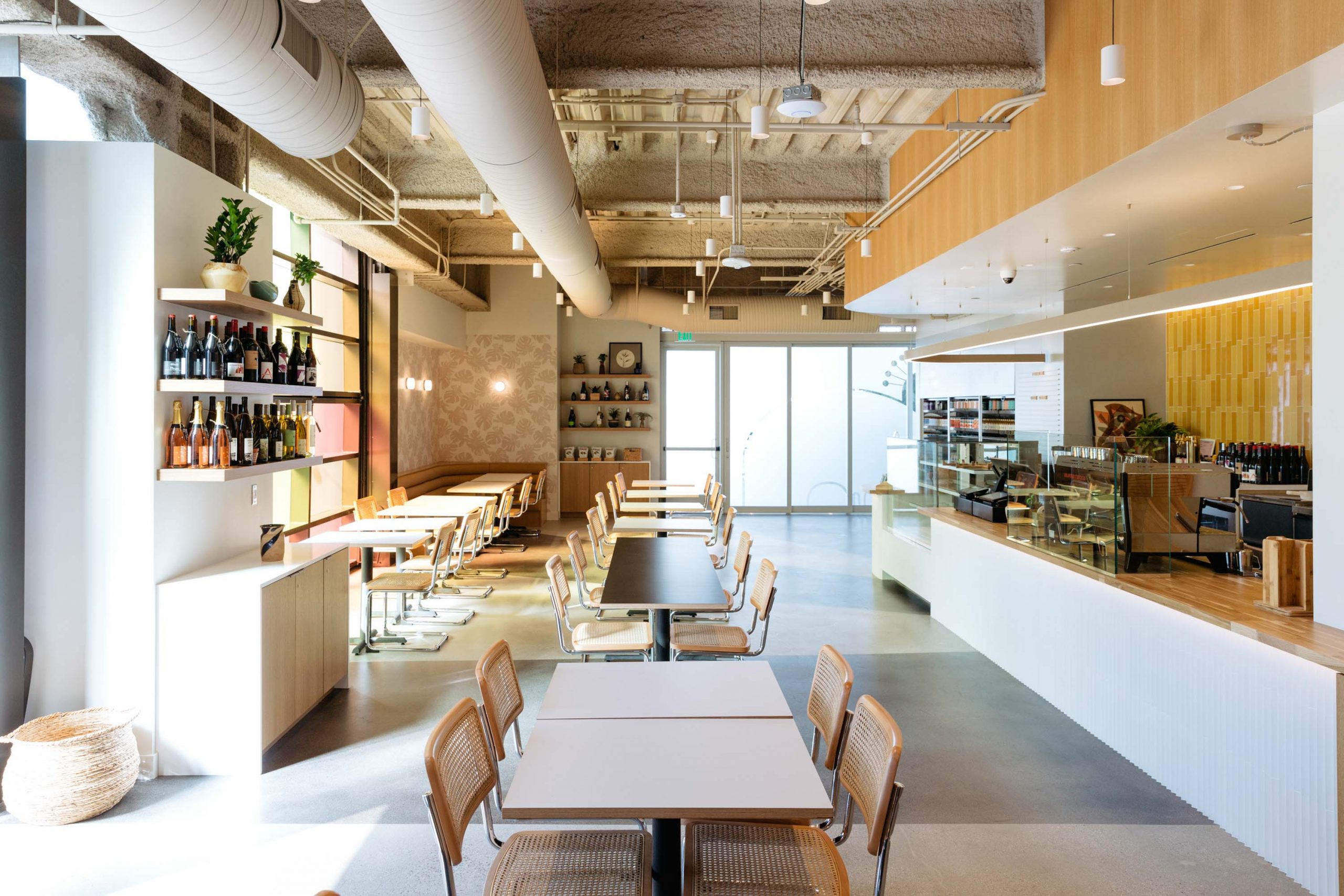 "We are thrilled to introduce the Winsome team to Playa District," said Tim Marchal, Vice President, Portfolio Director of EQ. "Building a community is not only about developing space for our tenants to gather, but creating experiences for them to break bread, literally. By adding these local favorites to our roster of farmer's markets and food trucks, we're hoping to provide our tenants and the surrounding community with even more options. We partnered with Abrous and Rose because they truly understand the local pulse and bring a dynamic offering to our Playa community." Winsome at Playa District is the newest concept by Abrous and Rose, the industry vets behind LA's The Spare Room at The Roosevelt Hotel and the iconic Genghis Cohen on Fairfax. The duo are also at the helm of the food and beverage concepts at Seattle's Graduate Hotel including the rooftop bar Mountaineering Club and the coffee shop meets natural wine bar Poindexter in addition to the newly opened animatronics karaoke bar Cross-Eyed Critters Watering Hole and Poindexter at Nashville's Graduate Hotel. They'll also head the food and beverage program at Graduate's Roosevelt Island location, slated for a summer 2020 opening.
The Playa Vista space, located at 6080 Center Drive, Suite 180, is now open Monday through Friday from 7:00 a.m. until 3:00 p.m. with expanded hours to come. More information can be found at www.eatwinsome.com.