A New Cultural Landmark in Downtown Houston's Theater District
Lynn Wyatt Square for the Performing Arts — Downtown Houston's newest cultural venue and landmark — is open to the public. RIOS' vision transformed the former Jones Plaza into a vibrant hub providing a more interconnected and inclusive green space in the heart of the city's Theater District. 
The award-winning design encompasses a cohesive site strategy across architecture, landscape architecture, urban planning, and experience design that establishes the plaza as a new gateway for all to celebrate the arts through year-round programming.
Anchoring the Theater District through Placemaking and the Performing Arts
A placemaking strategy inspired by the concept of Urban Choreography weaves the space into downtown's urban fabric. RIOS envisioned the space as an outdoor venue and host to accessible, diverse programming that connects to the surrounding Houston Symphony, Houston Ballet, Houston Grand Opera, and Alley Theater. A vivid color palette evokes a sense of joy and wonder through strong placemaking, connecting the site to the Houston Symphony's newly rebranded identity.
Designed in collaboration with Community Arts Resources (CARS) and Houston First Corporation during the Schematic Design Phase, the venue's flexible outdoor event spaces serve as an active hub for music and dance performances, film screenings, art installations, workshops, and beyond.
Climate, Resiliency, and Comfort
The sustainability-focused landscape design transforms the plaza into a vibrant, comfortable environment for all to live, work, and play. Considering Houston's 500-year flood event elevation data, new garage air intake openings are situated above the new flood design elevation to ensure the site's longevity. New plantings mitigate the heat island effect, improve air quality, and reduce runoff. Highlights of our strategy include:
19.1% decrease in hardscape
91.8% increase in plantings storing 3,075 lbs of carbon annually
27% increase in number of trees on-site, including 14 mature oaks
An average of 10,936 gallons of stormwater intercepted by new trees
Inclusivity and Accessibility
Our redesign opens the previously largely inaccessible plaza from all sides and improves ADA accessibility. A new water feature is thoughtfully designed to align with seating levels, allowing anyone in a wheelchair to fully immerse themselves in the calming waters for a more refreshing experience.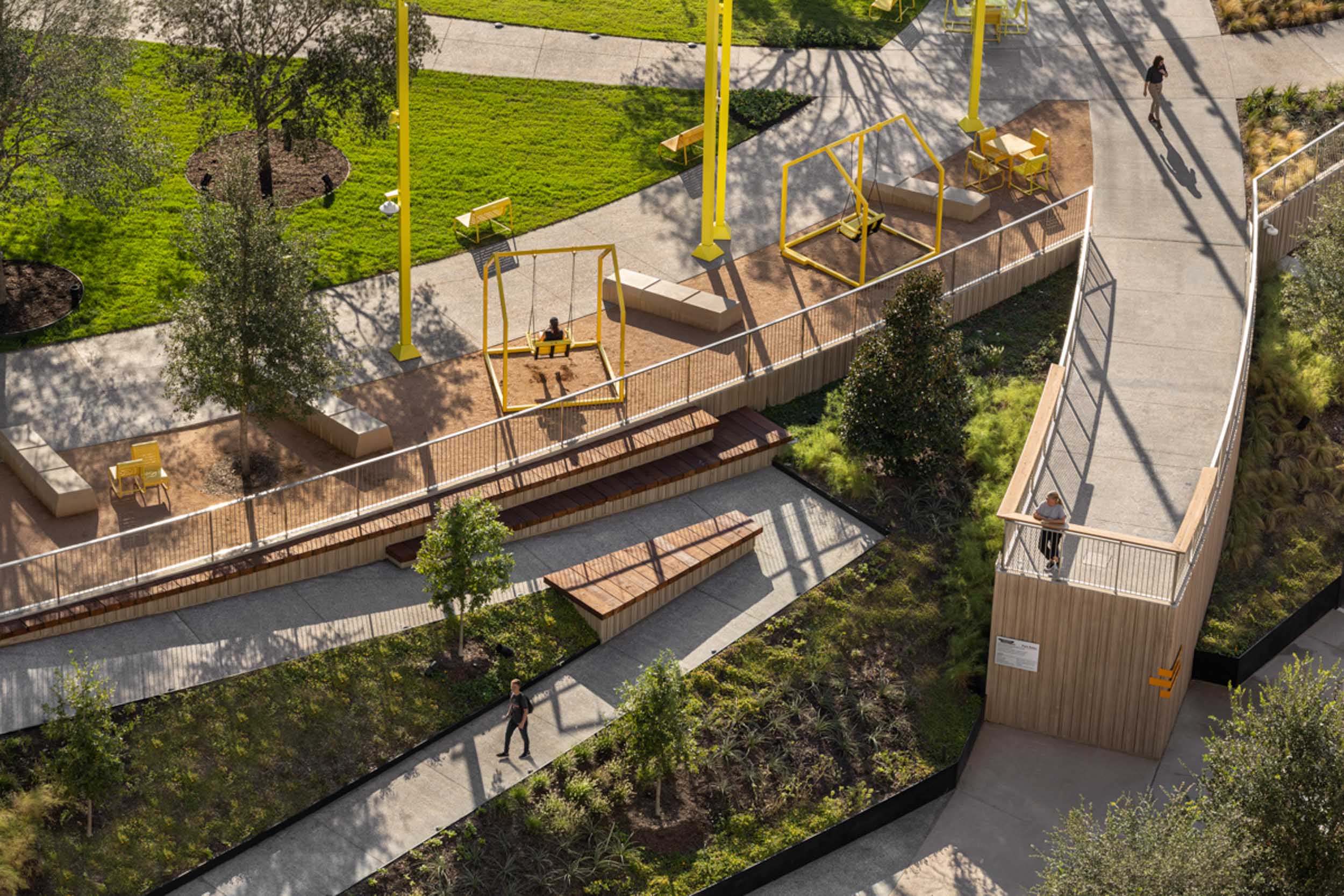 The Architect's Newspaper 20th anniversary issue: The People are the Performance. Lynn Wyatt Square becomes the new front yard of Houston's Theater District
Houston Chronicle: Jones Plaza is officially Lynn Wyatt Square. Plus, the surprise unveiling of 'Sylvester Turner Way'
Houston Business Journal: Lynn Wyatt Square for Performing Arts to open in downtown Houston's Theater District
Houston Public Media: Jones Plaza gets $26.5 million upgrade, now named Lynn Wyatt Square
Houston Culture Map: Game-changing new downtown plaza named for Houston icon Lynn Wyatt finally opens this week
Landscape Architects, Design Architects, Urban Designers, and Experience Designers: RIOS
Executive Landscape Architectural for Planting Design: Asakura Robinson
Executive Architects: HarrisonKornberg Architects
Client's Project Manager: Roksan Okan-Vick, FAIA
Contractor: Manhattan Construction Company
Structural Engineer: Henderson Rogers Structural Engineer
MEP Engineer: E&C Engineering
Civil Engineer: Gradient Group
Water Feature: Fluidity
Furniture: JANUS et Cie
Programming: Community Arts Resources (CARS)
AV/IT: JaffeHolden
Lighting Design: Schuler Shook
Waterproofing: Walter P. Moore
Streetscape & Mobility: Traffic Engineering Inc.