New Music Venue Planned for Cincinnati's West End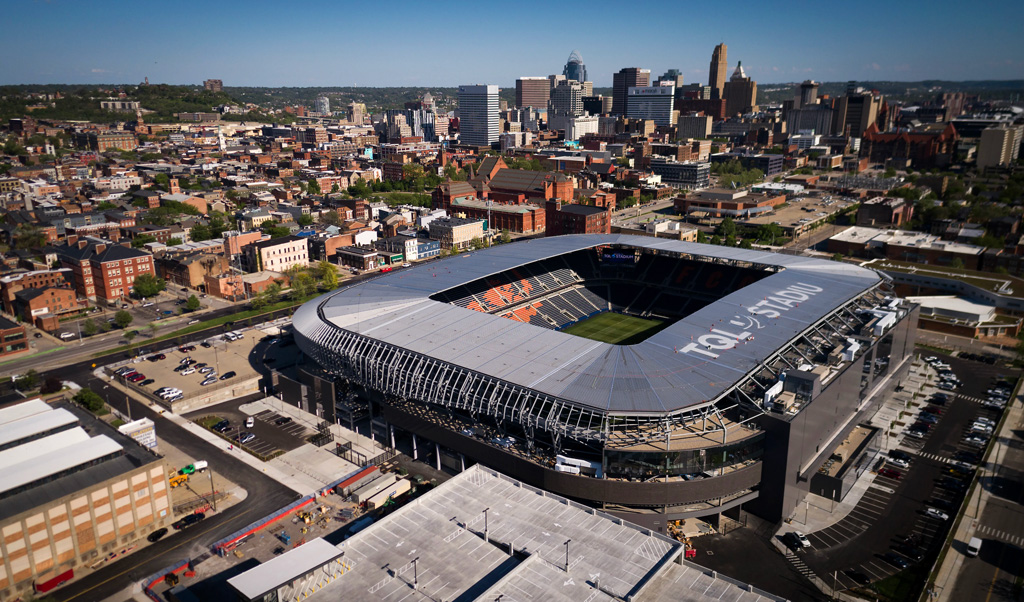 The West End may soon be home to Cincinnati's newest music venue. 
FC Cincinnati is exploring plans to build an entertainment facility north of TQL Stadium as part of a $300 million mixed-use district. The club's chief development officer Chad Munitz told The Enquirer it could fill a gap in the Greater Cincinnati music market and bring upwards of 200 more events to the district each year. 
"We don't have it set in stone. We've talked to a couple of the largest music promoters and venue operators locally and throughout the country and they agree we are missing a 1,500-to-2,000-capacity space," Munitz said. "It'd be very much a multipurpose venue for concerts, comedy shows, private events, e-sports … black box space would probably be the best definition."
FC Cincinnati and RIOS, the Los Angeles-based global architecture firm chosen for the project, presented an initial vision to the West End Community Council on Wednesday, which showed the configuration of buildings on an 8.5-acre site. The entertainment space would be on the northwestern edge of the development near Bauer Avenue and John Street. 
So far, a venue operator has not been decided.
The only other music venue nearby of this size is Bogart's in Corryville. Music Hall seats more than 2,000 people, while the Andrew J. Brady Music Center at The Bank holds 4,500 concert-goers and MegaCorp Pavilion at Newport's Ovation can host 2,700 people inside and 7,000 outside. The Taft Theatre in Downtown Cincinnati seats 2,500.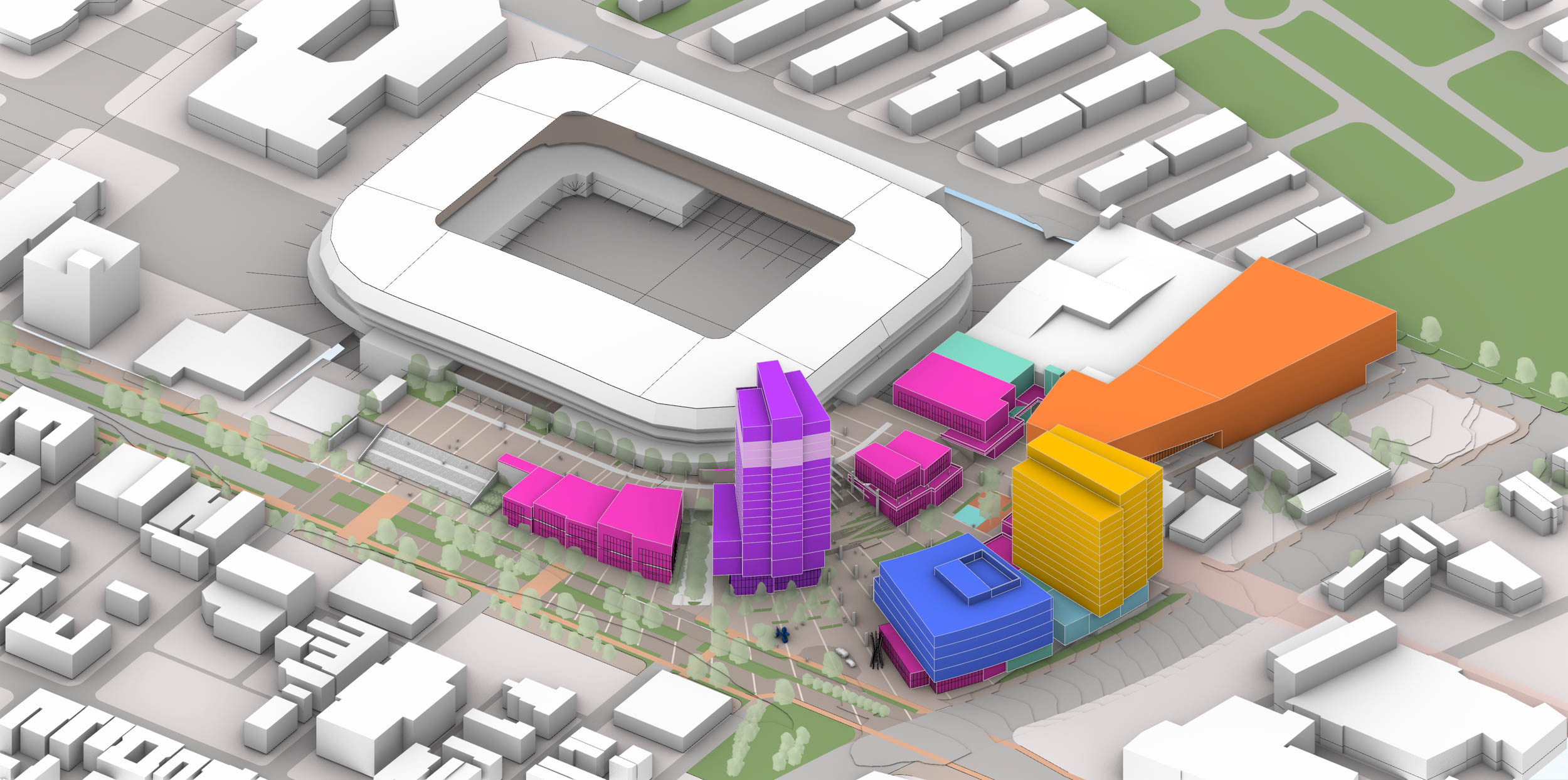 Also planned for the mixed-use district: an 18-story hotel from the team behind Ghost Baby; a 13-story residential complex; an 80,000-square-foot office building; and 65,000 square feet of ground-floor commercial space. The buildings will "crescendo" in scale, getting taller as it curves around the stadium starting near its entrance on Central Parkway, according to Sebastian Salvadó, Creative Director at RIOS. A large tree-filled plaza will sit in the center of the district.
The design team is pulling inspiration from architecture in Over-the-Rhine and the West End to create a sense of place. They'll use "timeless materials found in the historic fabric" like cobblestone, brick and tile, said Salvadó. 
"We want to do something here that's unexpected," he said. "Even though this is a sports complex, it can't be too hard or too sporty. It can't just be all about the stadium." 
Instead, the focus will be on designing a public place where people of all ages, from all parts of Cincinnati and beyond, can enjoy visiting whether a match is happening or not. Some elements will be soccer-related, and some will not, Salvadó added.
Demolition work on the buildings previously at the site started earlier this year. FC Cincinnati will present a refined version of its master plan for the site to 
the West End Community Council in mid-August, asking for a letter of recommendation before submitting a rezoning application to the city's planning department in early fall. (City Council first approved zoning for the mixed-use Plan in 2019). Site work is anticipated to begin at the end of this year, and the first phase of the development is anticipated to open in the first quarter of 2026.