A Community Hub Merging Culture and Wellness
The Watts Community Center, a 90,000-square-foot cultural facility within a 6-acre landscaped park, is a testament to community-driven design. Designed to welcome all residents of Watts, the community center was envisioned as a communal front porch. Its soaring, grand canopy embraces a spacious community plaza, inviting visitors inside.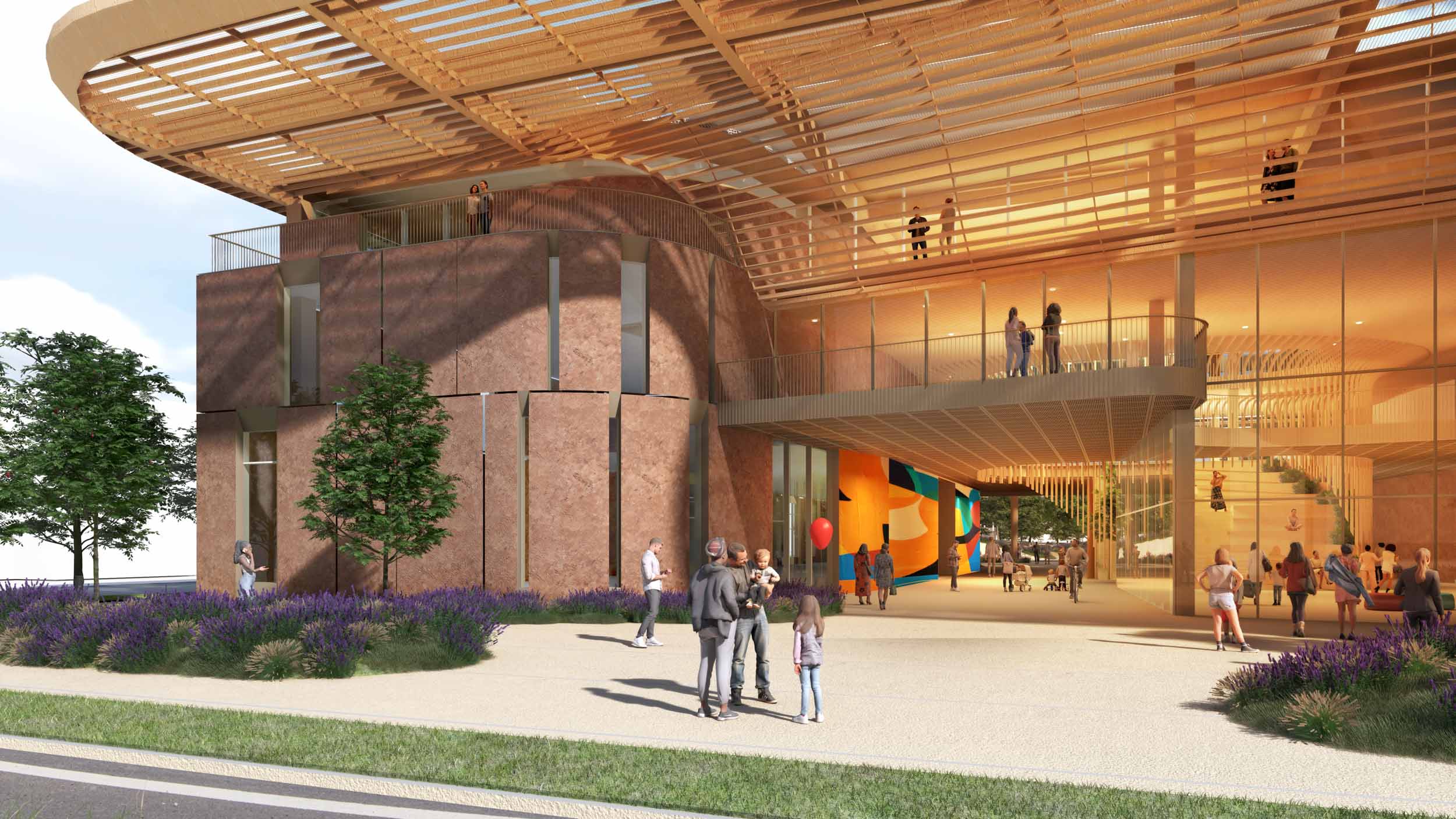 The facility encompasses distinct areas, catering to diverse age groups and interests.
Learning and Opportunity Center: This section includes classrooms, mentorship programs, a makerspace, coworking spaces, and a small business incubator.
Cultural Center: Designed to nurture creativity, it features a recording studio for podcasts and music, along with art studios and performance venues.
Wellness Center: As the site's wellness hub, this space houses a fitness and training center, dance and yoga studios, and facilities like a track, basketball court, and pool.
Community Center: This area is dedicated to various age groups, offering youth and teen programs, child daycare, parent support, and a range of activities and services for older adults.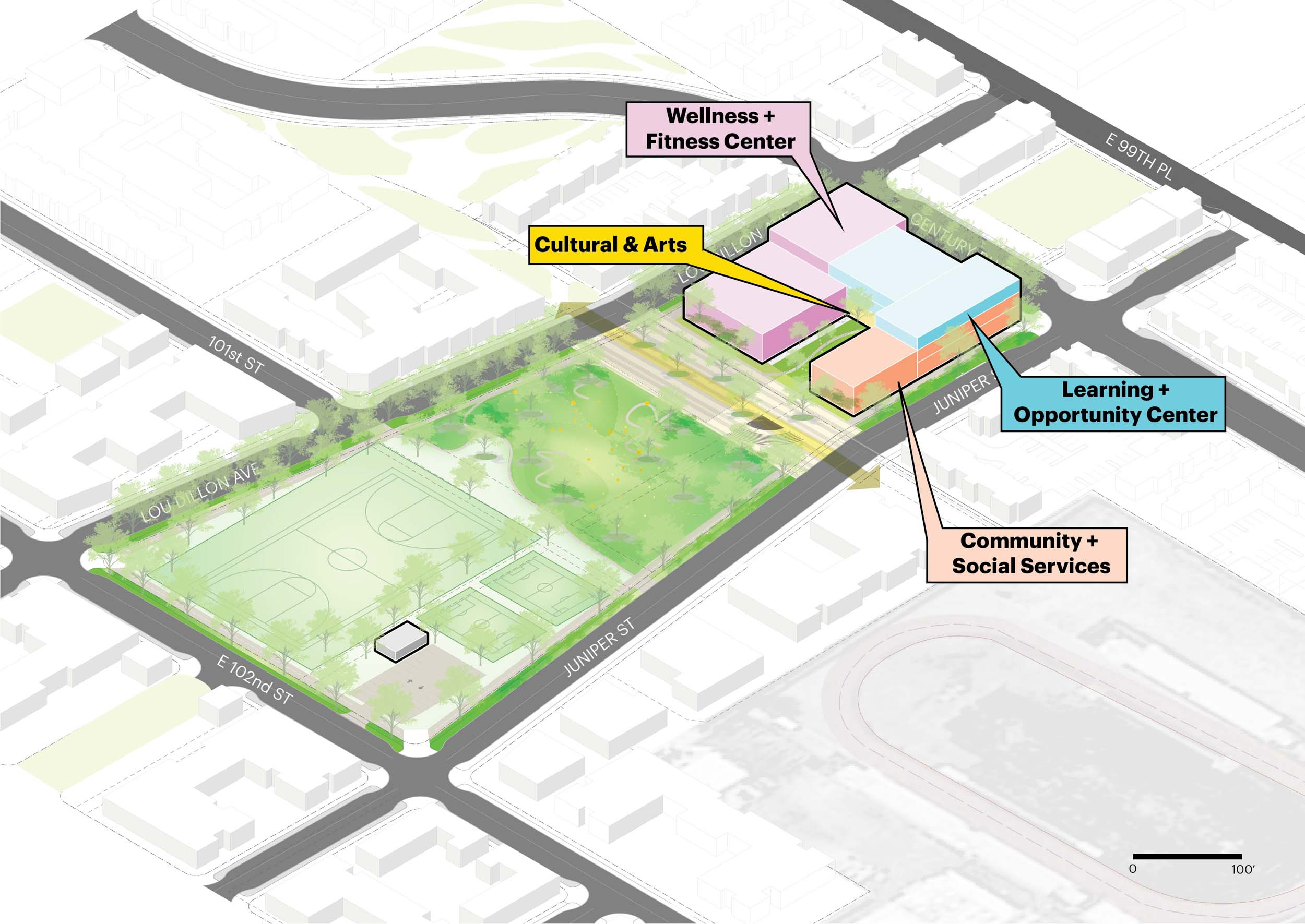 Our design vision realizes state-of-the-art facilities for the Watts community while strengthening, integrating, and building lasting community partnerships. As part of the Jordan Downs Redevelopment area, the site will serve as a central park and local hub anchoring the surrounding neighborhoods through a communal gathering space.
Spanning a continuous long block, the park and community center will link to surrounding pedestrian paseos and modes of public transit to allow safe pedestrian access and encourage more park usage. The surrounding mixed-use developments feature retail and institutional ground floor spaces facing the park, offering both visible connections and easy park access.
A Community-Driven Process
Through a comprehensive approach encompassing both the architectural design and the design process, we created a participatory community journey that strengthened and built partnerships throughout Watts, ensuring the long-term success of the community center.
Despite the pandemic, we held six virtual community meetings, a virtual fair, and a safely held in-person open house, ensuring transparency and visibility throughout the design process.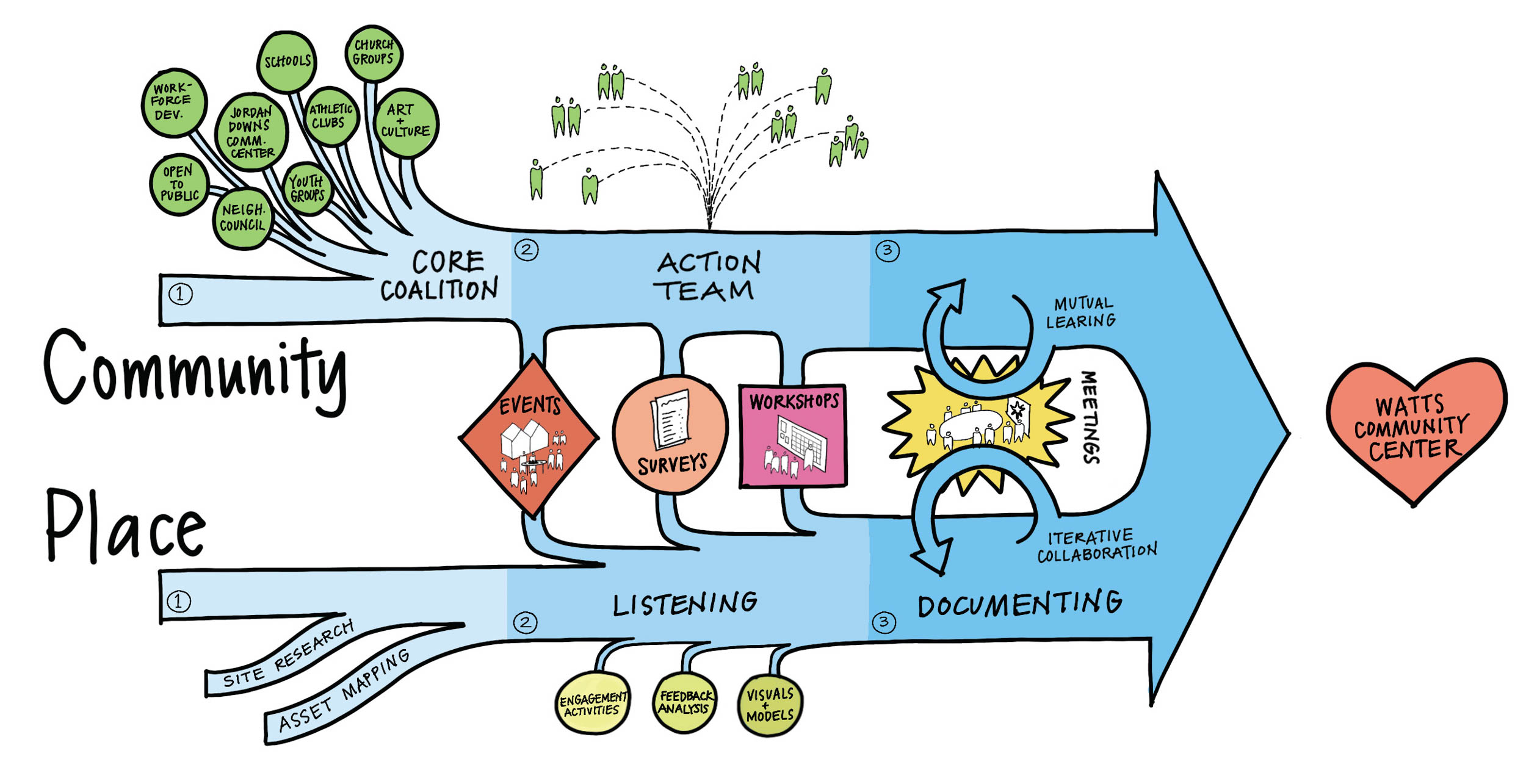 The design incorporates flexible spaces that can grow and adapt to the evolving needs of the community. Outdoor areas act as a continuum of indoor programming, providing opportunities for recreational activities and larger events to occur in open spaces. A series of contemplative gardens, shaded spaces, and outdoor rooms can connect through large openings to interior spaces, further blurring the boundaries between these spaces. Additionally, all amenities and buildings are interwoven into the park's fabric to ensure that it feels welcoming and inclusive for all visitors.
The Watts Community Center embodies the resilience and aspirations of its residents, serving as a central hub where culture, learning, wellness, and community converge.
Watts has historically suffered from a lack of parks and urban shade, compounding the impact of climate change. Our primary focus was to integrate sustainable features, with a strong emphasis on enhancing human comfort and community well-being, including:
Achieving Net Zero Carbon
Targeting LEED GOLD Certification
Utilizing a mass timber structural system to minimize embodied carbon
Establishing a Resiliency Center
Incorporating 760 kW of rooftop solar panels
Leveraging heat recovery mechanisms between the building and pool
Implementing a Building Automation System for peak load management
Establishing an all-electric site and building
Maximizing natural daylight
Installing low-flow fixtures for water conservation
Creating tree canopies for extensive shade throughout
Incorporating drought-tolerant landscaping
Establishing a pollinator ecosystem