Ningbo Xiangshan People's Square
A Resilient Future for Xiangshan 象山的弹性未来
Our proposal for the Ningbo Xiangshan People's Square Urban Design Conceptual Architecture and Landscape Design International Competition envisions a vibrant ecological city in harmony with nature. Inspired by Xiangshan's history of adaptation to life on an alluvial plain between the mountains and ocean, our proposal boldly embraces the fluctuations of natural systems to create an iconic destination rooted in the identity of Xiangshan.
Approaching the site as a hydrological 'sponge,' we propose a forward-thinking coastal garden city that anticipates the uncertainty of future flooding, sea level rise, and climate change. Through engagement with nature in a performative landscape, we envision a resilient future for Xiangshan that promotes its identity as an ecological, social, and wellness destination.
Embracing Seasonal Flux 拥抱季节河流变化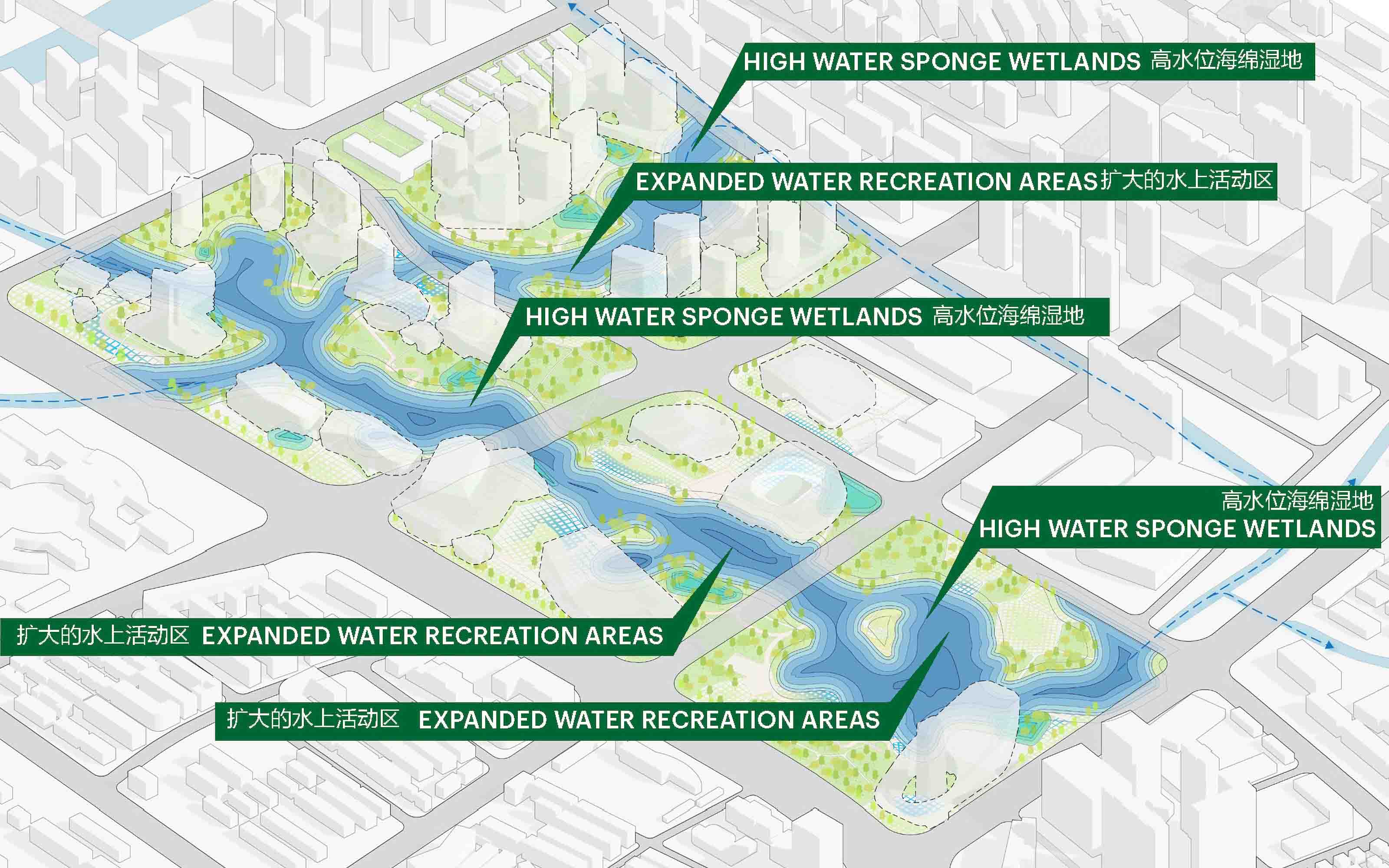 The landscape is strategically graded to allow for flooding during the summer rainy season, revealing new experiences and seasonal aquatic recreation. The wetland banks of the waterways and bioretention basins allow for the absorption of flood waters and the slowing of runoff while providing a seasonal event that becomes a spectacle for tourists and residents alike.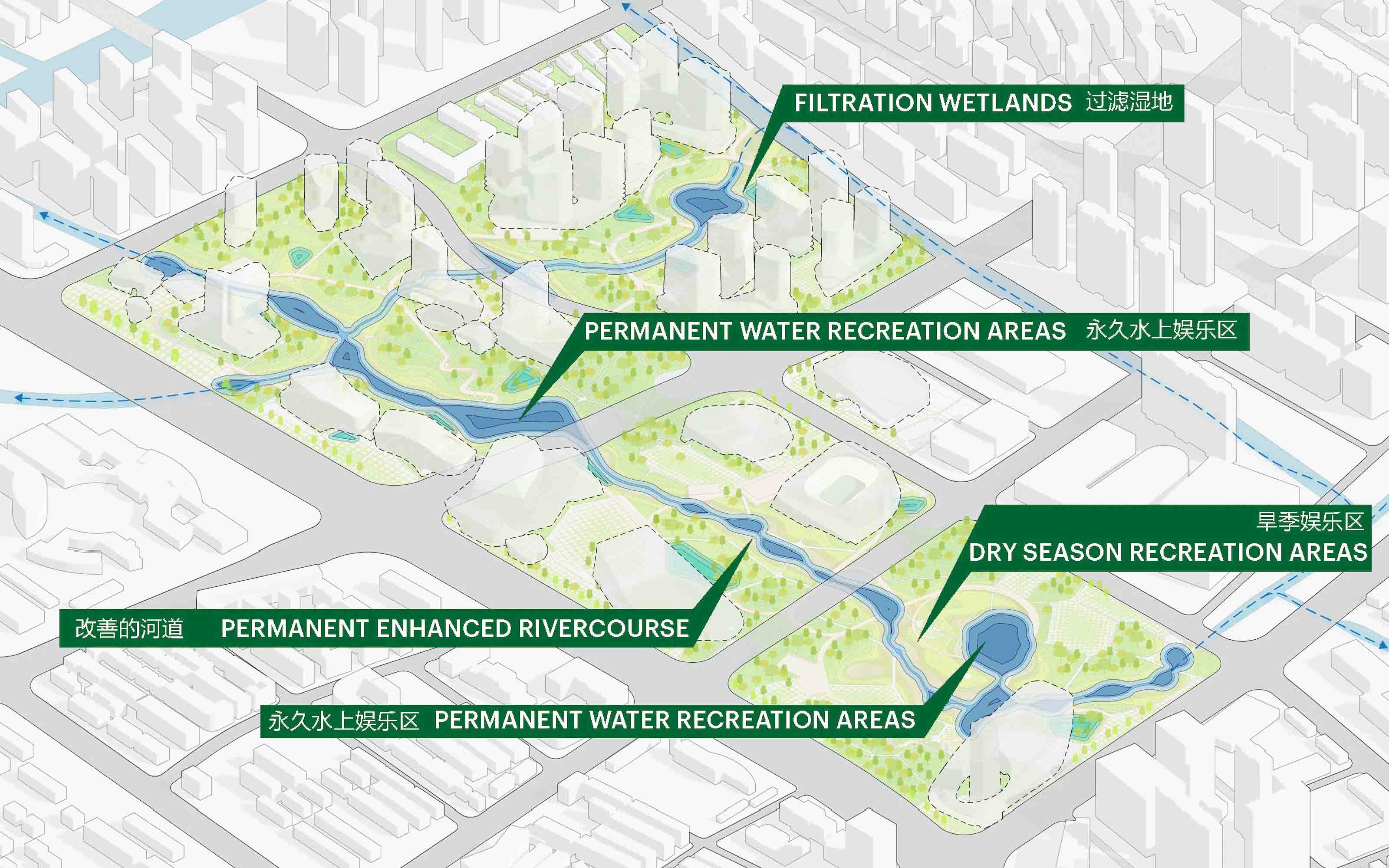 During the dry season, accessible areas are maximized as water levels recede, revealing program areas along the permanent rivercourse. Permanent wetland basins capture runoff and filter grey water for reuse in the development through integrated green infrastructure systems. Terrestrial program and recreation is increased as the reading of the landscape and site identity changes.
Shanhai Wanxiang Hall 山海万象馆
As a cultural landmark that celebrates the history and future of Xiangshan, Shanhai Wanxiang Hall is the heart of the site, a beacon in the landscape that cradles People's Square and seamlessly connects to both TOD transit and local circulation paths.
Shanhai Wanxiang Hall provides a destination for exhibition and education centered around Xiangshan's cultural and art programs, rich maritime history, and the promise of its future urban plans. Its archipelagic form connects to the landscape, both at the ground plane and as a rooftop terrace, and provides a meaningful and educational interface between a formal exhibition hall and living-learning gardens. The communal space would offer visitors views of historic Xiangshan, the mountains, the ocean, and beyond.
Inspired by the beauty of Xiangshan's coastline and mountains, an urban archipelago emerges in the new city center.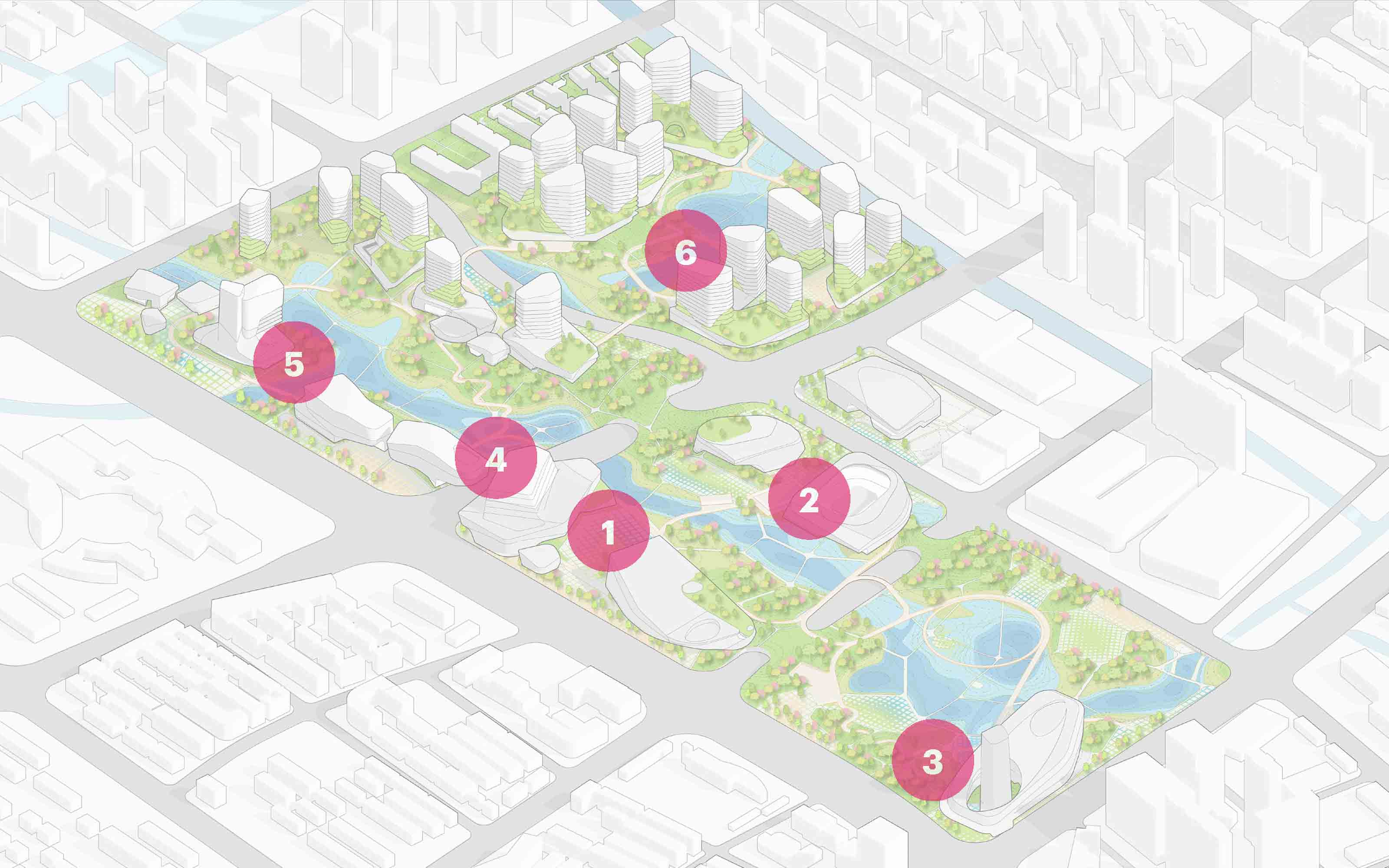 Holistic Site Activation 全场域激活
Along with an open space program that embraces the dynamic wetland park, the site holistically activates open space amenities for flexible everyday use, community fitness, recreation and gathering, festivals, and large-scale events. Each cultural building precinct and residential and commercial development cluster is enhanced with flexible space that would seamlessly integrate with natural areas.
Civic Reading Center and i30 Xiangxin Tower 全民阅读中心与i30象心塔
The Library stands as a beacon of knowledge, with its tower anchoring the northwest corner of the site as an iconic landmark for Xiangshan. Scaled to accommodate more than a million books, reading, lecture and teaching venues, and a rooftop amphitheater, this multi-purpose venue welcomes the entire Xiangshan community.
Accessible roofs and the i30 Tower allow easy access to great views towards the ocean and mountains.
A New Future for the Transit-oriented Development 面向未来的新型生态
Traditional TOD combines transit, commercial, and offices into a high density block, which requires driving to or public transit to connect to other service functions. Our new TOD model focuses on vertical integration of green space, transit, commercial, sports, and cultural functions to promote the experience of a slower pace, transiting through nature, low density, and a focus on lifestyle and tourism.
Our proposed TOD Commercial Complex is consists of office, commercial, hotel, and tourism services. The Metro & Bus Station is directly adjacent to a commercial lobby. Commercial parking would be integrated with the metro parking, optimizing use of the underground parking.
Public Fitness Center and Arena 全民健身中心与场馆
With a 3,000-seat indoor / outdoor arena, ball courts, training and leisure venues, and its connection to a network of interconnected outdoor recreational paths and activities, the Public Fitness Center provides a resource for active wellness for locals and visitors alike.