Seoul Metropolitan Library Competition
RIOS participated in the Seoul Metropolitan Library design competition with the aim of creating a groundbreaking, landscape-driven facility in the heart of Seoul's urban center. Located in the Seodaemun District, our design is envisioned as a "Reading Garden" that symbolizes the library as a communal space, reading as a leisurely activity, and the potential of urban buildings to express biophilia.
Central to the design is a commitment to transparency, with a glazing that provides a symbiotic relationship between nature and the interior.
The nearby neighborhood parks and green spaces are integrated into the building's structure, gently spiraling around it to establish a lush "carpet," inviting visitors to explore the outdoors in a new way. As the building winds upward, the landscape flows underneath and through the spiral form, providing interiorized spaces that extend the experience of being surrounded by verdant greenery.
The building creates an impression of harmonious openness with its transparent glass structure, beckoning onlookers to venture within while simultaneously fostering a connection with the surrounding natural landscape. The façade's organic, luminous, and sculptural qualities stand in sharp contrast to the surrounding environment's verticality, opacity, and hard edges, exemplifying the calming qualities of biophilic design.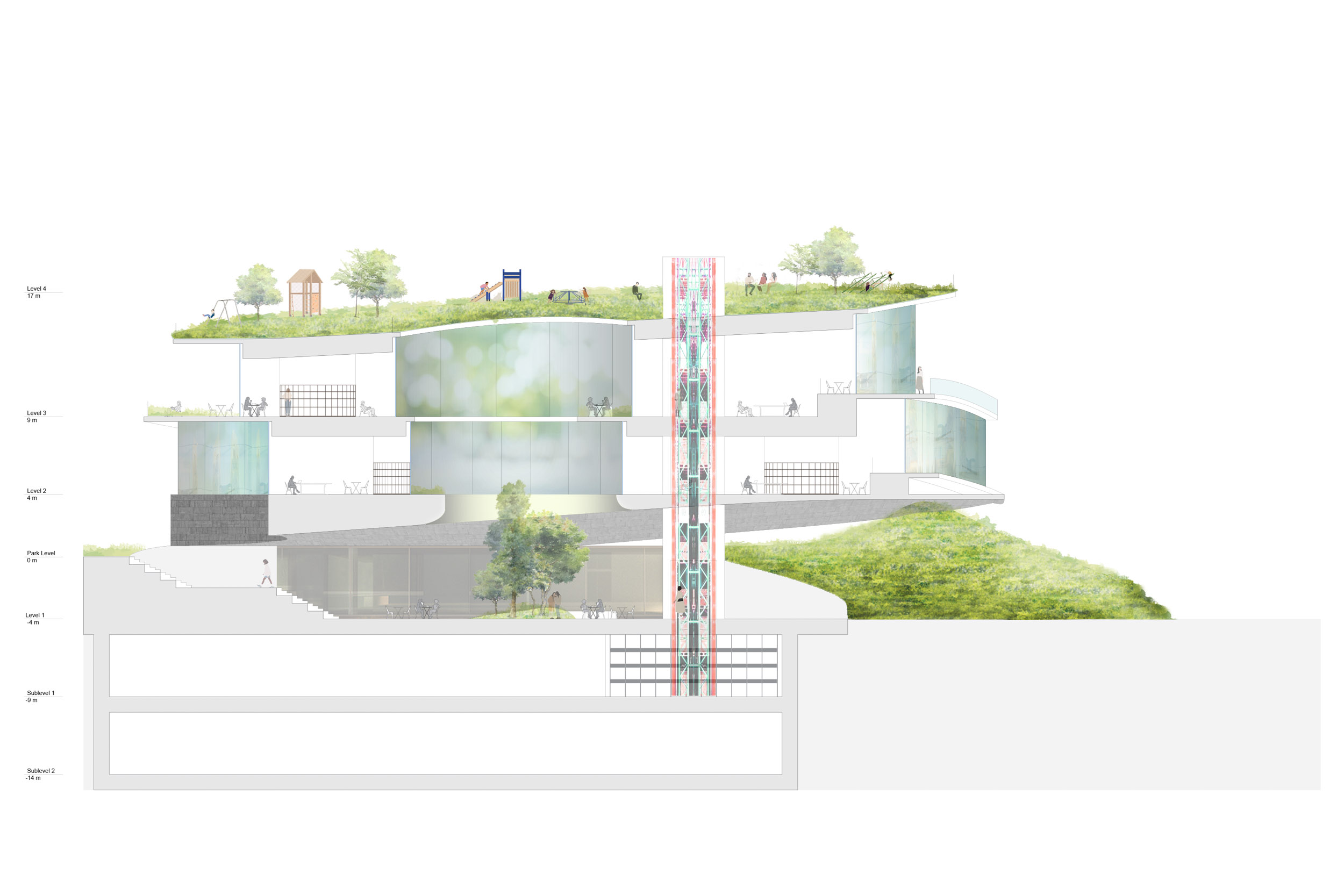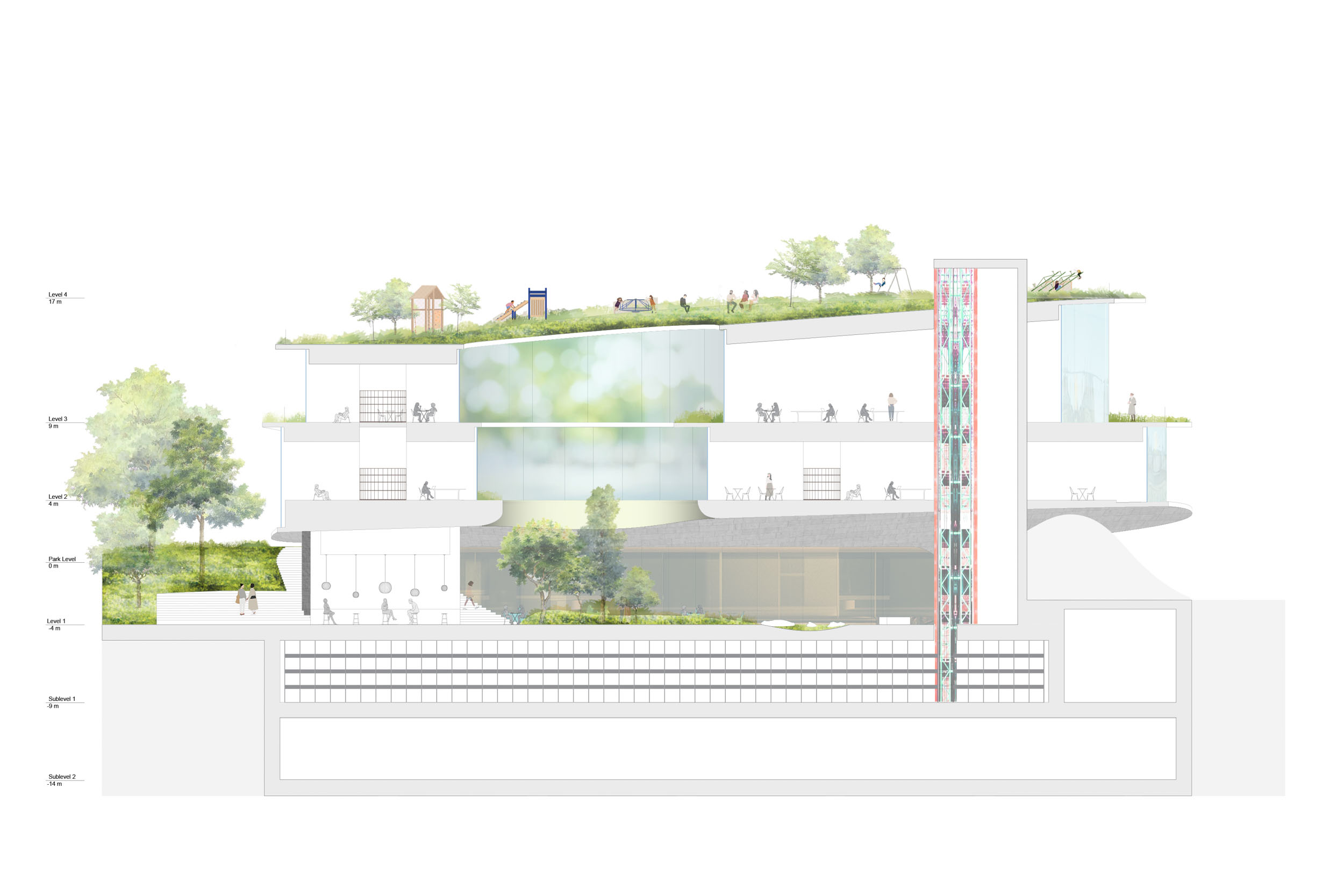 The building's foundation features a civic plaza that offers easy access to the heart of the library from both the park and the city. This level is truly seen as a public space, accommodating public amenities such as a multi-purpose lecture hall, classroom and workshop spaces, a café, and an ASMR book retrieval system.
From the courtyard, a landscaped ramp unfurls to provide access to additional programs, such as library collections, reading rooms, meeting spaces, children's program rooms, computer and digital media terminals, and other supporting facilities.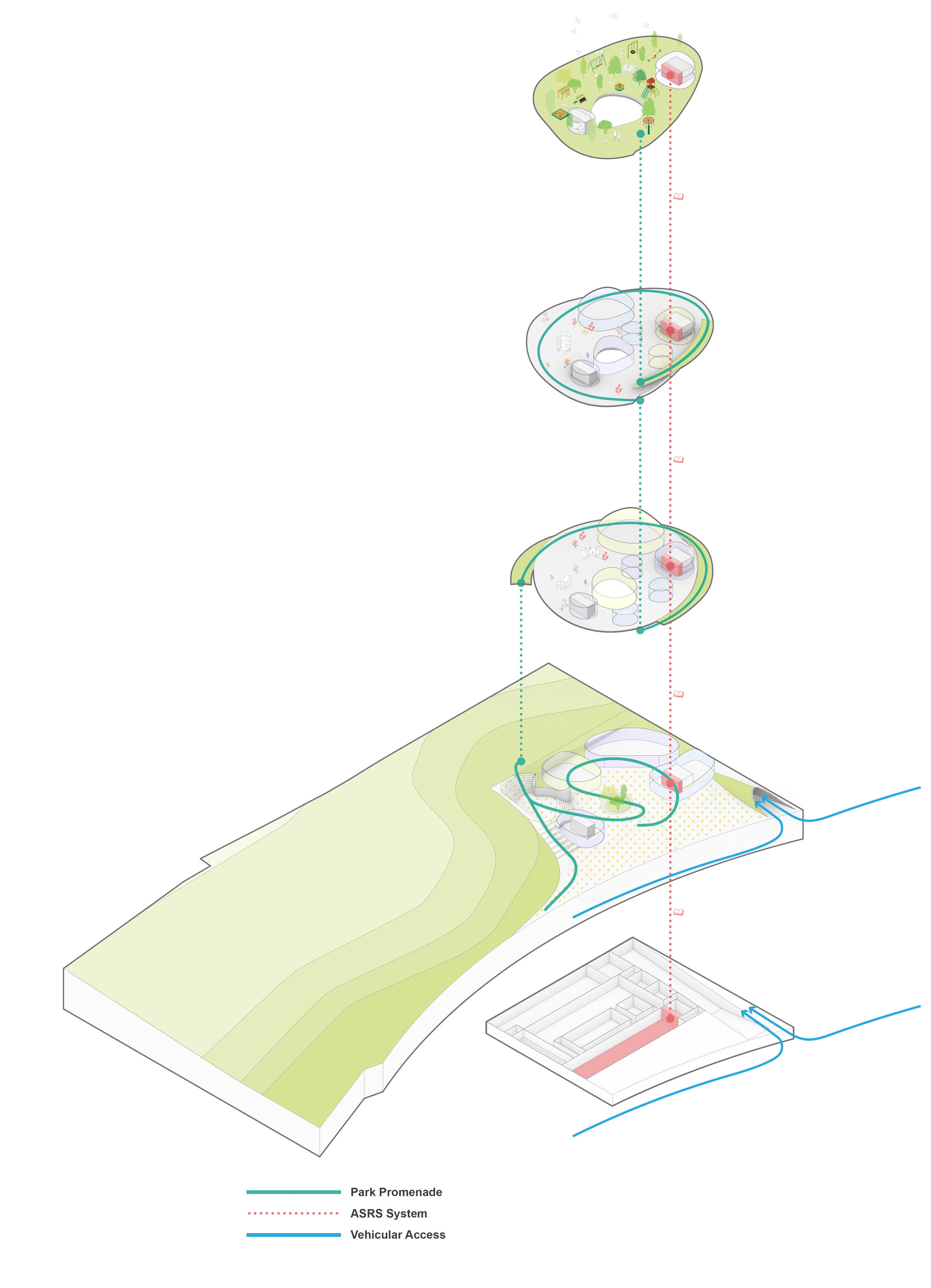 Each level is punctuated by an oculus, which illuminates the courtyard plaza and establishes a visual and physical connection between the levels through vertical circulation.
The design maintains an ever-present connection to the landscape and terraces, culminating in a rooftop garden. Each outdoor space functions as a continuum of the library's program, extending the usable space for reading or outdoor activities. This approach embraces the growing significance of the library as a repository for knowledge, not only in the form of books but also through programs, classes, and community events that promote lifelong learning.