When RIOS sought a new home in 2017, no stone was left unturned. From former roller rinks to warehouses, the effort prioritized the luxury of space to be creative, messy, make things, and elevate the multidisciplinary work. The search led us to one of the most kinetic parts of Los Angeles at Crenshaw and Exposition.
New growth in the area attributed the 2016 introduction of Metro's Expo line is only a foreshadowing of future growth tied to the Metro expansion blocks away that will connect the Expo line to Los Angeles International Airport.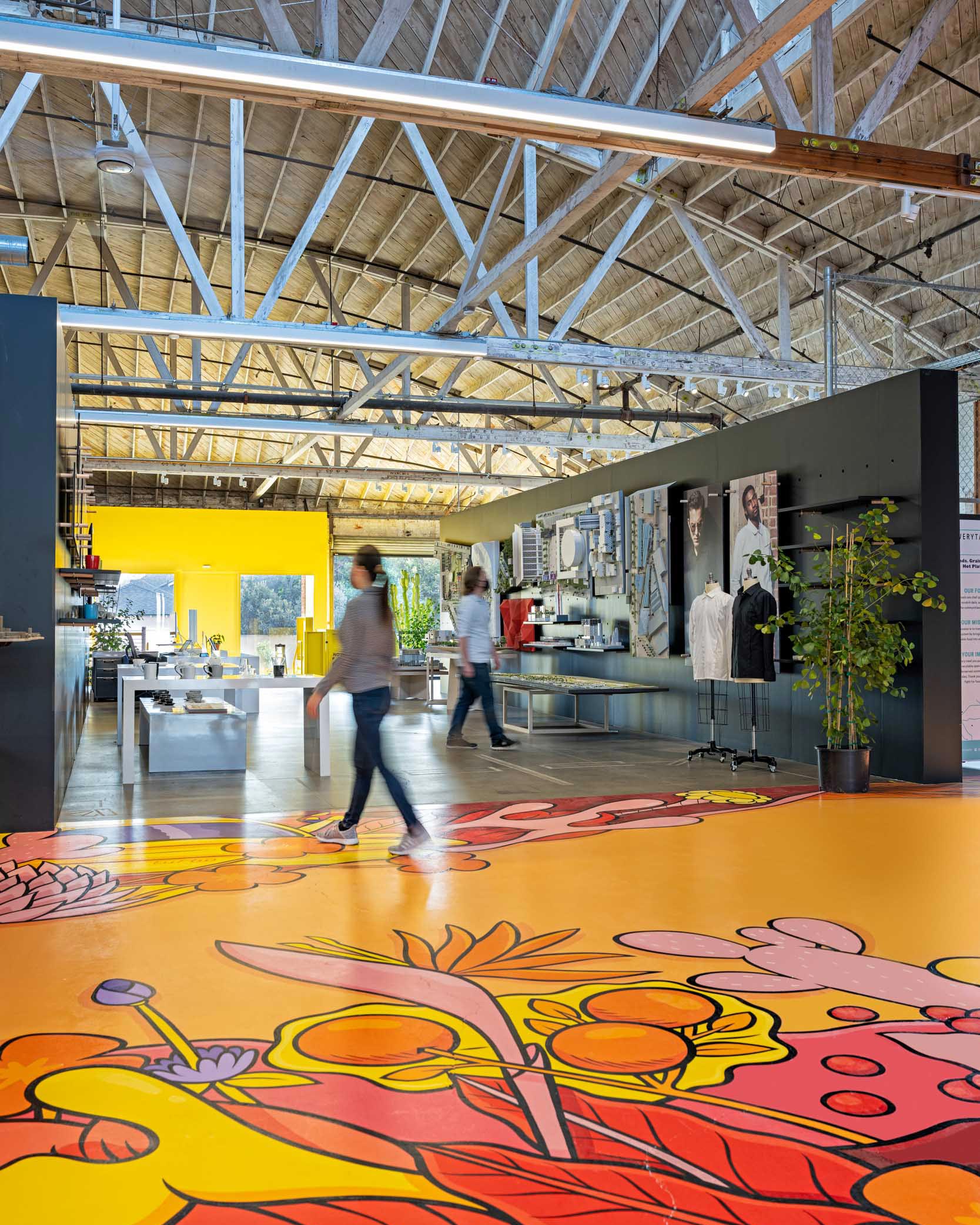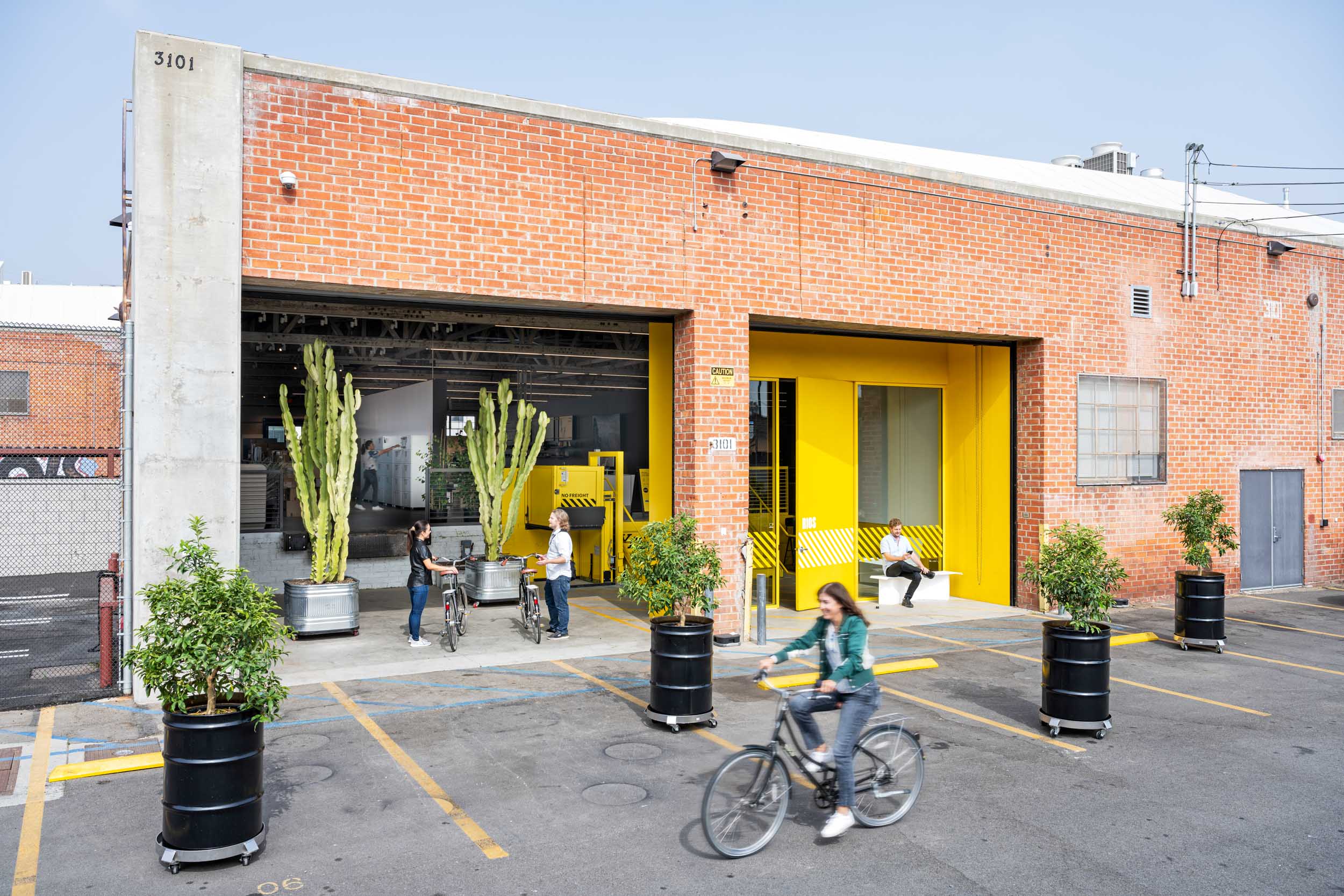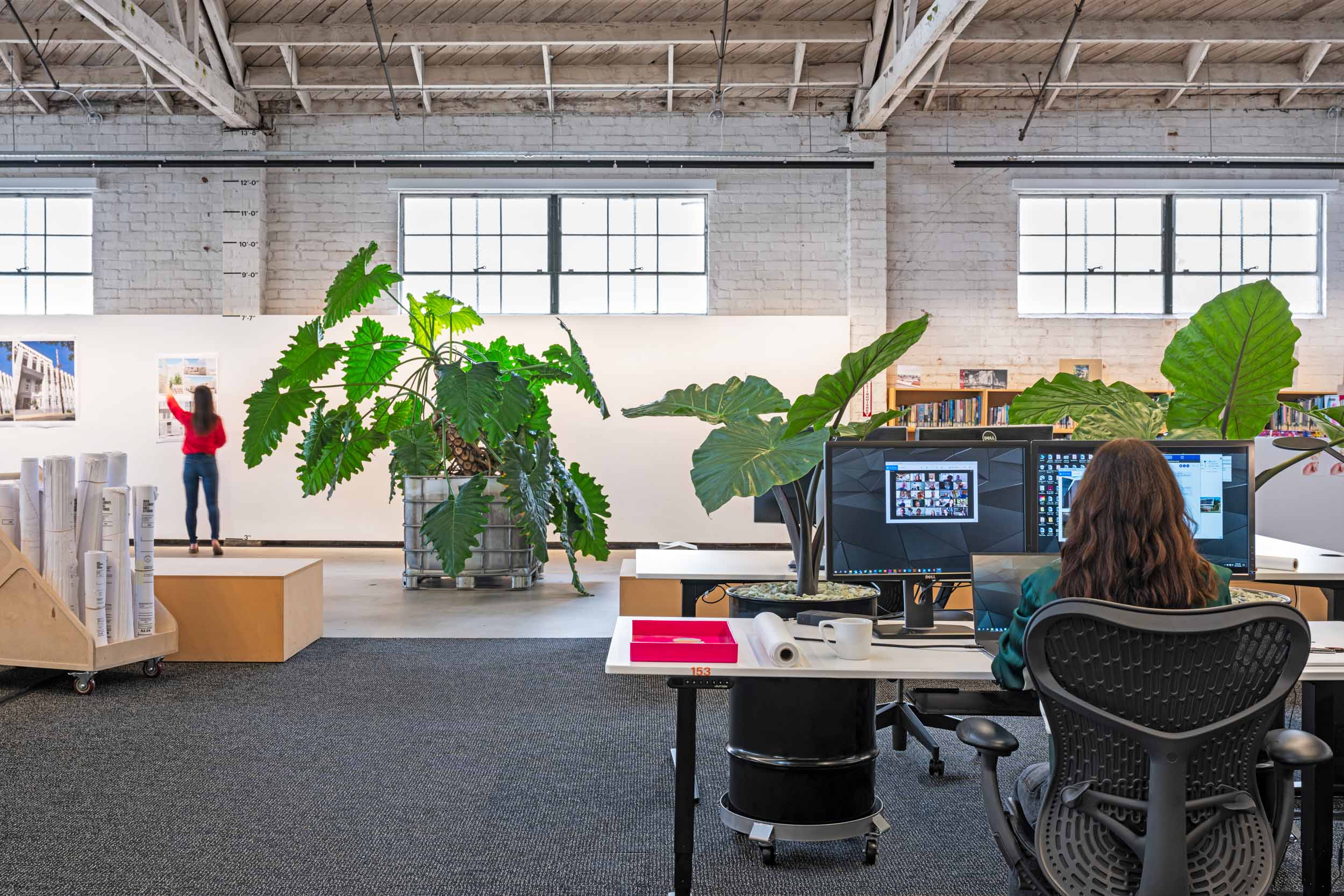 The 32,000-sq.-ft. bow truss building is adjoined with the adjacent 20,000-sq.-ft. warehouse for a total of 52,000 square feet. The only walls inside delineate spaces for meeting and making, including a home for a laser cutter, CNC mill, focused workspaces, and collaboration tables.
The space fuels our desire to explore the new frontier of workplace design using our own office as a laboratory. The grittiness and "light touch" within the space is intentional to remove any notion of preciousness and further the ideas of exploration, evolution, and flux.

Working from home in 2020 as a result of COVID-19 brought about an entirely new set of issues to explore within – and connected to – the workplace. We embraced the change, and as we supported those working from home with laptops and distributed working platforms, we simultaneously shifted our workplace model at our physical address. 
The density increased from 203-sq.-ft. per person to 515-sq.-ft., with bookable desks and employee lockers holding the essential work items. Teams can book desks together or work autonomously. The configuration acknowledges that working from home is here to stay, but places increased importance on the reasons we come together in a physical space.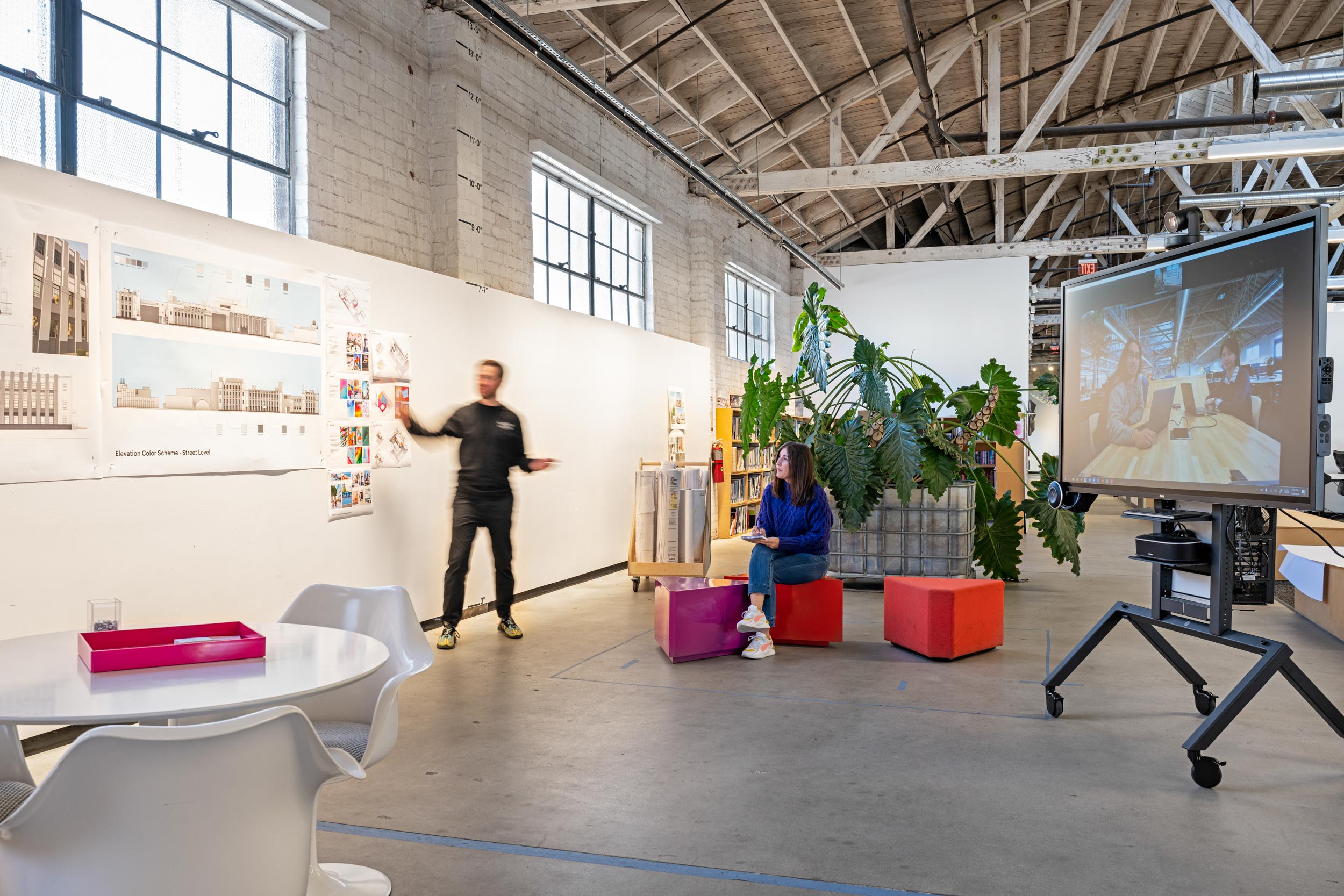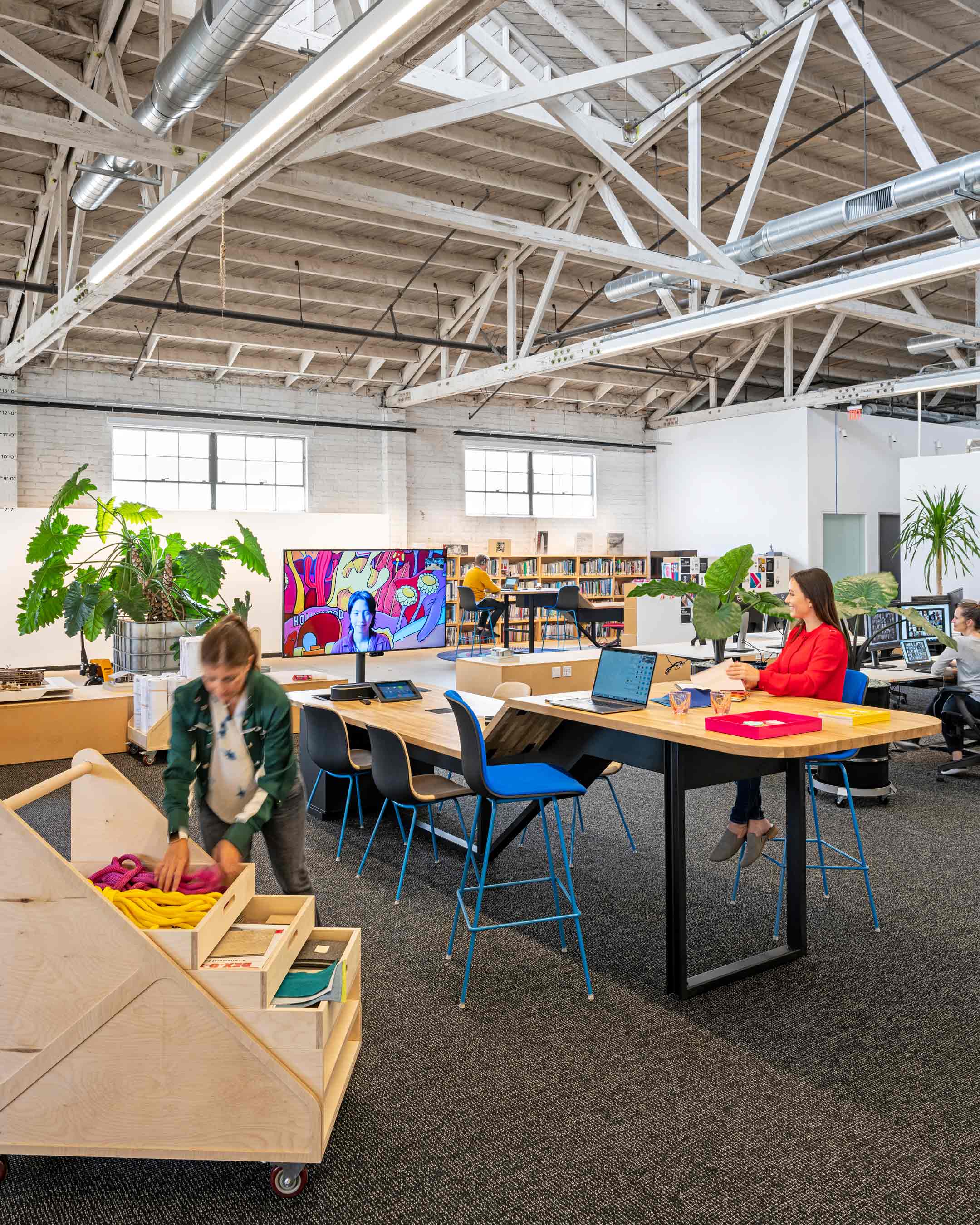 While work can happen virtually in a transactional sense, we believe that when you look to the future to plan and make, the act of coming together is irreplaceable. Workplace culture and social interaction, as well as kickoff meetings and project charettes, are more successful with in-person interface. With that in mind, a series of collaboration tables are interspersed throughout the space, which both bring teams together and connect them with colleagues working remotely – so that no one is left behind.
Interior Landscape and Materials Lab
The design also considers important wellness items like airflow with UVC systems installed at all air intake locations within the HVAC, the addition of overscaled fans to keep air moving, and an abundance of plants to act as biophilic partitions and provide lushness. A materials lab allows the act of material selection to be celebrated. Selected materials become part of project collections via mobile project carts that can be moved to wherever important live or virtual discussions are happening.