JANUS et Cie introduces six new and exciting pieces to the Rio collection, designed by RIOS and named for its mesmerizing river-like curves. Originally consisting of nine benches that mix and match to give a varied look to outdoor public spaces, Rio's latest additions include a cocktail table, side table, connection module, planter, table attachment and trash receptacle that bring an even greater dynamic to the collection.
"The Rio line expansion is the culmination of our original design intent. The new pieces continue to be inspired by river forms—rocks, pebbles, tributaries, lush riverbanks. They greatly expand the line's configurability and create even more inviting spaces. The Rio line can now bring the comfort of the living room or lounge to any outdoor setting,"says Sebastian Salvadó, a Creative Director at RIOS.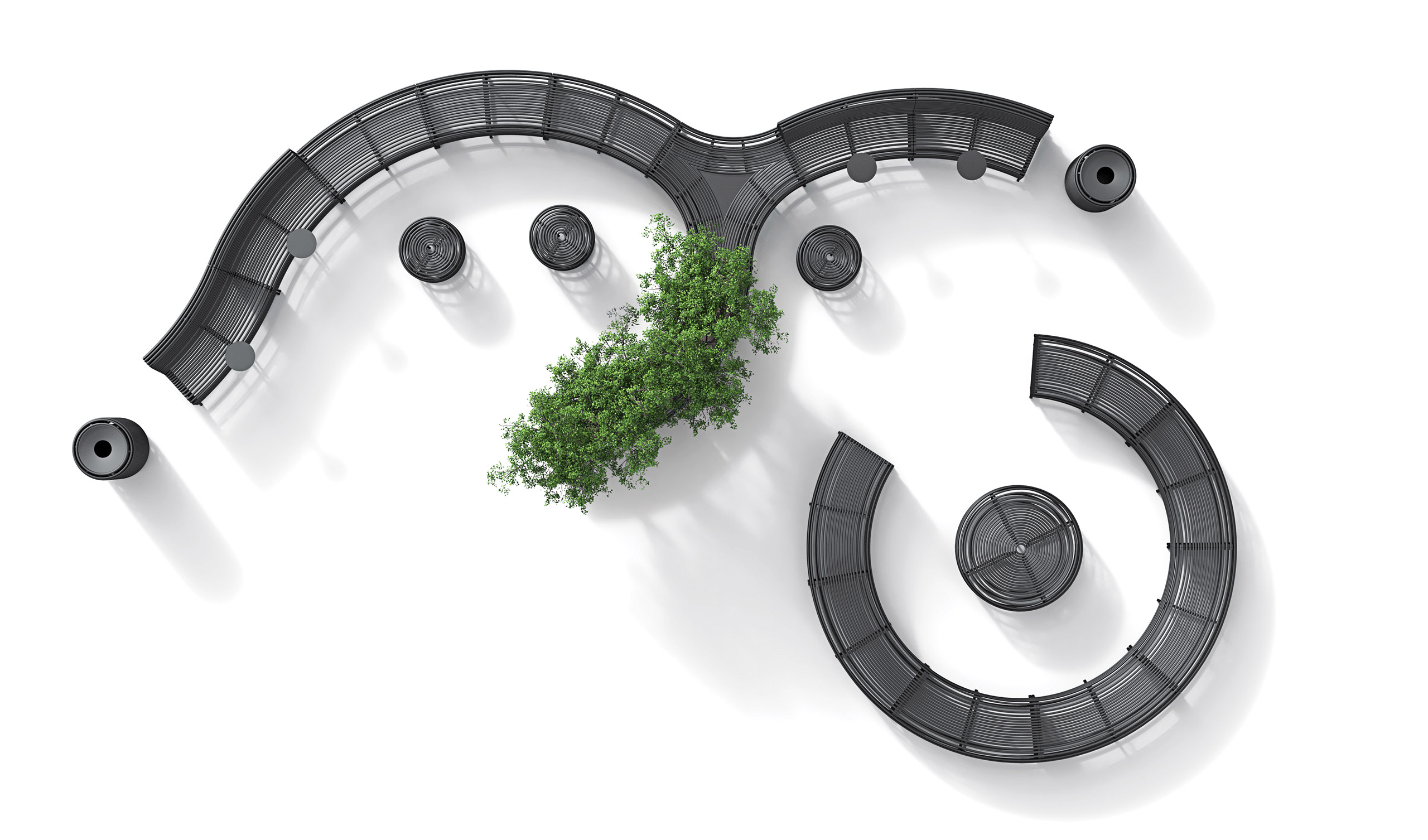 The 15-piece collection is made from a durable powder coated aluminum and is available in three finishes: Bronze, Metallic Grey and White. Designed to exist as individual freestanding elements or joined together, the pieces can be customized in endless combinations and are ideal for municipalities, shopping centers and any other site space.
"The design is sleek and vibrant, and the modules weave seamlessly into natural surroundings," says Janice Feldman, founder and CEO of JANUS et Cie. "What I love about Rio is how perfectly the pieces marry the practical and the playful. The newest additions only amplify the incredible capabilities of the collection."
Rio collection includes:
Cocktail Table
Side Table
Round 79
Bench 137
Bench Wide 206
Backless Bench 137
Backless Bench Curved 169
Backless Bench Curved Wide 189
Bench Convex 169
Bench Convex Wide 189
Bench Concave 169
Bench Concave Wide 189
Connection Module
Table Attachment
Planter Curved 189
Trash Receptacle
Rio finishes:
Bronze
Metallic Grey
Textured White Vermouth
RIOS has earned an international reputation for its collaborative and multi-disciplinary approach, establishing an award-winning tradition across an unprecedented range of design disciplines. The firm's Creative Directors—Mark Rios, FAIA, FASLA; Julie Smith-Clementi, IDSA; Frank Clementi, FAIA, AIGA;Bob Hale, FAIA; Mark Motonaga; Jessamyn Davis, COO; Andy Lantz; and Sebastian Salvadó — comprise a team involved in every aspect of design, from practice to education. Since 1985, the architects, landscape architects, planners, and urban, interior, exhibit, graphic, and product designers at RIOS have been creating and telling stories through buildings, places, and products that are thoughtful, effective, and beautiful. In 2017, RIOS released its first book entitled Not Neutral: For Every Place, Its Story, a robust visual collection of the studio's multi-disciplinary work, published by AMMO Books.
The Definitive Source for Site, Garden, and Casual Furnishings®For more than 40 years, JANUS et Cie has been an industry leader in design-driven furnishings for the outdoors. The luxury furniture brand, part of Lifestyle Design family with Cappellini, Cassina, Ceccotti Collezioni, Luminaire, Karakter and Poltrona Frau, serves commercial, hospitality and residential clients with a dedicated focus on outstanding quality, superior craftsmanship and unparalleled service.In the years since the company's founding in 1978, founder and CEO Janice Feldman and her exceptional team have transformed JANUS et Cie from a single showroom in the Los Angeles Pacific Design Center to a comprehensive global design resource with 19 flagship showrooms throughout North America, Singapore, Sydney and Milan, as well as field offices and select dealers throughout the world.The company's namesake — the Roman god JANUS, whose two faces look both forward and back — is the foundation of a unified mission rooted in tradition, heritage and craft, yet equally dedicated to innovative materials and progressive engineering. This inspired long-term view is realized through the lens of a unique corporate culture that encourages curiosity, creativity and collaboration in the pursuit of excellence.JANUS et Cie offers a diverse catalog of over 6,000 pieces— each design remarkably distinguished in concept and form—and in addition to furniture, includes a growing commitment to decorative accessories and performance textiles. Acclaimed by the most discriminating designers, architects and juried competitions, this powerful body of work has inspired for decades a demand for beautifully imagined furnishings to be used both indoors and out, and has influenced an entire industry in the process.