At RIOS we are inspired time and again by our location in California, a magnificent place where almost anything can grow.
By Mark Rios and John Pearson
Originally published in The Beverly Hills Courier
Early settlers recognized the potential of California's fertile and untamed land and brought palms, along with all the fruits of southern Europe, including the olive, the pomegranate, the fig, the lemon, the orange, the apple, the pear, the peach, and above all else the wine grape. Once California became a state, adventurers, daredevils, and outlaws flocked to the west, drawn by its bountiful agriculture, the glamorous motion picture industry, and the allure of shimmering sandy beaches and palm oases. It became stylish for these California dreamers, many of whom were artists, actors, or writers, to book "Grand Tours" on steamers, traveling to Spain, Italy, and Persia, returning with visions of recreating their own Alhambra in Beverly Hills. Travelers would inundate architects and landscape designers with photos of memorable sites from their tours and request they combine these elements into an estate all their own, creating an eclectic style that was simultaneously Islamic, Italian, Spanish and ultimately Californian. 
California is blessed with this history of garden influences that allow us to mix and match as needed, along with a climate that has welcomed an influx of plant species from around the globe. Over time plants from South America, Australia, and Africa have been introduced to the Californian garden and all can be grown with ease. This means that your garden can become anything you want, which may be slightly overwhelming to an inexperienced gardener. If you lack direction, we recommend taking your own Grand Tour (either physically or virtually, depending on your destination.) It might not be feasible to travel to Europe at the moment, but there are plenty of palatial estates and prodigious botanical gardens to safely visit here in Southern California.
Beverly Hills is home to Virginia Robinson Gardens, originally built in 1911 by Harry and Virginia Robinson as the first grand estate in the neighborhood. Their inspiration was to create a "Gothic Indonesian, Islamic home" after returning from a three-year honeymoon in Europe, Asia and the Middle East. They collected seeds, statues, and inspiration along their journey, including many rare and exotic plants they wanted to grow in their dream home. Virginia had a clear desire to spend as much time outdoors as possible and curated a theme garden chock full of experiences for her guests, complete with tiered patios and extensive views of the surrounding city. Her gardens were a means to extend her communal life and social circle – Virginia was known for her legendary parties with guests like Elvis Presley, Marlene Dietrich, and Fred Astaire. This lush Beverly Hills landmark is now documented on the National Register of Historic Places and is open to the public by guided tour. Virginia's gardens are a quintessential representation of the Mediterranean melting pot that was realized early on in California, full to the brim with ancient cycads, Moorish fountains, winding paths, grand staircases, and the largest collection of king palms in the continental U.S.
If perhaps your taste leans slightly more towards the spiritual, we recommend a trip to the mystical Lotusland in Montecito. Originally a built as a nursery in 1882, Lotusland was transformed into a spectacular garden collection over 30 years (note that gardens take a long time – your own garden will grow, evolve, and change with time and care) under the watchful eye of Ganna Walska, a tremendously unusual Polish opera singer who married six times and is even rumored to have inspired aspects of the screenplay for Citizen Kane. Lotusland exists on 37 acres of land and features over 20 theme gardens, some of which are inspired by a color (the blue garden), some contain a specific type of plant (the cycad garden), while others are inspired by a location (the Japanese garden). These themes are overlaid with programming – there are areas intended for parties, gatherings, and even theatrical performances throughout the property. Perhaps the most unique of all Ganna's gardens is the Aloe Garden, featuring a white reflecting pool ringed by hand laid abalone shells and a luxurious cascading fountain made from giant clams.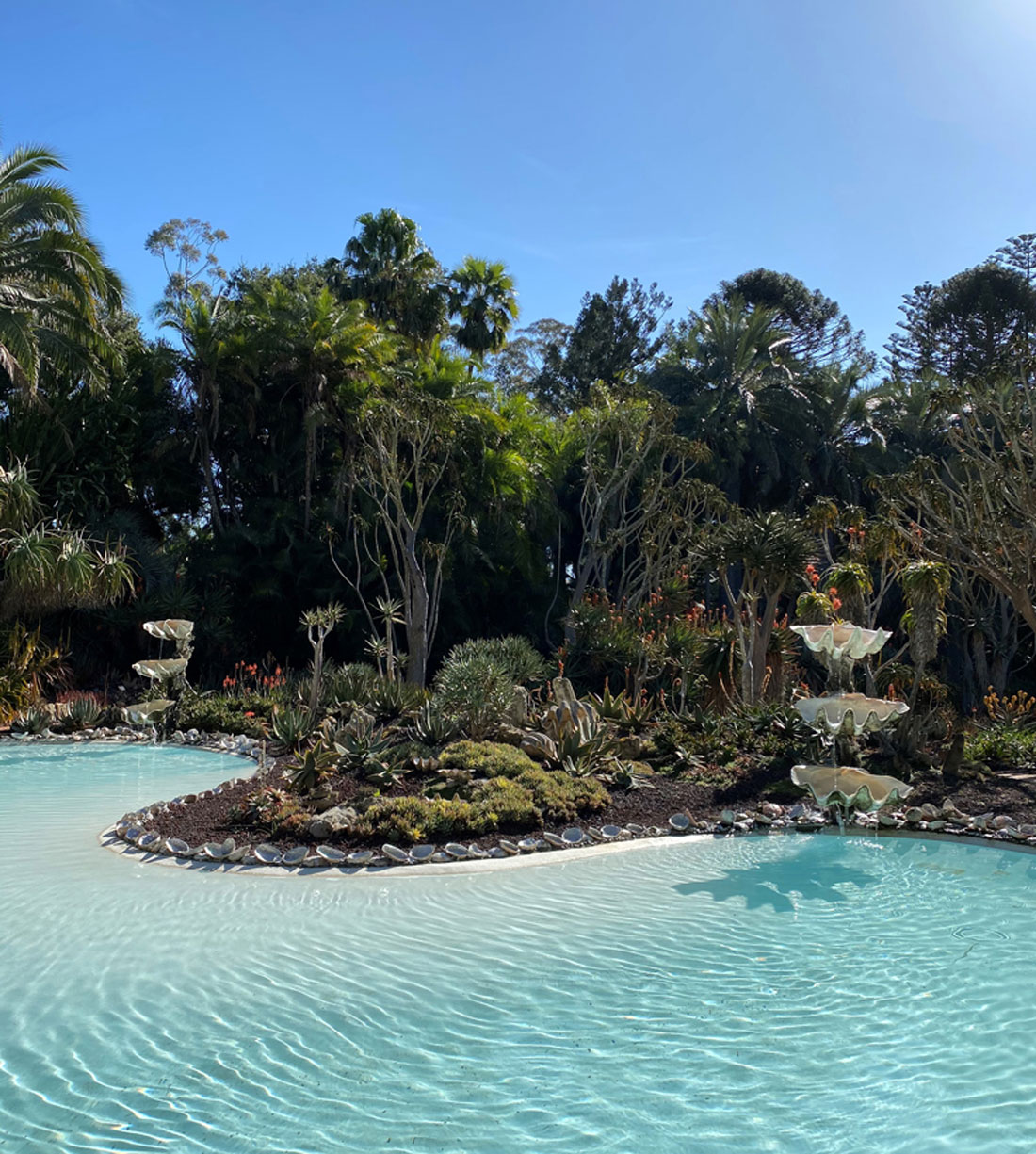 Programmatically, this garden was created to watch the full moon rise, reflected in the water below. The pool is surrounded by spectacular aloes of all shapes, colors, and sizes, creating an intriguing yet slightly odd haven in the middle of the garden. Lotusland was a place for Ganna to practice yoga and spiritualism along with her horticultural imagination. Her theatrical whimsy, flirty juxtapositions, and bold inventions represent the playfulness and eclectic style of modern California gardens. Ganna's unparalleled take on garden themes should inspire any visitor to harness their botanical imagination.
We hope that visiting these gardens invigorates and energizes you to cultivate your own plot of land, uniquely suited to your desires. Be like the early Californians – take pictures of garden elements that delight you and use them as inspiration to compose your fantasy or bring them to a landscape architect if you need assistance. The RIOS team has similarly found inspiration in these Californian estates and theme gardens while designing a new botanical garden in Beverly Hills with Foster + Partners at One Beverly Hills. The gardens will embody the vivid diversity offered by Southern California's climate and floral range through nine distinct botanical experiences that are simultaneously verdant and drought tolerant. Over 4 acres of garden will be open to the public on a daily basis, allowing visitors to explore an orchestrated collection of plants – perhaps the gardens at One Beverly Hills will become the inspiration for you to create a green oasis of your own someday.