Terracotta Façade Research
A High-Performance, Green Façade
RIOS participated in the 2023 Architectural Ceramic Assemblies Workshop, a hands-on research and development workshop for architects and façade engineers to explore the use of terracotta in high-performance façade design. Our concept, in collaboration with ARUP, proposes to design and develop a "living" terracotta façade system that improves building performance, increases biodiversity, and fosters connectivity to regional ecology.
Our proposal envisions a tiled, terracotta brise soleil comprised of modular blocks, planters, and pollinator-habitation units, forming a porous, green wall. This innovative assembly adapts to its surroundings, providing a biodiverse and adaptable multi-use façade.
Research and System Development
The brise soleil's stacked block structure is the product of a thorough research and development process exploring the materiality of terracotta and the structural limitations of the unit fabrication process. A key objective of the design was to create a modular blockfacade system that establishes a continuous façade while allowing for various configurations of porous and opaque elements.
The research team conducted a series of studies investigating material properties, forming methods, and panelization informed by structural analysis. This process considered different block sizes and stacking configurations as well as the qualities of both glazed and unglazed terracotta.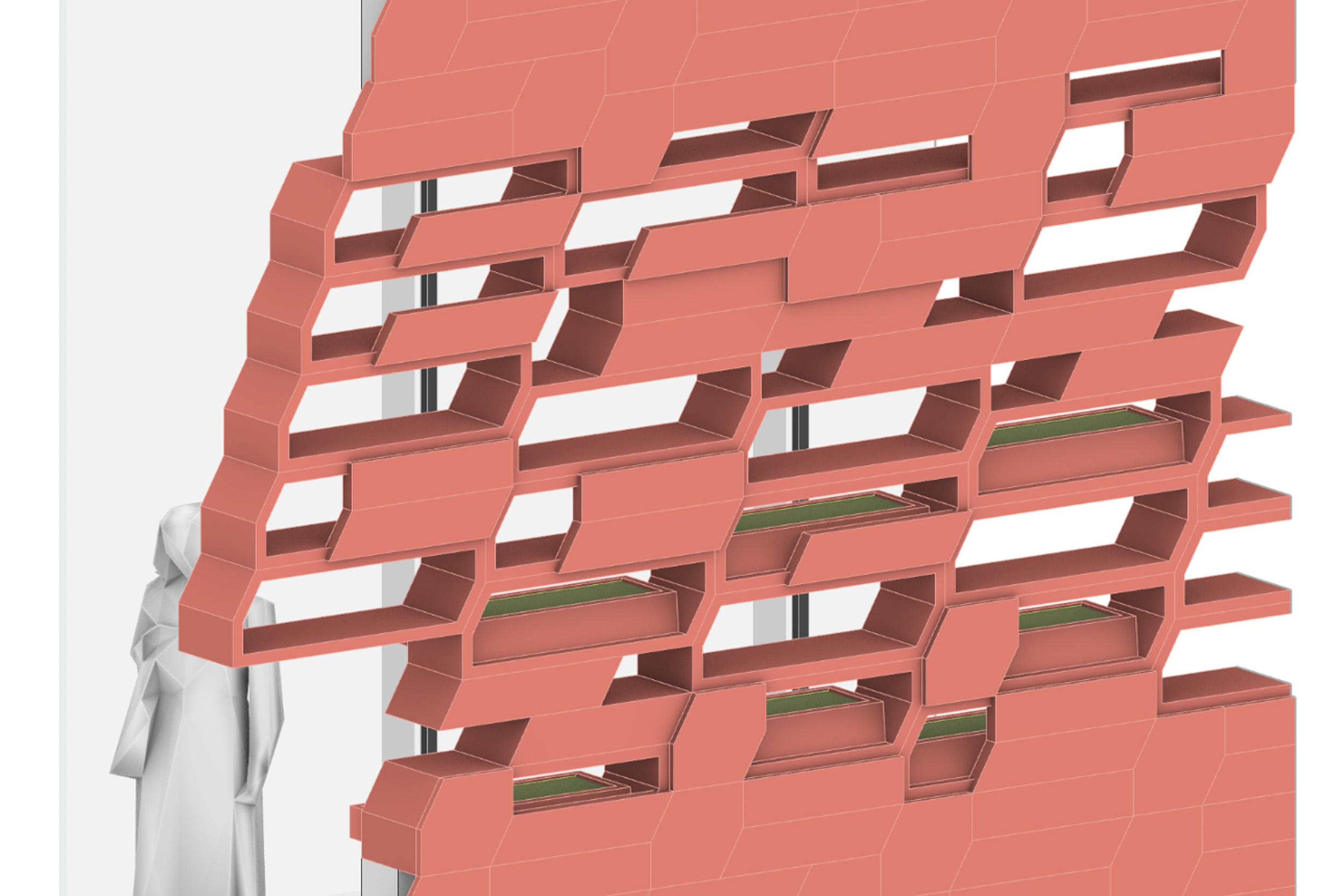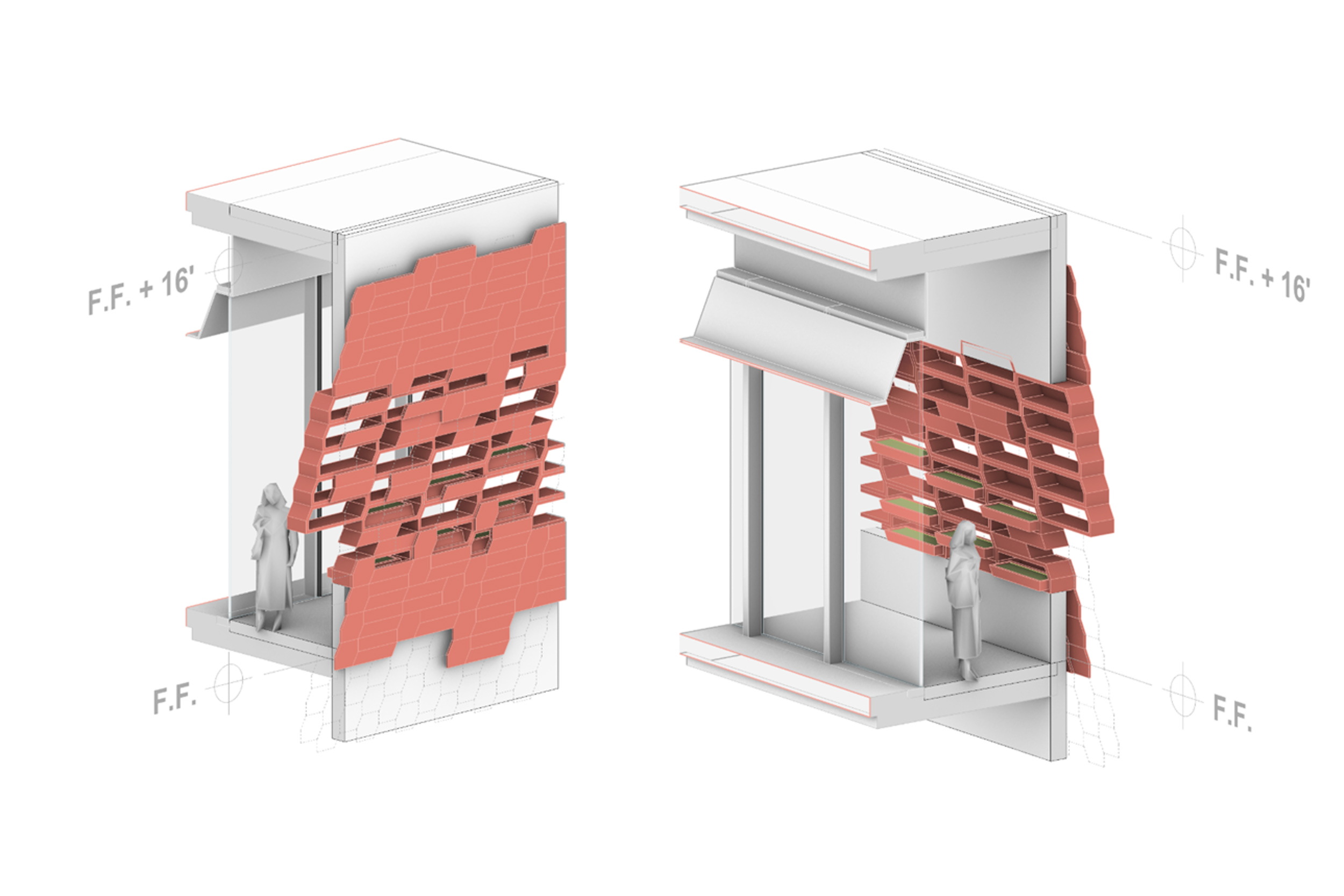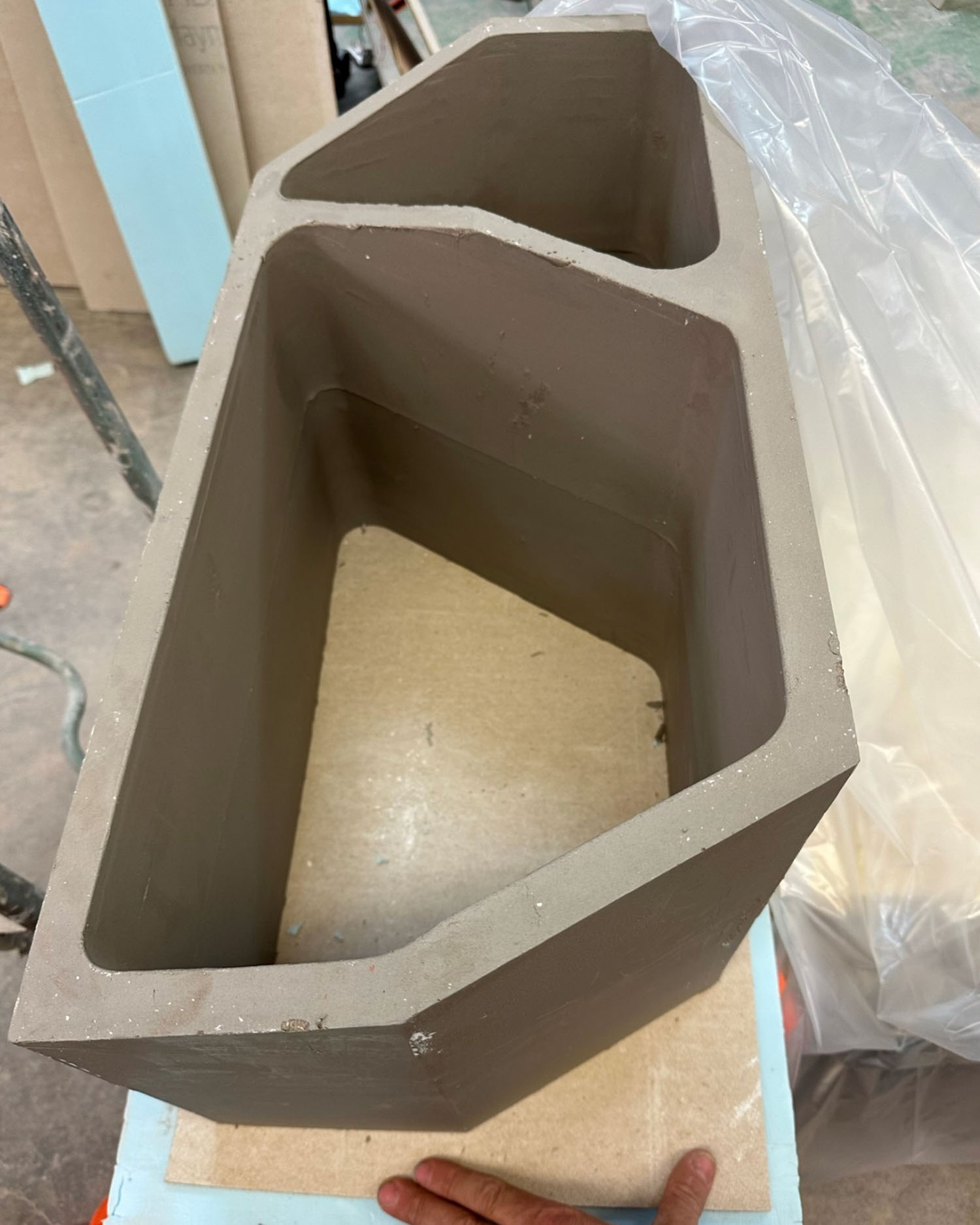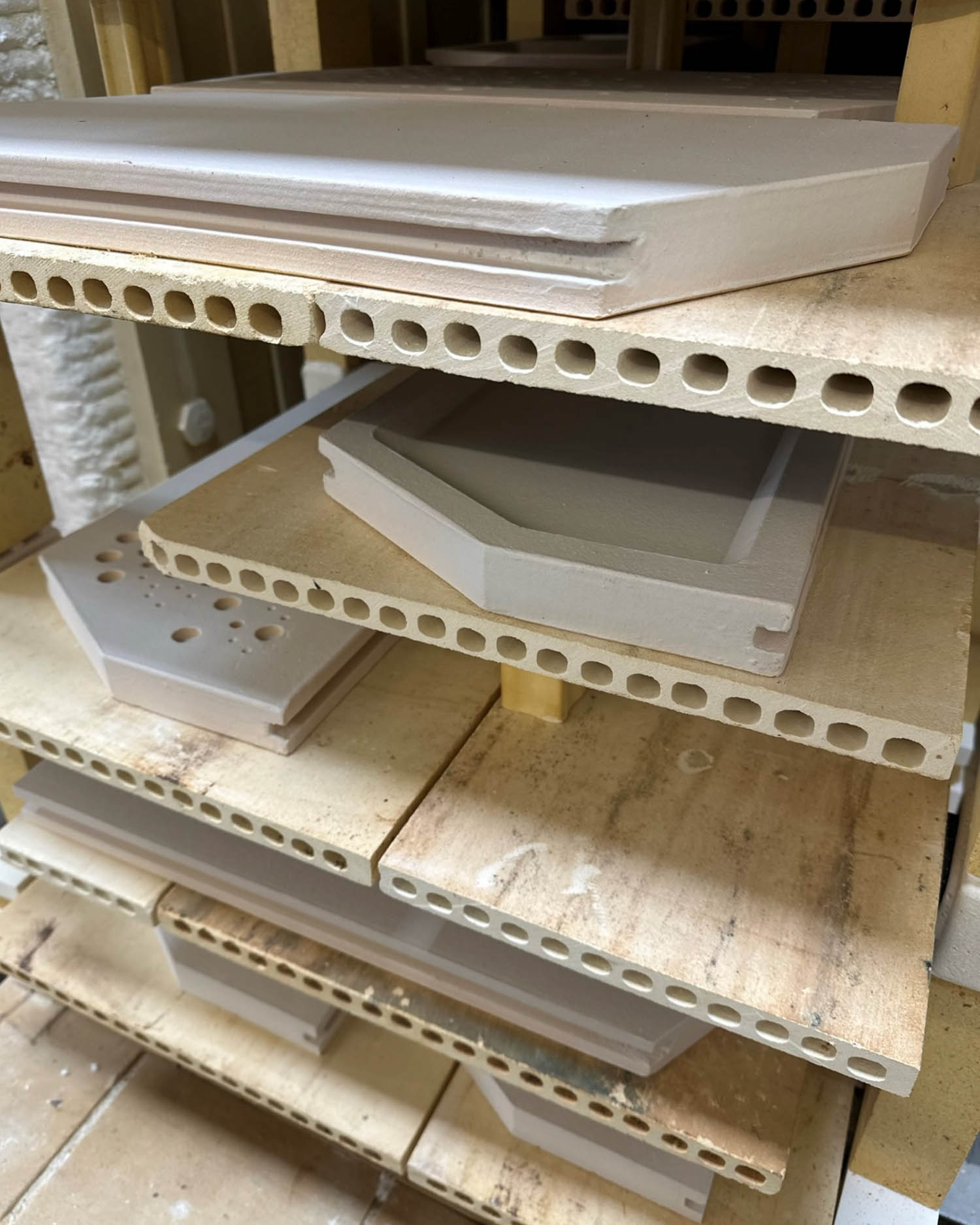 Our final proposal for the screen system is anchored by opaque zones above and below a configuration of extruded structural terracotta blocks fitted with rainscreen panels that conceal structural connections. The elimination of an extensive backer structure within the block wall assembly allows for an uninterrupted view of the façade system from the interiors. Each extruded and wire-cut block is identical in form and can be installed in a rotated orientation for added visual interest.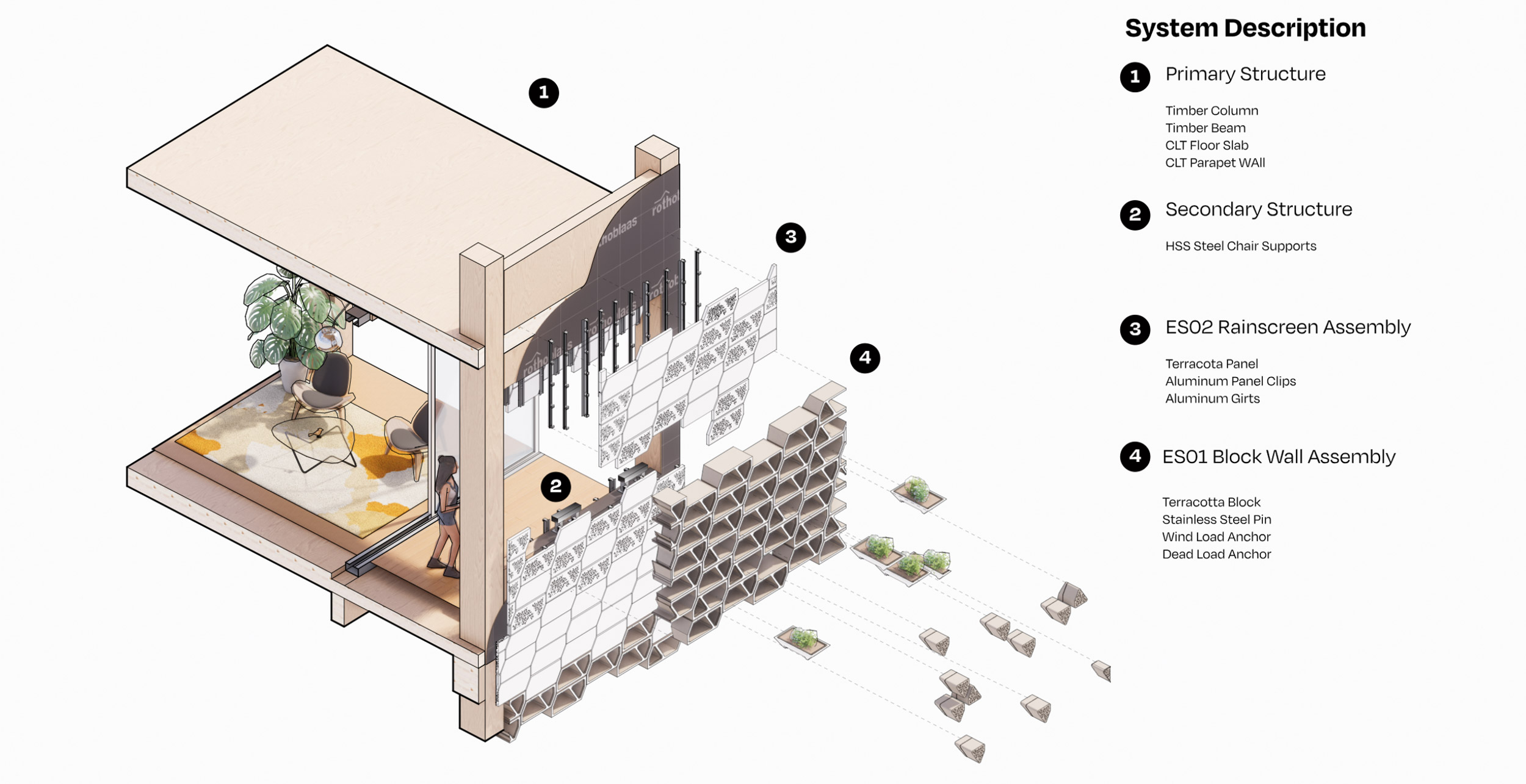 The design process prioritized sustainability goals, with the aim of developing a system that would minimize the use of steel and concrete for a lower carbon footprint. Often, only the finish material of an exterior façade assembly is analyzed with regards to life cycle and embodied carbon footprint. The team wished to take into account the entire makeup of an exterior wall assembly with regards to sustainability. As a natural and recyclable material that is often mined locally, terracotta has a relatively low carbon output. Its durability and malleability, in addition to the effects of different glazes, allow for near-endless possibilities in form and surface and make it an ideal material for creating adaptable systems.
This versatile, sustainable system is an essential aspect of the design, offering a minimal carbon footprint while unlocking boundless creative potential in shaping form and texture.
Our test-case explored the terracotta façade's performance at a specific site along Los Angeles' Exposition Boulevard but can be adapted for various climates. The configuration and planting palette considered the area's mild Mediterranean climate and western sun exposure. Solar analysis determined the brise soleil provided a 77% reduction in cumulative solar heat gains to the interior space for the warmest month of September. The design also addressed the issue of glare at the west-facing façade. The introduction of the planters and pollinator units reduced peak glare, bringing light levels down to acceptable levels. The brise soleil would allow reduced solar and wind requirements on the full height glass line beyond, allowing for more visually neutral and clear glass.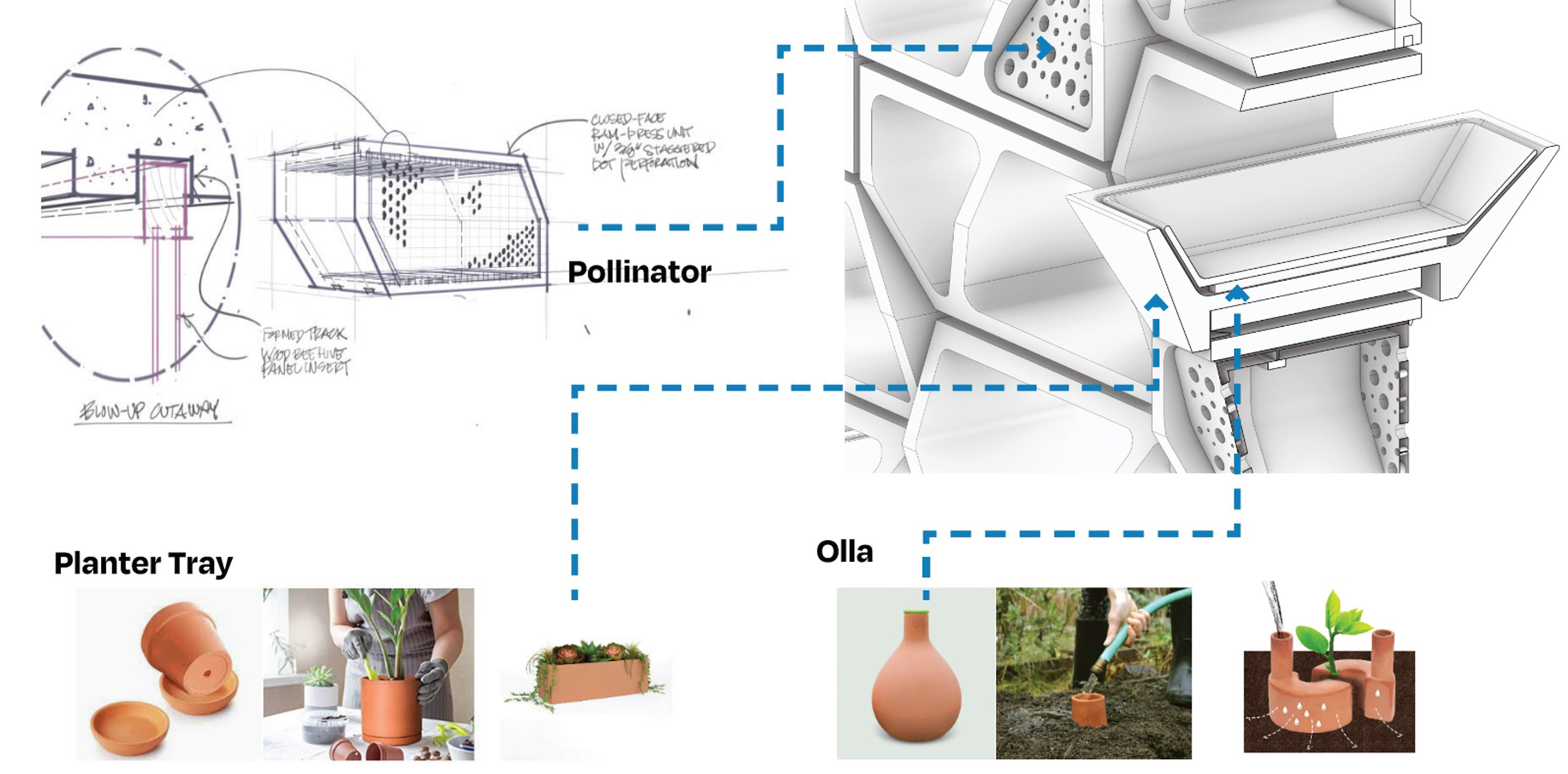 The introduction of planters and units outfitted for pollinator habitation establishes an invisible infrastructure that engages flora, fauna, and humans on a more intimate scale. Each planter is designed to operate with little intervention and features a double shelled exterior to capture rainwater for passive irrigation inspired by terracotta self-watering systems of the past. The blocks themselves will be sloped to promote water collection at the planters and to reduce dirt streaking at the exterior face of the brise soleil. A curated palette of climatically adapted plant species including herbs and colorful blooms attracts local pollinators, supports biodiversity, and promotes biophilic wellness. 
Designed for use at varying scales, the planters create a living façade, cultivating a symbiotic relationship between tenants and the region's surrounding ecology.