Seoul Biennale of Architecture and Urbanism 2023
Cultivating Hyperabundance for Apgujeong
The fourth edition of the Seoul Biennale of Architecture and Urbanism is hosting the Seoul 100-Year Masterplan Exhibition. The competition calls upon designers to envision the future of Seoul's diverse districts following the themes of multi-layered land use and green network to establish long-term plans for the city and its infrastructure.⁠
RIOS' Hyper-Abundant City concept introduces a resilient masterplan for the future of Apgujeong, a thriving district along the Han River known for its rapid economic development. Rooted in the site's history and natural context, the plan introduces a vibrant ecological tapestry that embraces the Han River and the historic flows of the landscape to build new urban sections — both horizontally and vertically — and introduce biodiversity at every slope, terrace, and façade.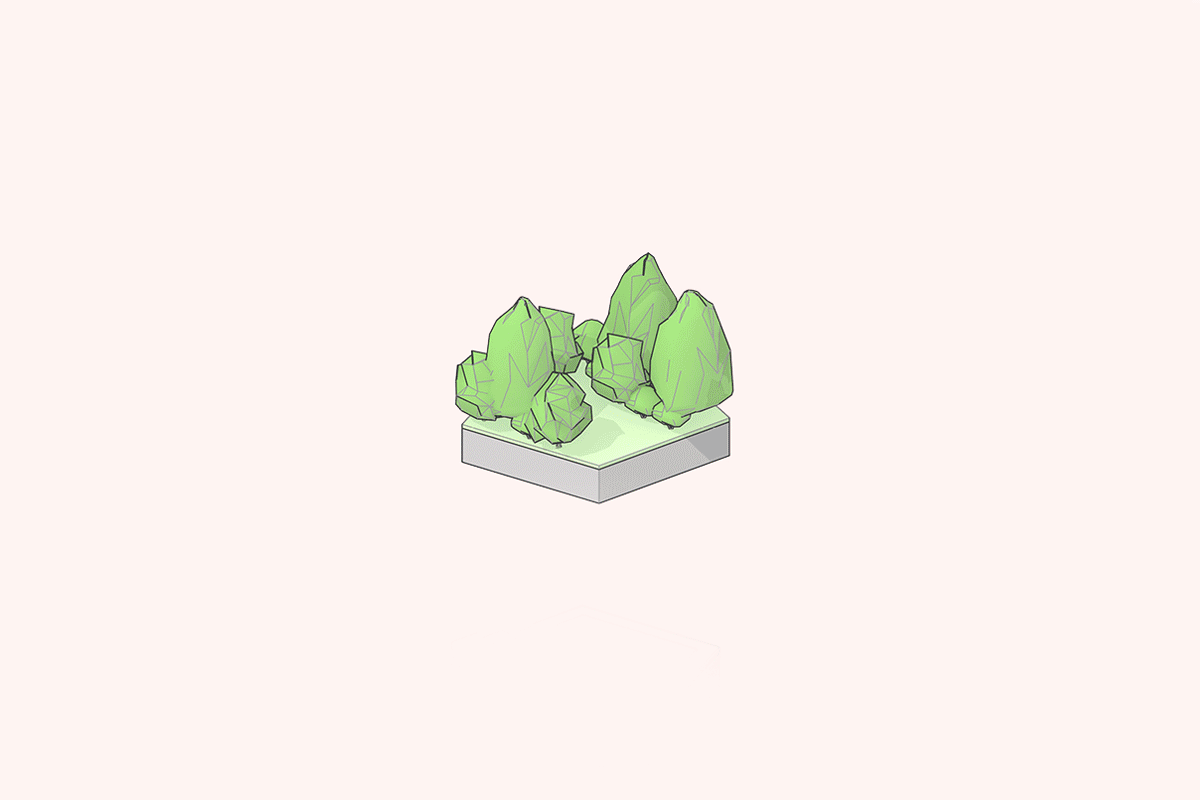 Our concept builds upon the site's history to create a hyperabundant experience, seeded from a vernacular of living units that aggregate to foster rich social and natural connections and evolve with the city over time.⁠
Embracing both landscape and architecture, our vision for a more ecologically and socially rich city fosters strong connections between humans and nature. A new vernacular of vertical living units that aggregate and evolve with the city over time is paired with rewilded landscape along the water's edge, blurring the boundaries between an engineered urban context and a dynamic, natural environment.
"The city of hyper-abundance redefines the human-nature boundaries, instilling a sense of awe and reverence for the world around us."
Hyperabundance Rooted in History
Seoul's historic infrastructure informs integral components of our design. Situated along the Han River between four surrounding mountains, the city is historically bounded. Our proposal looks to push and pull the existing fabric of Apgujeong's adjacent neighborhood, Gangnam, and the river edge itself to open the site to nature and remove barriers to river access and views.
The Hyper-Abundant City concept considers the connection between humans and nature throughout the site's history, aiming to preserve successful elements while introducing a framework for future living. New waterways and a rewilded, permeable landscape allow nature to take over and establish a regular pattern of growth, while an infrastructure based on geometry and rationality informs the elements of the built environment.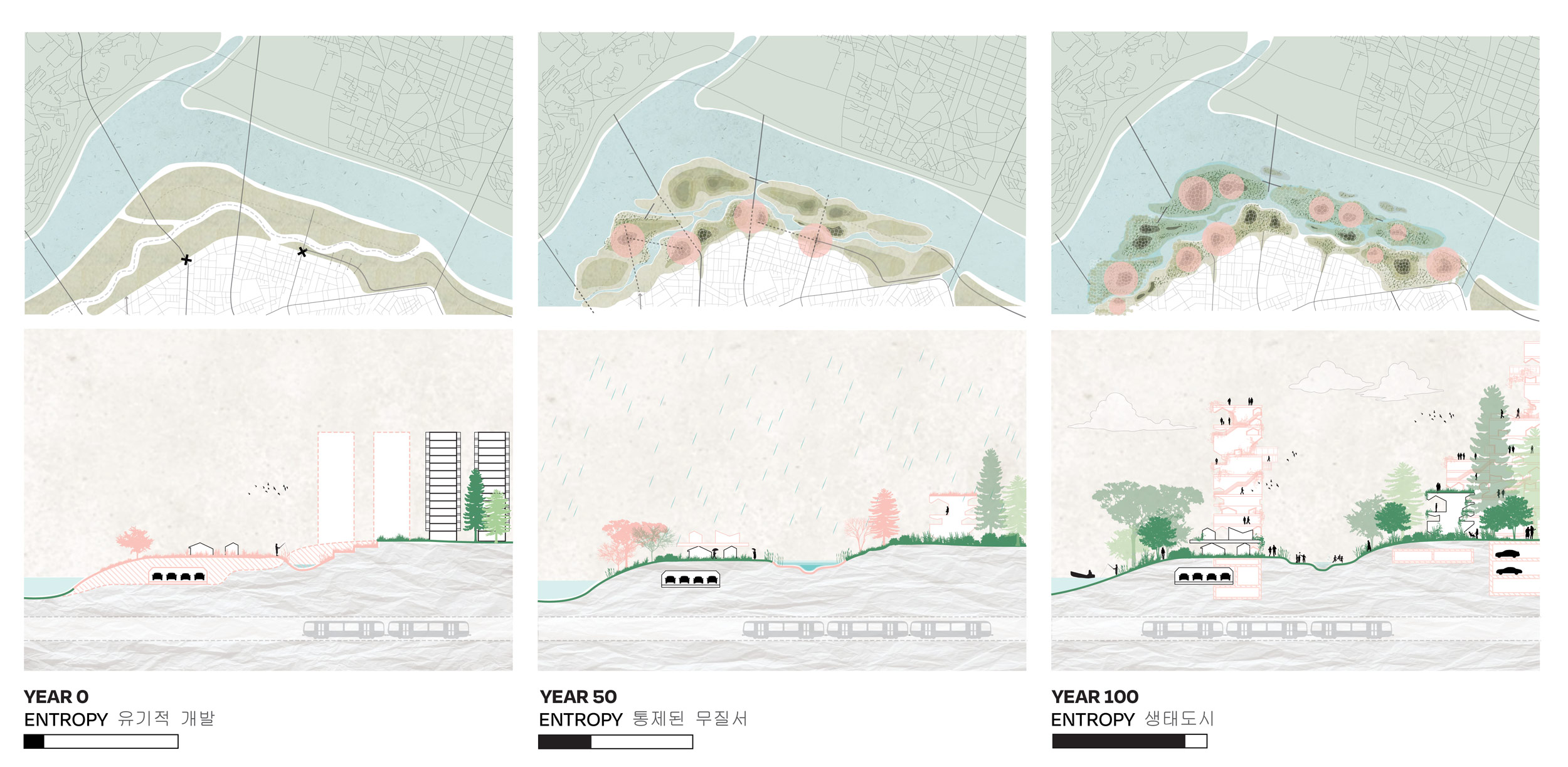 This juxtaposition restores a balance to city living, stepping away from industrial development in favor of a lifestyle rooted in nature. By focusing on trading traditional, defensive infrastructure for biological systems that are adaptative and cumulative, our vision for a new urbanism positions Seoul to survive a future with extreme weather events, population decline, and strains on resources while creating a deeper connection to the landscape.
Our vision for a new urbanism positions Seoul to survive a future with extreme weather events, population decline, and strains on resources while creating a deeper connection to the landscape.
The framework of our solution for the future of Apgujeong is based on an organic modular grid that helps to disperse green building typologies across the district. This model draws on elements of the city's previous infrastructure, blending traditional, agriculturally centered village layouts with the order and efficiency of urban development.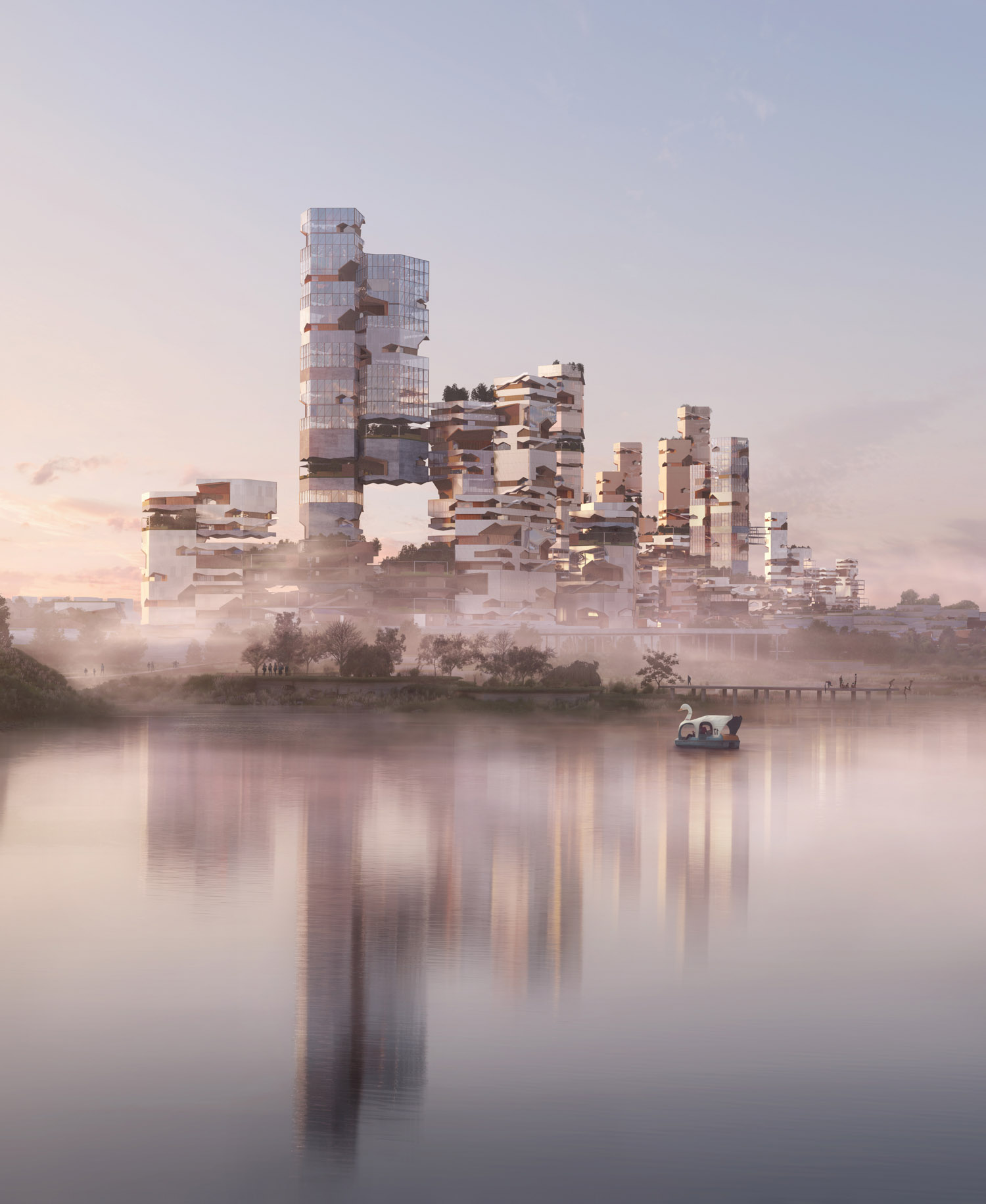 In terms of building form, the ecological tapestry presents the idea that habitation begins with the domestic unit and the scale of the community. At the core of this structure is a living unit that draws from the traditional Korean hanok house and village typologies. These units aggregate and evolve over time, eventually revealing vertical villages, each with their own sense of community and programming that prioritize social and natural connectivity.
The buildings, structures, infrastructure, and community functions create a dialogue with the ever-evolving landscape, proposing a model for future densification that is based in a collective connection to the land and water. Natural systems become entwined with engineered building systems as the organic influence of humans transforms structure into community. 
"We recognize the value in blurring the boundaries between land and water, landscape and architecture, city and building to introduce an abundance that does not exist when each element is restricted."
A Resilient Wild Waterfront
The Han River has been redesigned over time to reduce the risk of flooding by widening and reinforcing its banks. Our proposal looks to soften this shore and reintroduce the dynamics of shoreline islands that will promote habitat, water filtration, dissipation, and absorption of intense storm events.
Our concept positions Apgujeong as a regional flood retention zone and center of dynamic resiliency. The edge of the Han River, considered the Wild Waterfront, will be strategically cleared and seeded for regrowth, and new islands and waterways will develop over time. Natural systems take precedence as human activity is minimized to selected access points, allowing land to be reclaimed by nature undisturbed.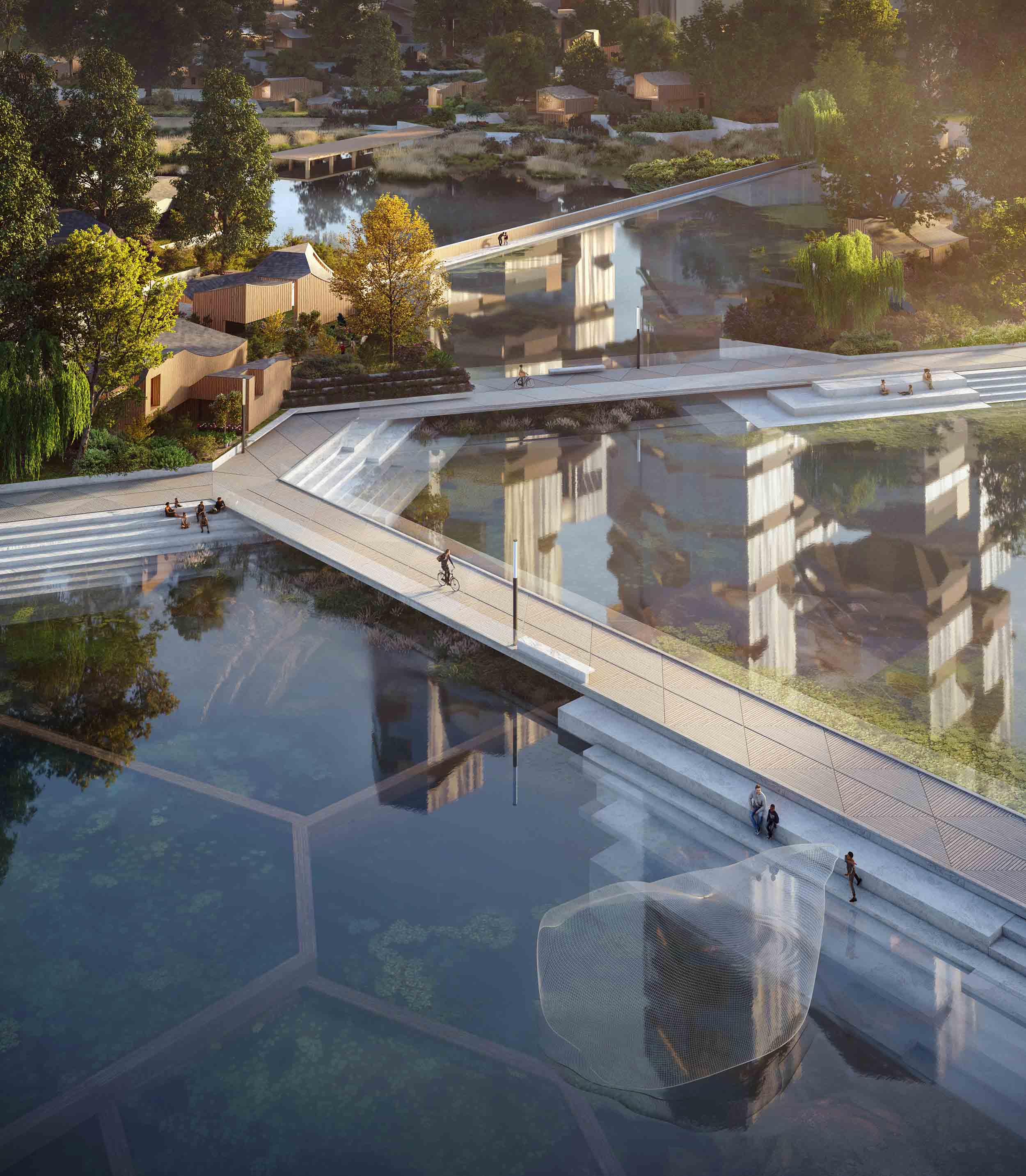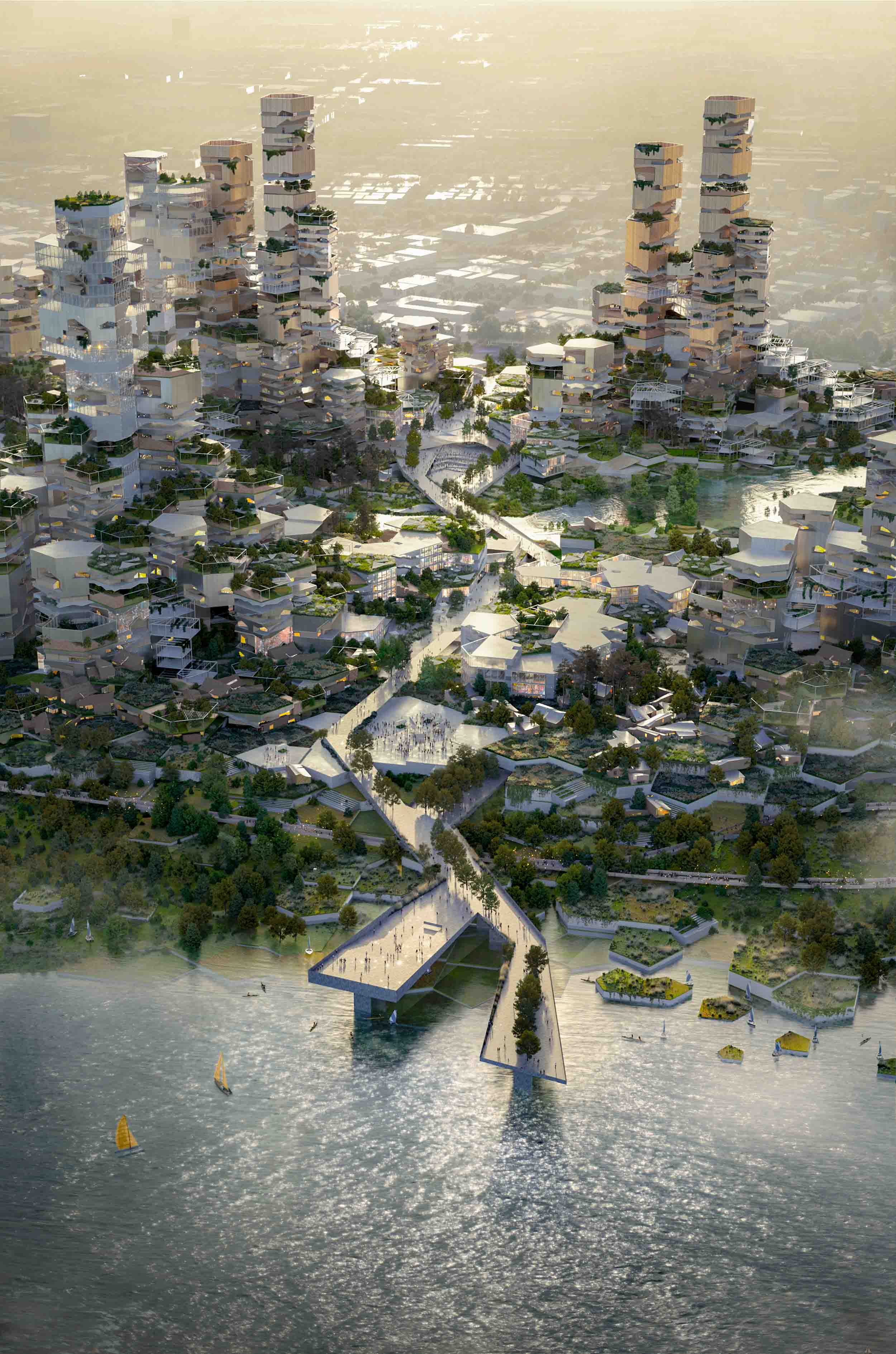 The land will reduce runoff through urban storm systems that retain water and slowly release the water once the storm surge has passed. Within the internal site floodway, community uses are coupled with spaces for stormwater retention, functioning as areas for public use and water collection for the city's long-term well-being.
The diversity of open spaces allows for the intermingling of landscape and cultural systems to bring inhabitants and visitors a greater connection to the water's edge while also giving greater exposure to natural processes and resources.
Designboom: RIOS unveils 100-year hyper-abundant city at seoul biennale of architecture and urbanism
Wallpaper: 2023 Seoul Biennale of architecture invites visitors to step into the outdoors
Domus: A "hyper-abundant" city as Seoul's future
Korea Economic Daily: A Venice-like waterway in downtown Apgujeong… Master plan revealed 100 years later