Unlocking Land and Growing Community Trust in L.A.
In Los Angeles, two things are evident: the cost of land is rising at an exorbitant rate, and when it changes hands, it almost always goes to the highest bidder. This makes it difficult, if not nearly impossible, to permanently house those in need of affordable housing.
Gaining Ground proposes a community-led, citywide initiative to take affordable housing, and the land on which it's built, out of the speculative market.
The solution revolves around two things: a tactical land assembly strategy that leverages underutilized and publicly owned land, and the transfer of this land to robust community land trusts to steward in perpetuity. In a hot market, the common ownership that these forms of housing provide protect residents from displacement and may moderate the extent to which the market can explode in the first place.
The City of Los Angeles currently possesses a large number of maintenance yard facilities dotted through-out almost every neighborhood. In fact, the City recently released a request for professional services to assess, optimize, and potentially consolidate 56 of these facilities, presenting an opportunity to free up a significant amount of publicly owned land and redirect it to affordable housing production. And we shouldn't stop there. Through a tactical land acquisition and assembly strategy, we envision leveraging these main-
This unlocked land portfolio generates a base of ownership for a community land trust (CLT). CLTs are nonprofit, community-based organizations designed to ensure permanent affordability through commu-nity stewardship of land. CLTs acquire land through various means, including below market rate purchas-es, public transfers and donations. The housing built on the land can be developed through a range of models, leading to the production of both rental and owner-occupied units. In all cases, by separating the ownership of the land from the housing on top of it, CLTs are able to prevent market factors from causing prices to rise significantly, and hence guarantee that housing will remain affordable for future generations through a low- to no-cost purchase or long-term land lease.
The Gaining Ground approach—stabilizing the cost of land and empowering communities to steward it—is a replicable framework for various parts of the city across a range of economic needs. In this proposal, a service yard in Jefferson Park is a site for the ground-swell of diverse affordable types—from co-housing to one- and two-bedroom units—that reinforce community as members can move within typologies. On site, a mix of new construction for the co-housing units and reused industrial structures for the one- and two-bedrooms, gathering structure, and parking ensure that the site's narrative is not lost. Each structure is surrounded by a lush landscape of gardens and community farm plots to reinforce the notion of shared space and wellness.
How does a Community Land Trust work?
Community land trusts are nonprofit, community-based organizations designed to ensure community stewardship of land. Community land trusts can be used for many types of development (including commercial and retail) but are primarily used to ensure long-term housing affordability. To do so, the trust acquires land and maintains ownership of it permanently. Ultimately, by separating the ownership of land and housing, this innovative approach prevents market factors from causing prices to rise significantly, and hence guarantees that housing will remain affordable for future generations. Today, there are over 225 community land trusts across the United States.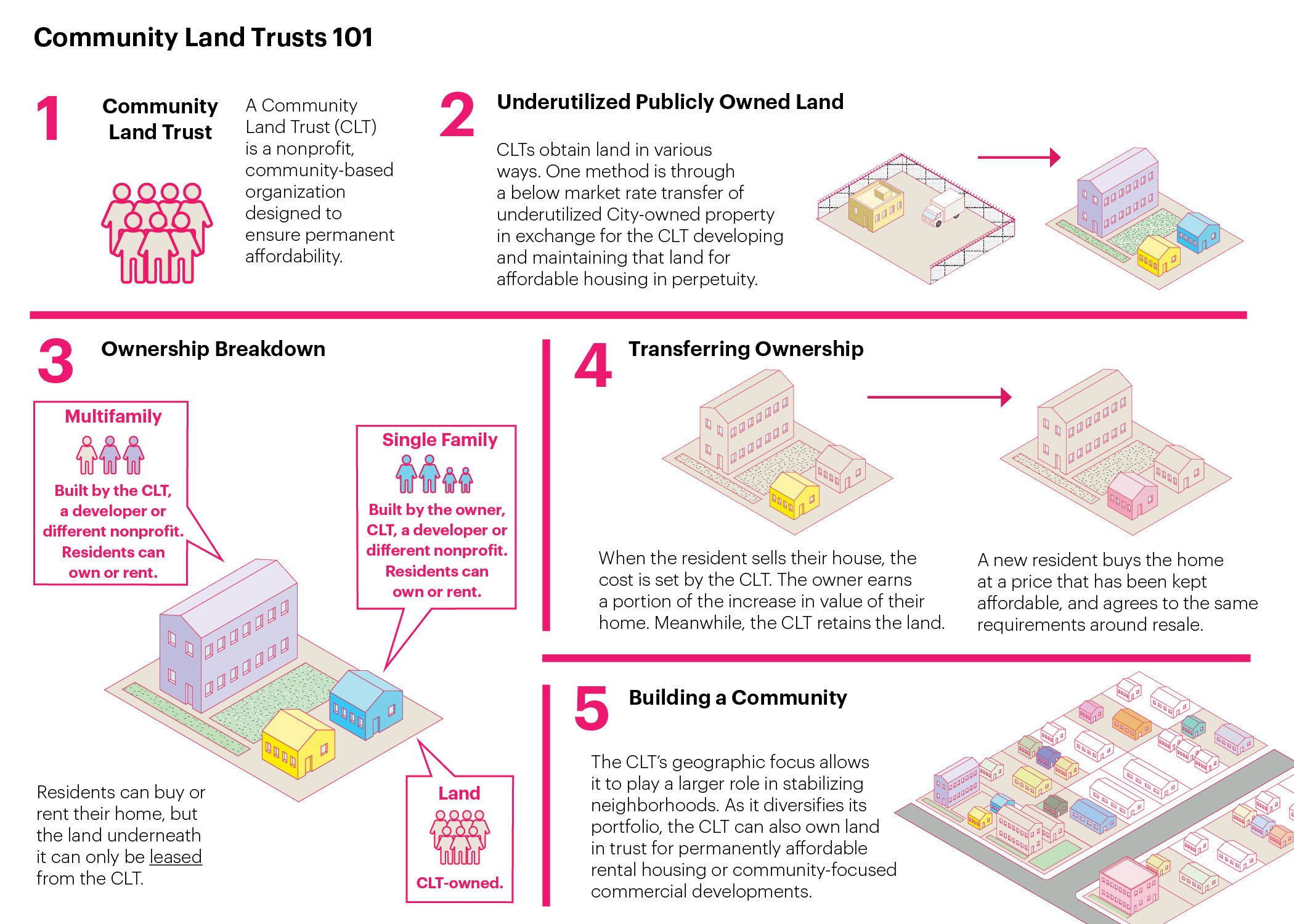 Gaining Ground: Implementing a CLT Model
Where do we capture land for CLT-driven development?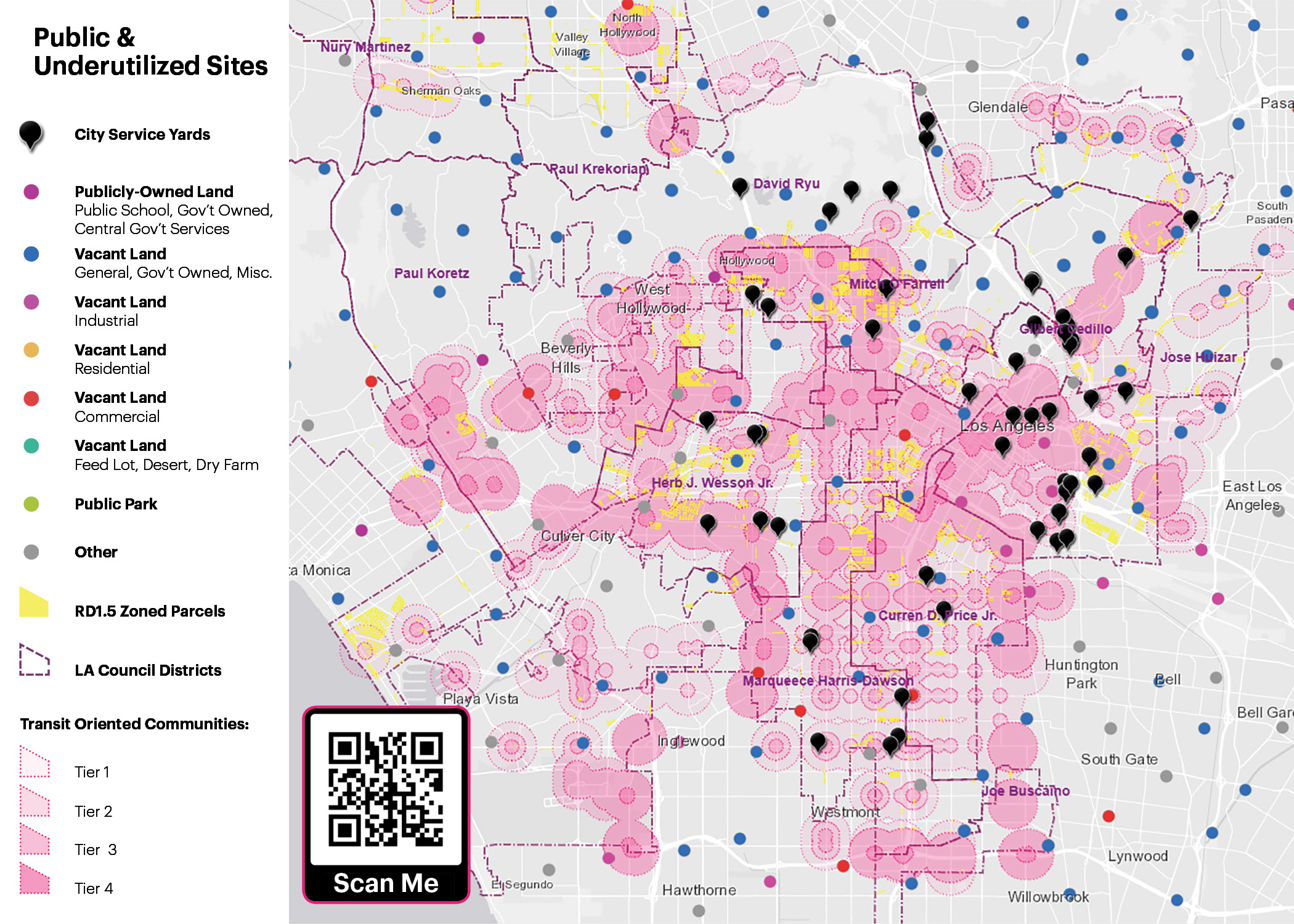 RIOS has built a custom interactive webmap identifying several potential sources of land and areas for increased density that can be used to build a CLT-owned portfolio of permanently affordable housing. The map locates vacant and underutilized land from City and County geodatabases, different types of publicly held land, the City's 56 service and maintenance yards, and current foreclosed properties across Los Angeles. It also overlays the parts of the city subject to Transit Oriented Communities density incentives, as well as RD1.5-zoned land. The size and configuration of many available properties within RD1.5 zones allow for creative lot subdivisions to create 2- to 6-unit projects. By properly using the small lot ordinance, these multiple family dwelling zones provide great opportunity for a quality, middle-density product.
How do we leverage City-owned maintenance yards for affordable housing?
The Gaining Ground proposal tests the CLT-driven model of land acquisition and development on the Western Yard service yard site in Jefferson Park. The Los Angeles Bureau of Engineering is currently assessing 56 of these service yards across the city to allow for greater efficiency and consolidation of activities. In this scenario-building exercise, we imagine the consolidation of Western Yard with the nearby 36th Street Yard, thereby freeing up Western Yard for CLT-driven redevelopment. Surrounding the Western Yard is also an abundance of underutilized privately-owned land, RD1.5 zoned properties, foreclosed properties, and land that can take advantage of the City's Transit Oriented Communities incentives. The CLT that redevelops the yard site therefore has an opportunity to expand its portfolio and bring a range of properties into its model.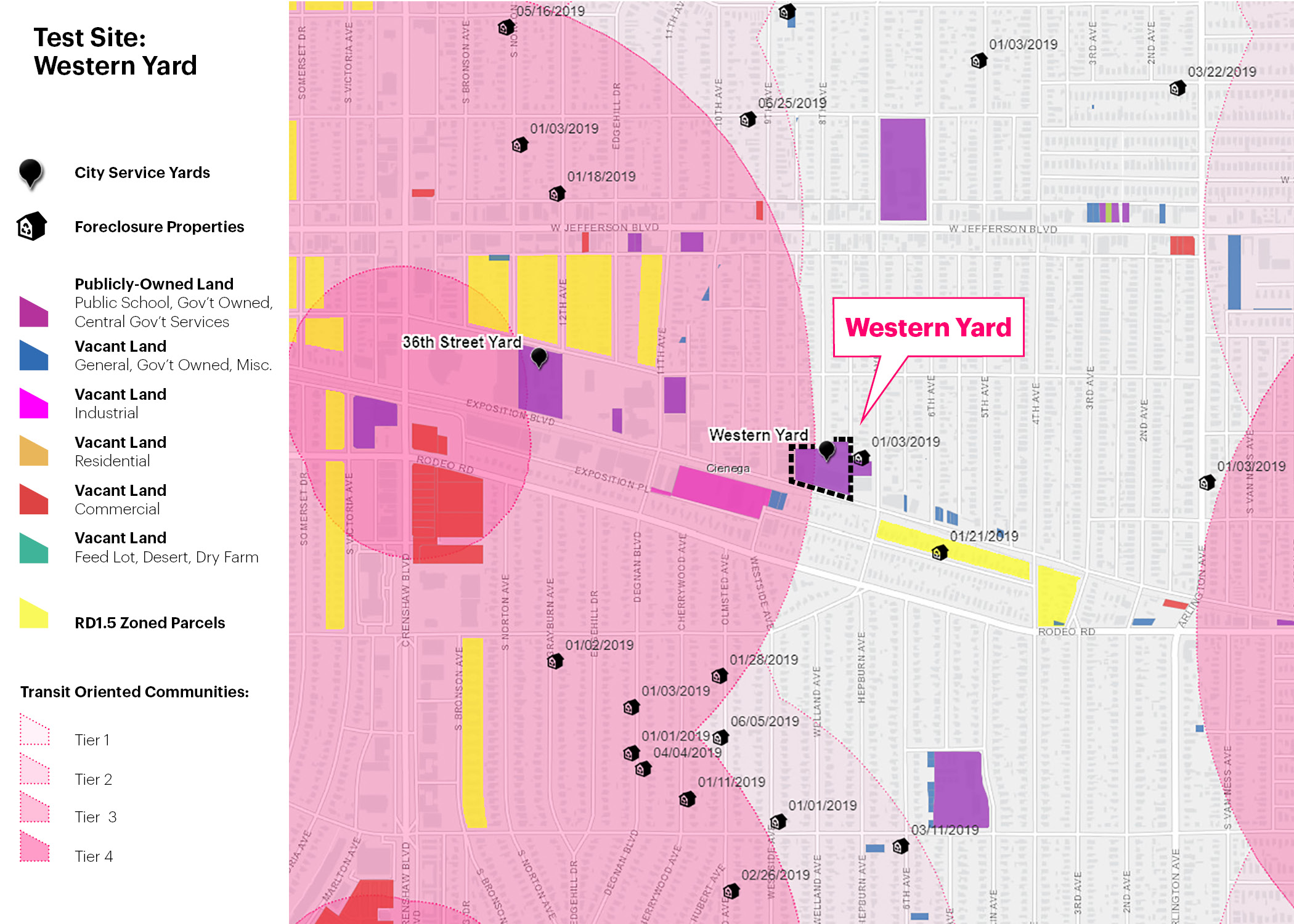 Gaining Ground: Implementing a CLT Model
What can a CLT-driven redevelopment look like?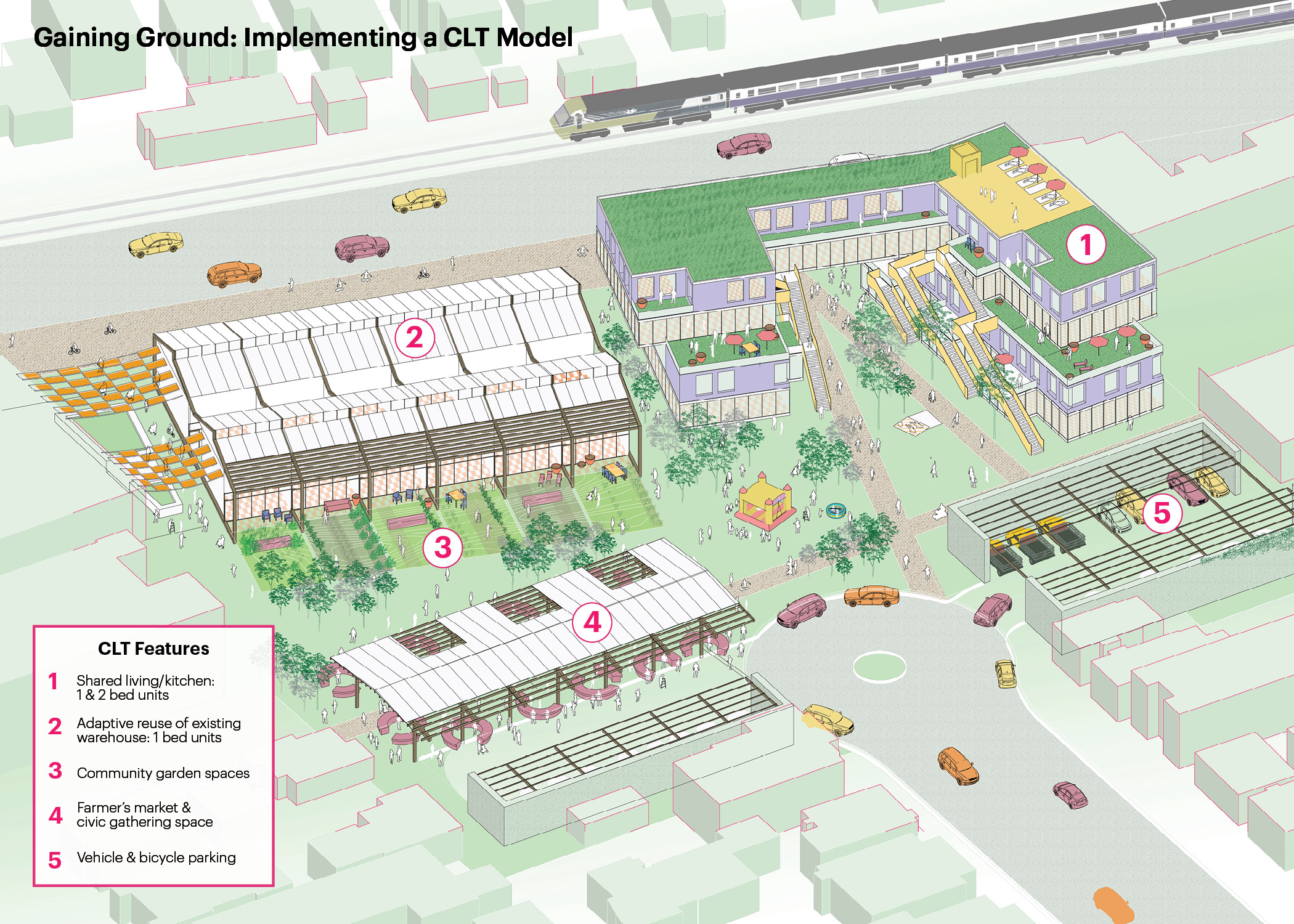 Once Western Yard functions are consolidated and moved off-site, the land can be transferred to an existing CLT that is willing to expand its work and geographic reach into the Jefferson Park neighborhood, or to a newly formed CLT made up of local experts and representative stakeholders. We propose that any necessary abatement, remediation and rezoning is done in advance of transferring the land to a CLT. To identify the highest and best use for the site, we also suggest a robust community engagement proc
In this hypothetical scenario, we suggest a mix of affordable housing types—live-work, co-housing, 1, 2 and 3-bedroom units—that reinforce community as they allow members to move within typologies as their needs change. The site hosts a mix of new construction, adaptively reused industrial structures, and commercial and gathering spaces. Each building is enriched with a lush landscape of gardens and community agriculture plots to reinforce the notion of shared space and wellness.