The RIOS Internship program strives to create a valuable and rewarding experience that captures the exuberant, fearless, and holistic spirit of our office.
This summer, we welcomed 12 students and recent graduates to join our project teams, interact across studios, and contribute to some our most pressing design challenges.
From playing a part in project development and goals, to site visits that revealed different design disciplines and phases of construction, our interns took a step into life at RIOS.
We kicked-off recurring design sessions, "The Collaboration Series," to bring our talents together with cross-disciplinary thinking across differing topics. The series was a call to our interns to create solutions and think big – we're excited to share a peek of their new work.
We hosted a proper sendoff by organizing a farewell mixer catered by local LA favorite, Happy Ice LA. With summer coming to an end, we're highlighting our favorite moments and celebrating our intern's achievements.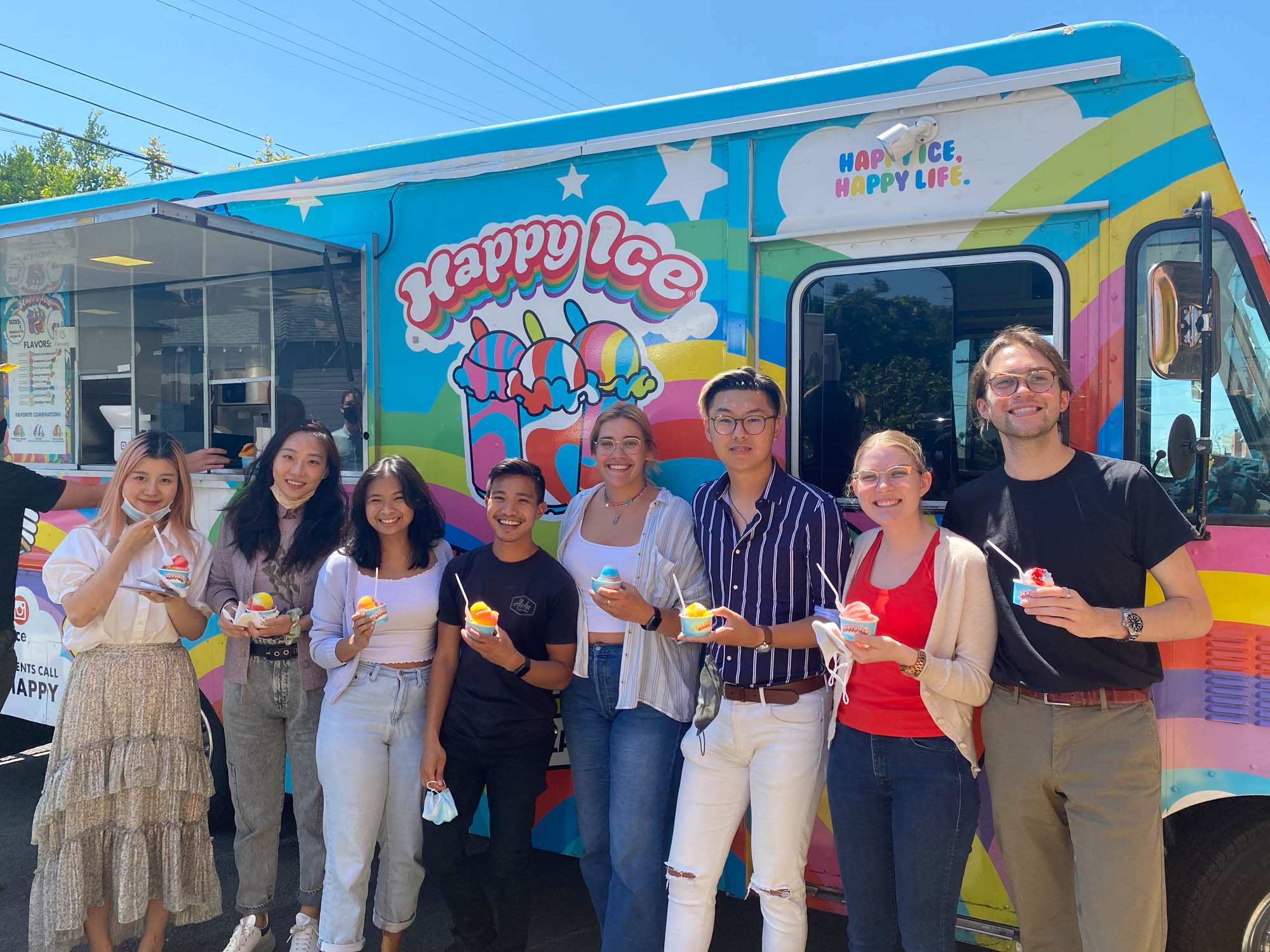 The key to successful collaboration lies in our office culture. Our interns had the opportunity to contribute to our office's greater research and evolving approaches to design. We offered inclusive ways for the interns to interact across studios and gain exposure to our variety of design expertise.
The Collaboration Series focused on two topics: Resiliency and Adaptation in Post-Pandemic Life, and Digital Fabrication.
In part one, our intern's collective research proposed new design ideas for the office and neighboring community centered around the topics of deployable living, public streetscapes, and hospitality spaces.
In the second part, their digital fabrication work involved an exciting opportunity to use our office CNC mill, which included creating a movable woven shading device to enhance RIOS' outdoor spaces and developing a custom ping pong table to expand on our office's playful culture.
Our interns visited completed and under construction RIOS projects throughout the summer. From interior creative office spaces to landscape-focused park projects, site tours provided the interns with the chance to experience various phases of construction across multiple projects and disciplines.
Thank you for joining us this summer!
Hailey Algoe, University of Texas
Isabella Carrera, California Polytechnic State University
Asher Guizik, University of Southern California
Lauren Hanson, University of Pennsylvania
Chris Lacsina, University of British Columbia
Marco Lam, University of Wisconsin–Madison
Mac MacVaugh, University of Michigan
Zak Meghrouni-Brown, Columbia University Graduate School of Architecture
Julia Mosher, University of Southern California
Lea Romano, University of Southern California
Yumi Tong, University of Southern California
Jinghan Zhou, Rhode Island School of Design