Andy Lantz speaks on our new perspective on how we are adapting to the current pandemic in the story titled "4 Coast-to-Coast Designers Stand Strong and Look to the Future."
Read full article on Interior Design.
"We made some big decisions early on, which involved updating our provider services and planning for a work-from-home situation in anticipation of what a response to COVID-19 could look like. As a result, our transition was seamless. Many of our projects are moving forward. And we are incredibly fortunate that our industry is capable of moving forward and stewarding projects through all phases of development, from early project ideation with clients to new ways to coordinate safe procedures on job sites, using extended technological capacity that allows us to work at home.
Our office talks a lot about adaptation—everything from climate adaptation to our professional adaptation in how we work and deliver for our clients. This situation has given us an entirely new perspective on adaptation. The ways we inspire and encourage innovation and ownership within our staff allows for teams to quickly discover ways to reinvent project collaboration and delivery in our new normal."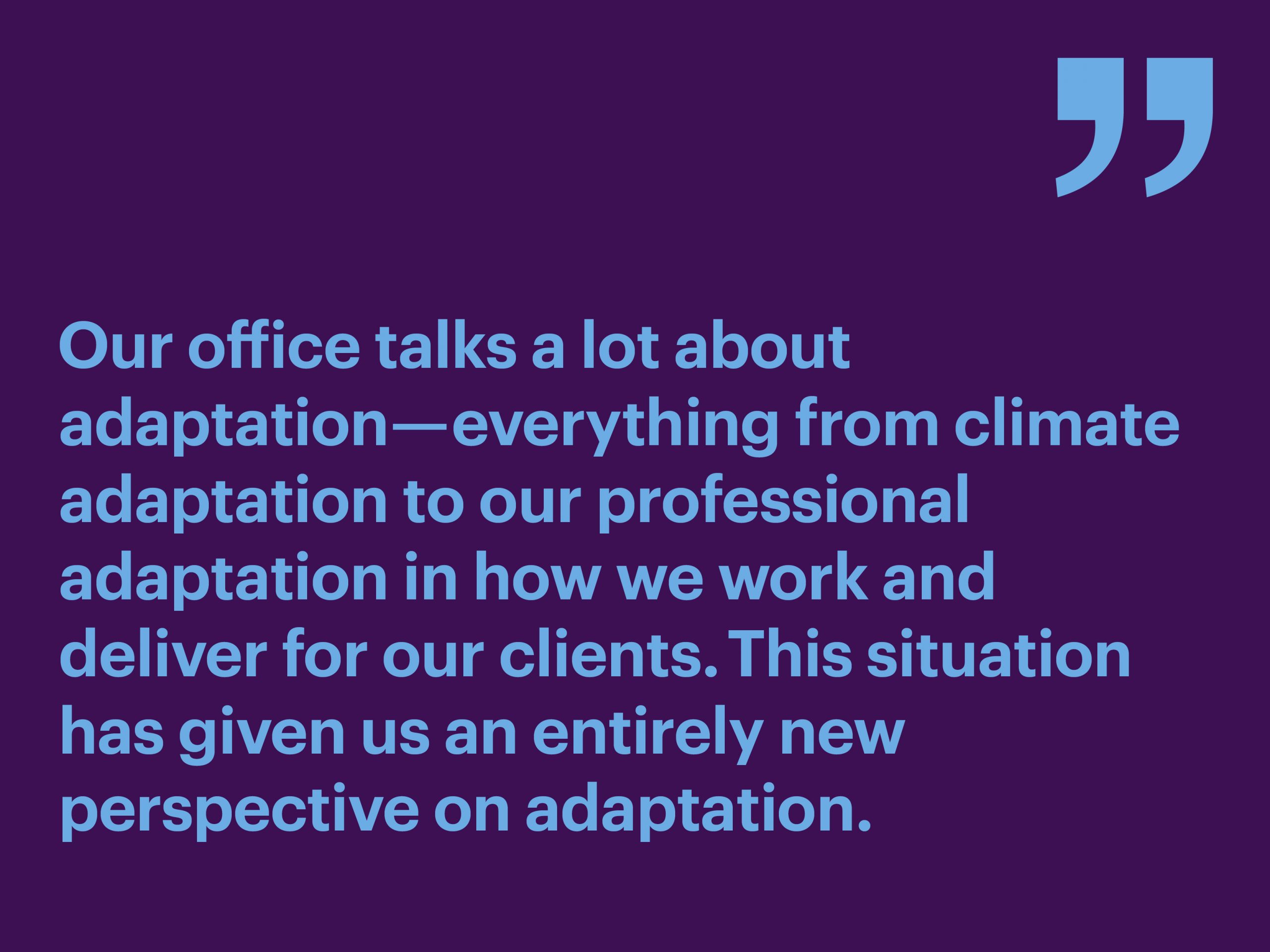 "We are starting to see the impacts on this situation on sourcing materials, nationally and internationally, so we need to find ways to approach work and foster engagement with local sources and industries. It is important to quickly shift directions to minimize impacts on construction by specifying local products where and when you can. Keeping your community thriving during these times—where allowed by state and when safe!—is a positive way to find opportunity in adversity.
Seeing your teammates outside of the day-to-day project needs is vital to maintaining the personal connection that happened in the office, so keep those lunch dates, even if they are on Zoom. As leaders, we can advocate for daily rituals such as "good morning" at 8:30 a.m. and "good night" by 5:30 p.m. We can place focus on wellbeing, and push staff to establish boundaries in their schedules for their own daily rituals, while alleviating the fatigue of endless meetings by challenging teams to shift from 60-minute meetings to 30-minute conversations. And we can empower our staff with information, not anxiety, but taking the time to read and review state and federal orders as they come out, giving access to new information through HR teams and leadership groups as a resource. Just because we are all working from home doesn't mean we should stop being good collaborators."