If we have learned anything during this uncertain time, it is how quickly the workplace can adapt and change in the face of necessity and how technology can bring us together in new ways.
Overnight, the technology we were already using, like Zoom and Teams, became an even more essential part of our toolbox.

Other things required more problem-solving. As a multi-disciplinary firm, we are conscious that our work as architects, landscape architects, and interior designers extends beyond design and into the field on construction sites.

Our efforts to reduce our distance led us to make site presence and meetings more manageable by using FaceTime, Teams, Zoom and other software to resolve issues with those working on-site without needing to physically be there. We're adapting very quickly and everyone involved seems on board with these changes as we focus on problem-solving together with our clients.

Beyond all of the perfunctory aspects of our work that software allows us to continue uninterrupted, we find that the ability to see each other's faces and simply just connect with each other is incredibly important right now. From small group meetings to large team meetings, seeing familiar and friendly faces navigating the unknown together is comforting and strengthens our bond.

Below are a few things we have learned about adapting the workplace to a fully functioning, remote environment. As we've been saying, and we truly believe, we're all in this together.

Maintain your office routine.
We preserved our weekly office rituals of all hands staff meetings, marketing meetings, senior staff meetings, studio stand-ups, etc. These kept our staff engaged and connected in expected rituals and maintained a feeling of continuity and stability. The ability to stay the course on normally scheduled activities is a relief in times of change.
Just hours into this unusual week, we had an epic all-hands staff meeting over Zoom meeting. Something familiar and comfortable took place in a whole new way. It was unexpectedly exciting, reassuring, and even fun. It set a tone, and it was great that it happened early on — and we could actually hear what everyone was saying!
Throughout the week, teams shared lunchtime conversation virtually, recreating the feeling of dining together at our picnic tables even if everyone was apart.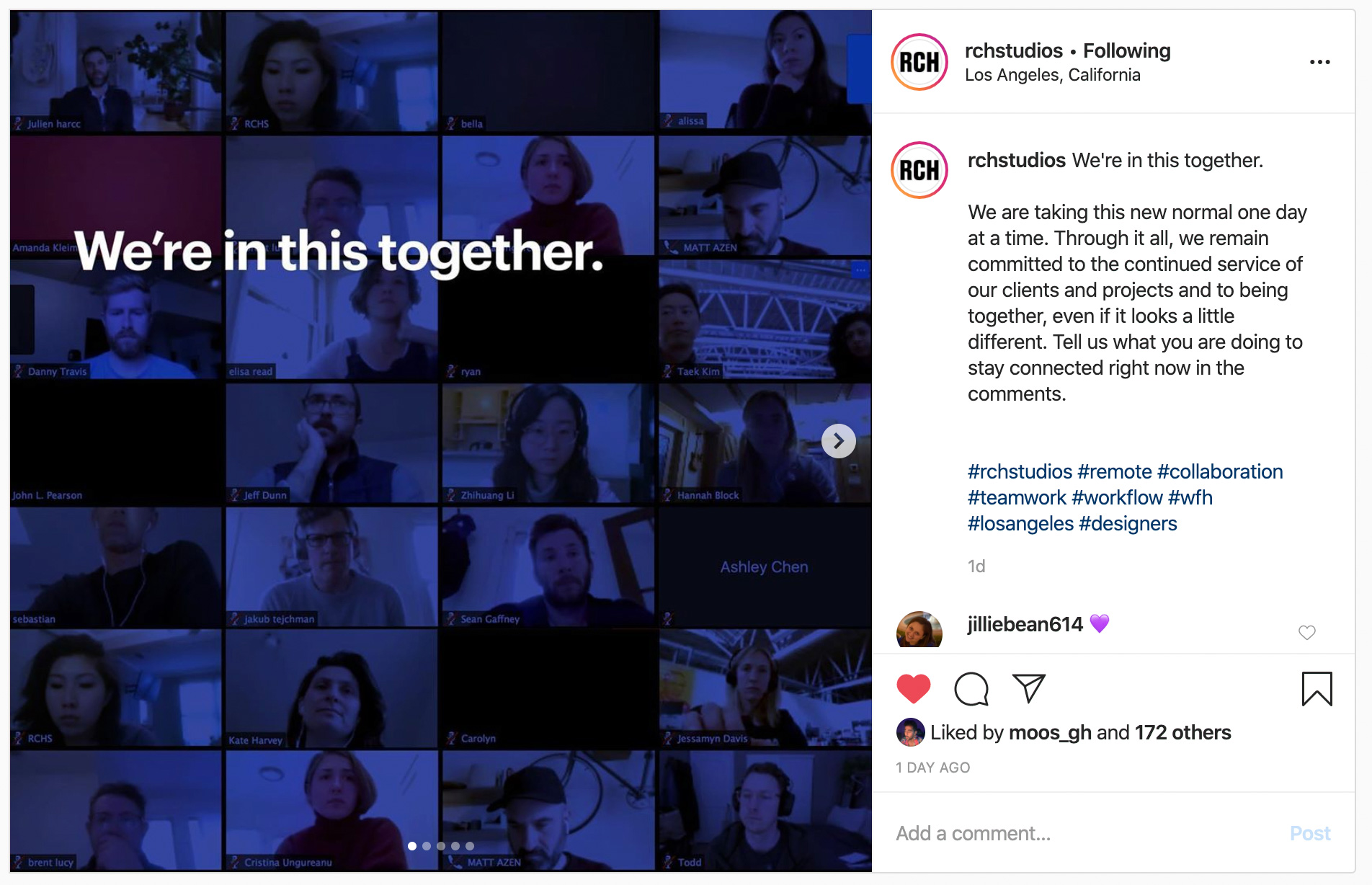 Not enough laptops? No problem. Our best decision was to work with what we knew, and what we had, and not introduce new systems. We had a fleet of laptops that are built for remote work, but we didn't have enough for everyone. We treated our desktops as bulky (but still "portable") versions of laptops. We added our tried-and-true VPN software and sent them out the door and home with employees. The focus was on continuity and avoiding disruptive and unvetted technical solutions. Folks kept working with the familiar.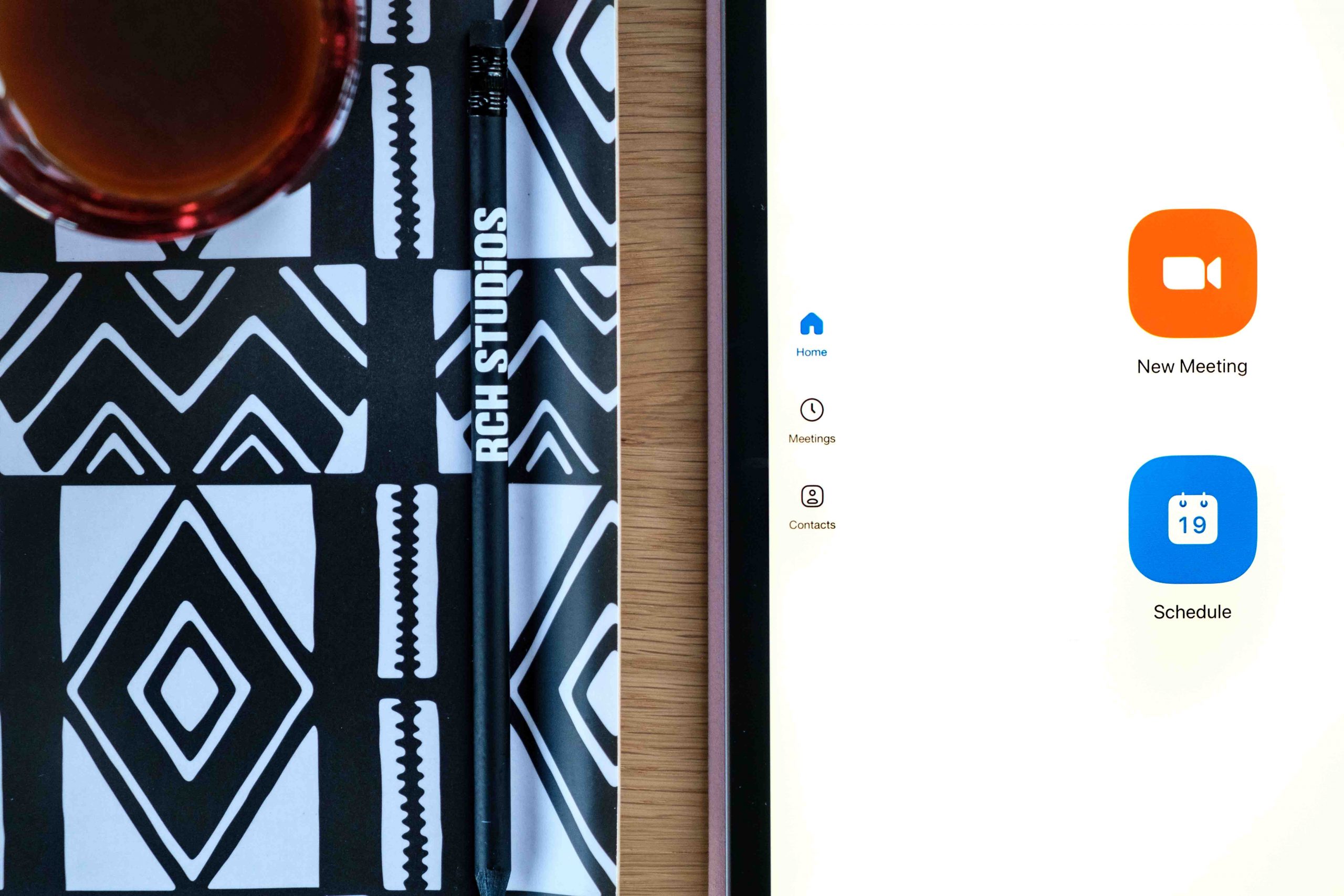 Clear protocols for engagement provide certainty in a time of uncertainty. For example, who should each individual in your organization check in with, and how often? By creating a strong base of expectations and policies, we were able to quickly move to a Work from Home model. We learned that clarity was more important than innovation when making quick changes to our working model. 
Harness the power of tools and software.
If you have already adopted a software platform for virtual client meetings, keep going. If not, here are a few of the tools we love:
It can feel very cathartic to keep moving forward when everything stops around you. So, do solve the problems at hand, but don't stop moving ahead. Whether it is tackling some normal course planning projects, or thinking about how your business keeps evolving during changing times, keep looking forward and don't forget to design — even if it is designing yourself.