The RIOS Design Curriculum
Collaboration, creativity, and innovative thinking across design disciplines is at the core of our practice. Our internship program centers on these values to provide students with a holistic design experience each summer.
This year, we welcomed 12 students from various disciplines and educational backgrounds to our LA headquarters. They participated in a diverse program that included project work, site visits, and a cumulative research project focused on our local neighborhood of Leimert Park and the adjacent Crenshaw corridor.
The internship curriculum encourages students to share fresh perspectives and develop foundational skills through hands-on experiences, all in the spirit of RIOS' multidisciplinary and inclusive approach to design.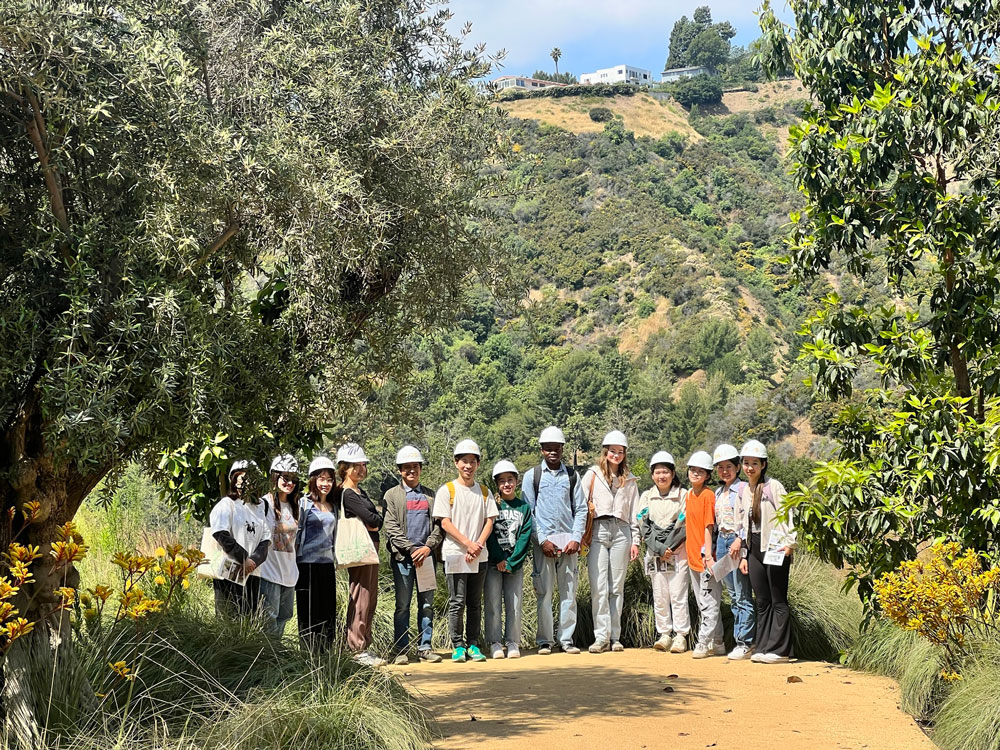 The RIOS research initiative is integral to the internship experience and provides students with an opportunity to engage in research, site analyses, and ideate thoughtful design solutions to real-world challenges.
During the internship, students explored our local Leimert Park area, examining how the design of the neighborhood could be improved and adapted to address environmental justice and equitable design on both architectural and urban scales.
Following immersive site research and engagement with residents and community leaders, each research group developed a site plan and diagrams to communicate their discoveries and proposed solutions, aimed at supporting the Leimert Park community and its rich tapestry of experiences and narratives.
Their final proposals, outlined below, are inspiring and encourage us to further explore our commitment to hyperlocal design for a lasting positive impact. Thank you to the intern class for their innovative contributions!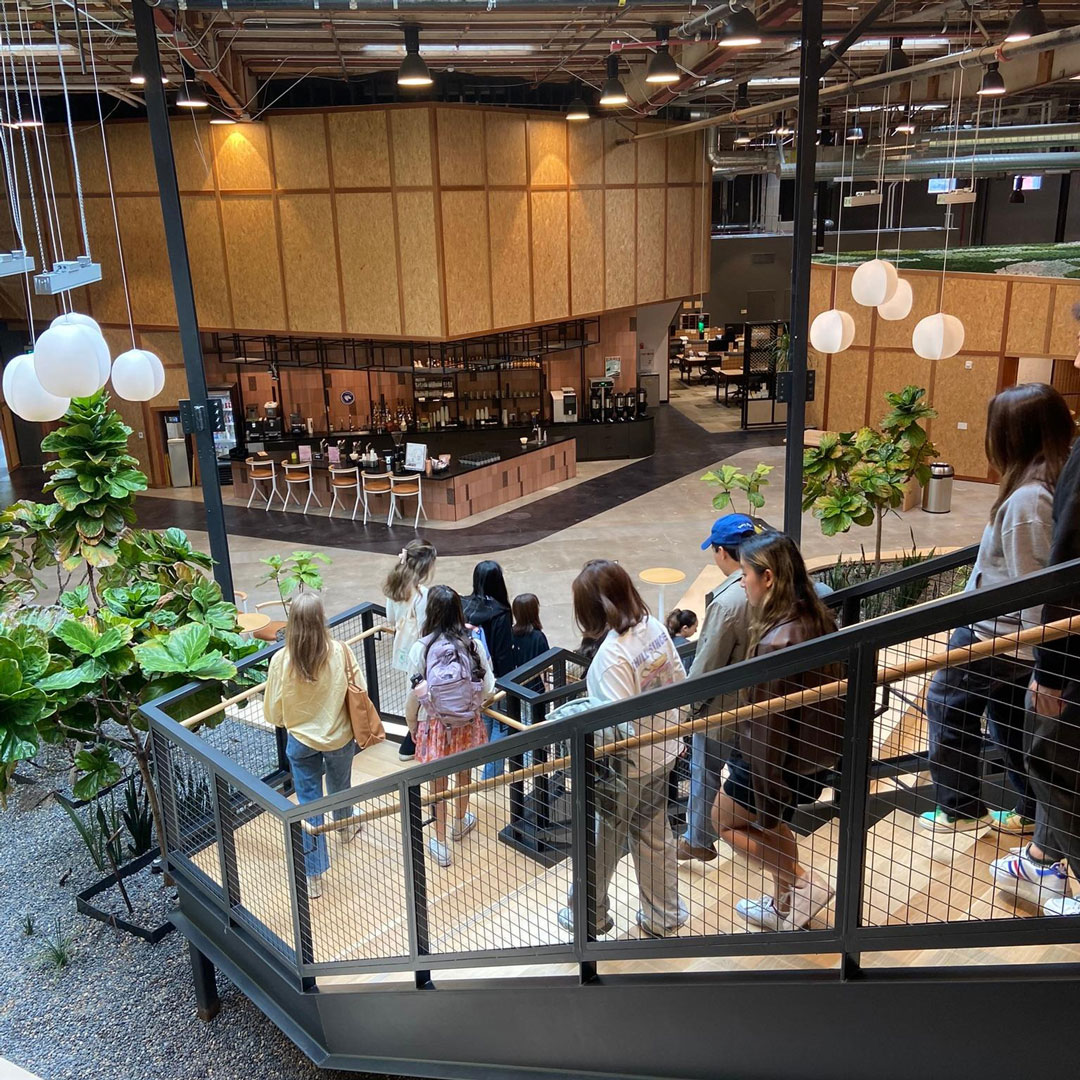 Group A – Discover Leimert Park
RIOS Intern Group: Alisa Kelly, Joyce Ji , Katie Schindler, Jenny Lee
RIOS Team Leads: Rachel Lee, Michael Work
The Discover Leimert Park proposal explores how storytelling can be a powerful tool for placemaking and community engagement, with a focus on recognizing the cultural heritage and diverse narrative of the community. The design aims to establish an inclusive and participatory framework that transforms a transit corridor into a vibrant urban locale fostering a sense of community and strong social connections.
The key components of the design center around Leimert Park community's distinctive qualities and values. It provides pedestrian-friendly amenities that reinvigorate the community's history, artistic essence, and culture of gathering.
To achieve this, new seating is introduced along Crenshaw Boulevard's bus routes and in vacant lots throughout the area. These seating areas offer shade and space for people to gather and take a break. Additionally, 3D wall murals near Leimert Park's center invite residents and visitors to physically engage with the art, while also connecting to the area's status as a cultural hub. A listening booth near Crenshaw Square acts as a historical touchpoint, allowing locals to record snippets of their stories, memories, and music that preserve the neighborhood's rich past.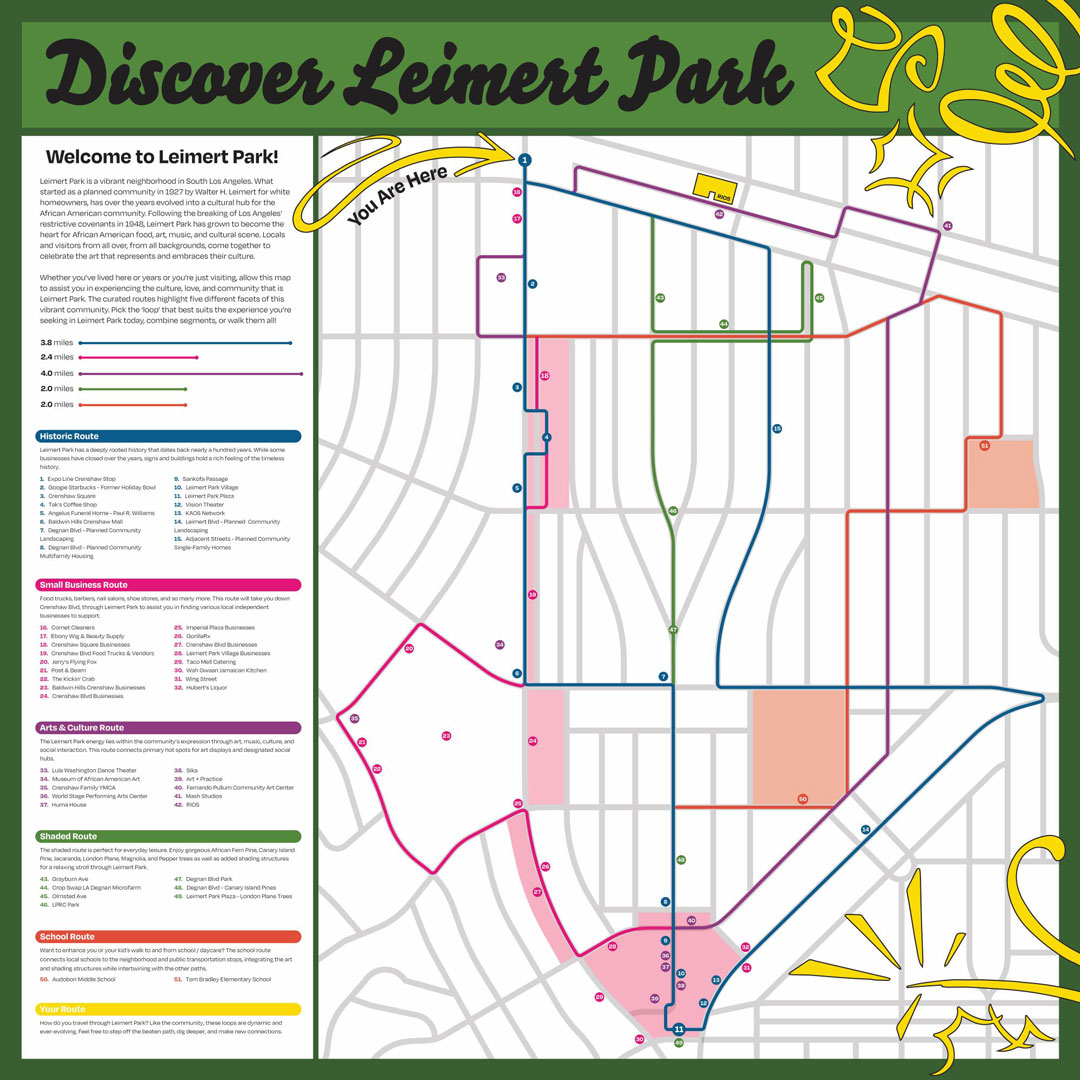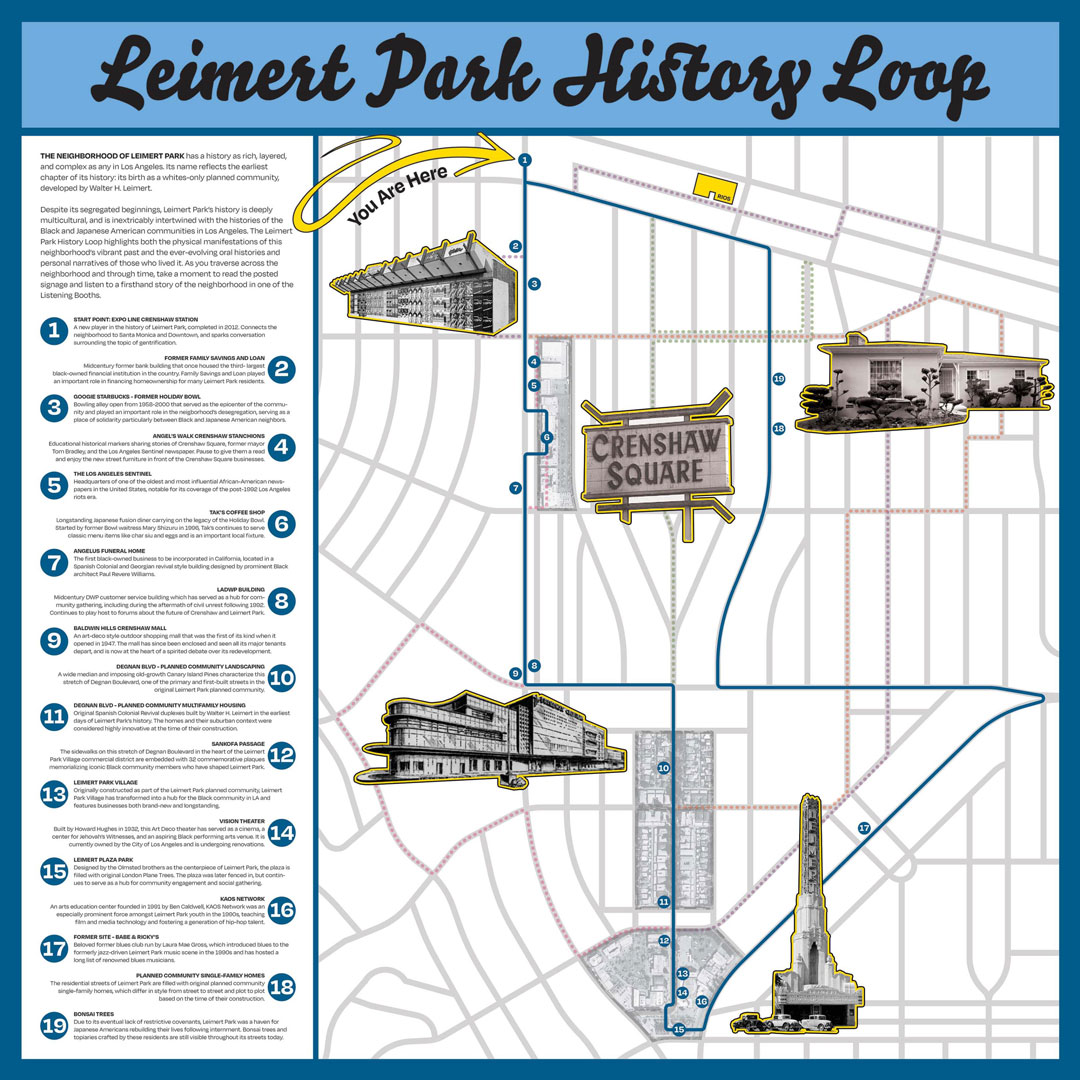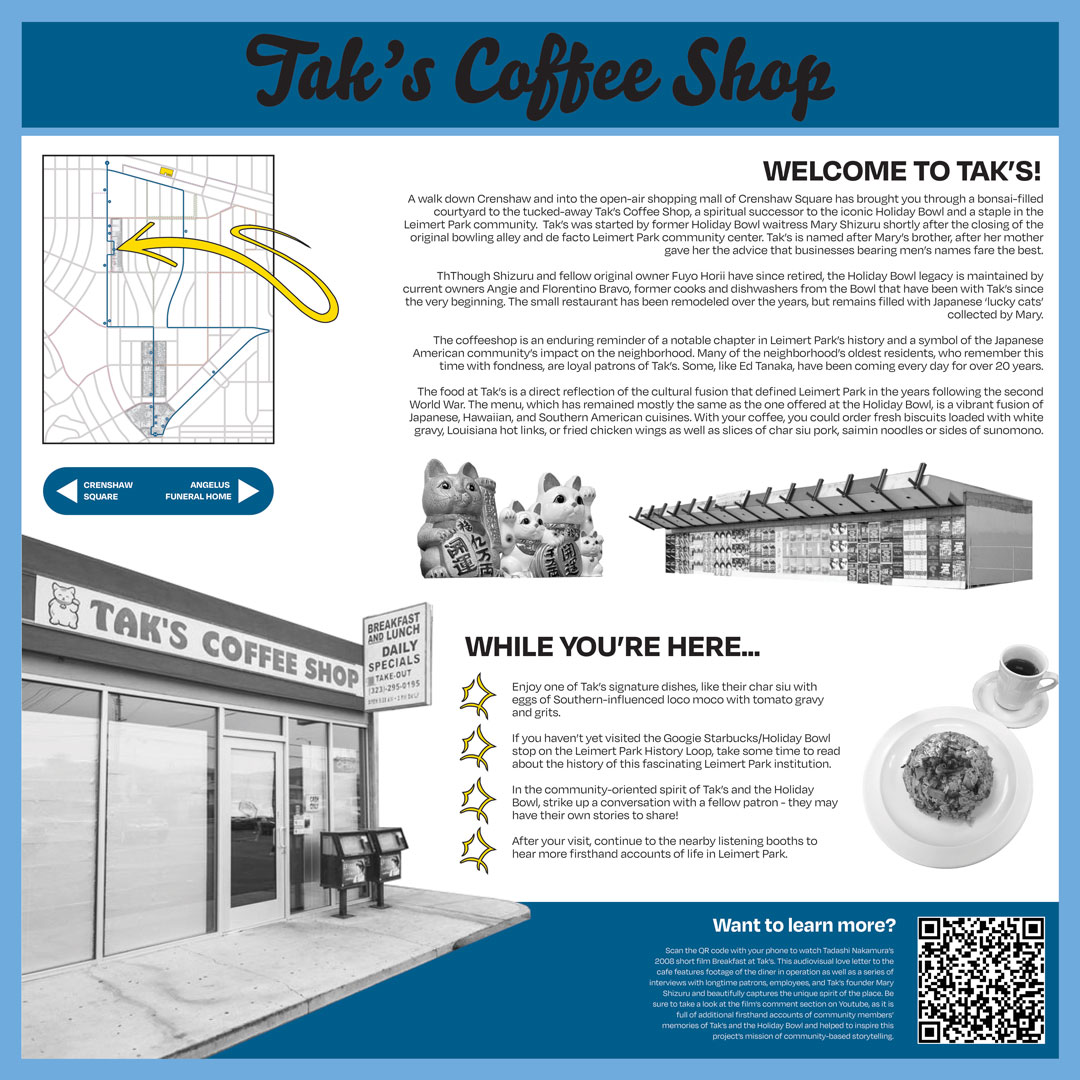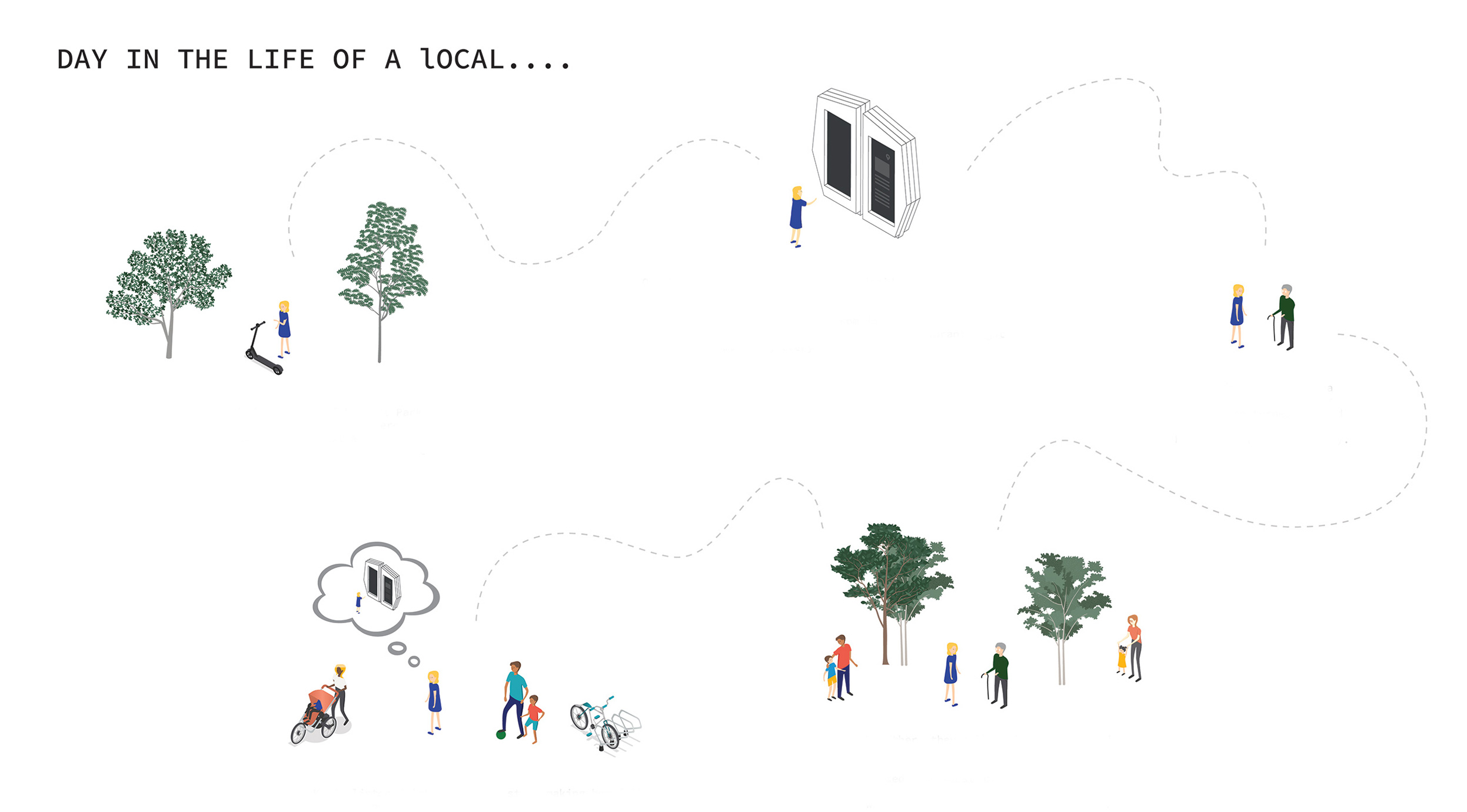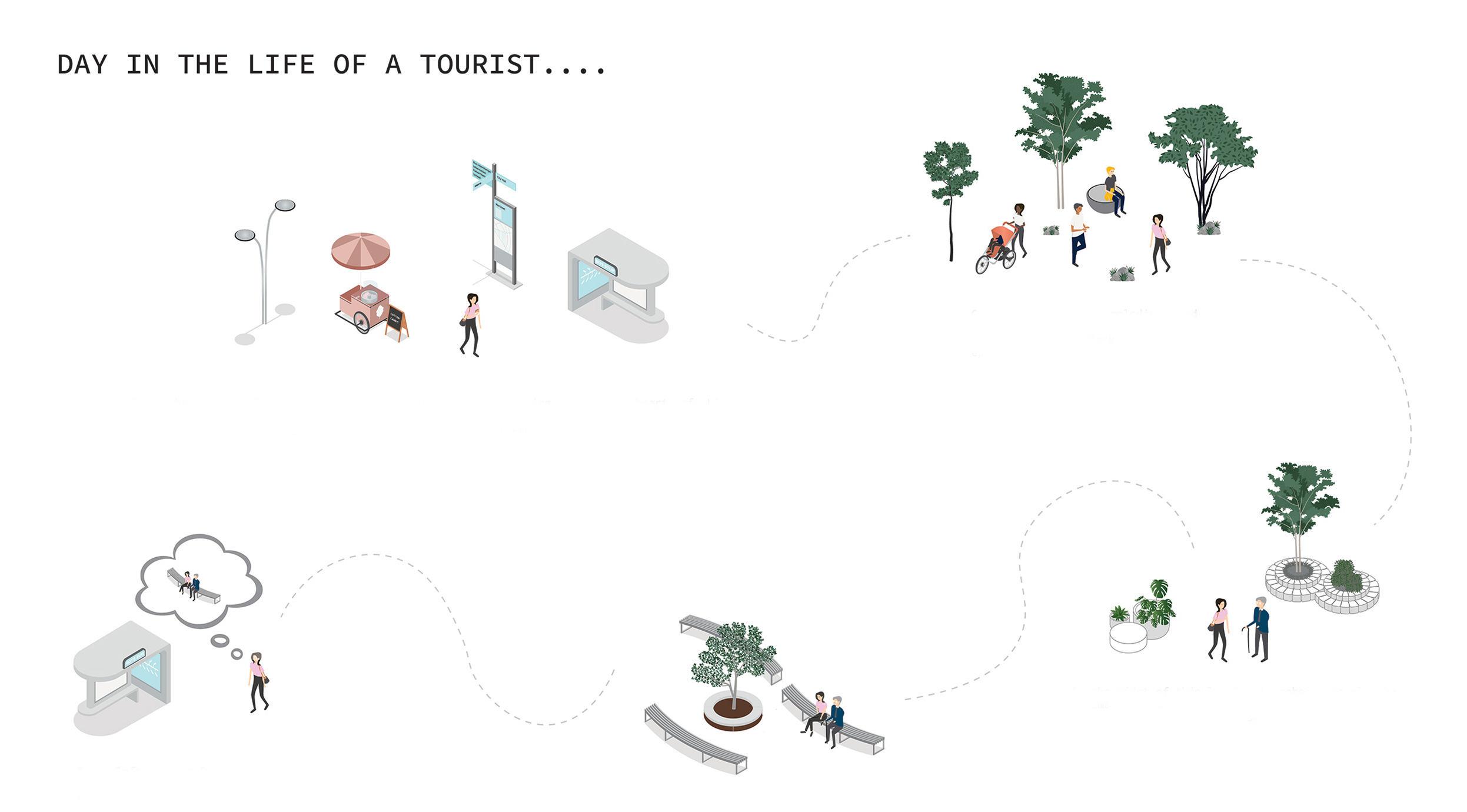 RIOS Intern Group: Gloria Gao, Amber Zeng, Annie Tran, Ryotaro Okada
RIOS Team Leads: Hailey Algoe, Sonali Devarajan, William Maya
This concept, Welcome Aboard, tackles the issue of bringing together three distinct groups along Crenshaw Boulevard — new businesses, local family-owned businesses, and residents — all of whom have different daily work and life patterns. This proposal introduces a hybrid transportation and public space system designed to enhance the experience of the area's commercial strip with pedestrian-friendly activities. The system invites people to immerse themselves in the local businesses, history, and vibrant culture in a new way.
By day, a new streetcar system circulates in the neighborhood, picking up passengers and encouraging them to explore in-car amenities including food options, vendors, and art installations. Local, family-run businesses are active participants in this new system and utilize the cars as second storefronts.
At night, the modules for activities are detached from the streetcars and dispersed near local businesses to use as street furniture for community and private events. Each module is adaptable to the ever-evolving needs of the community and offers an activated alternative to the site's current streetscape.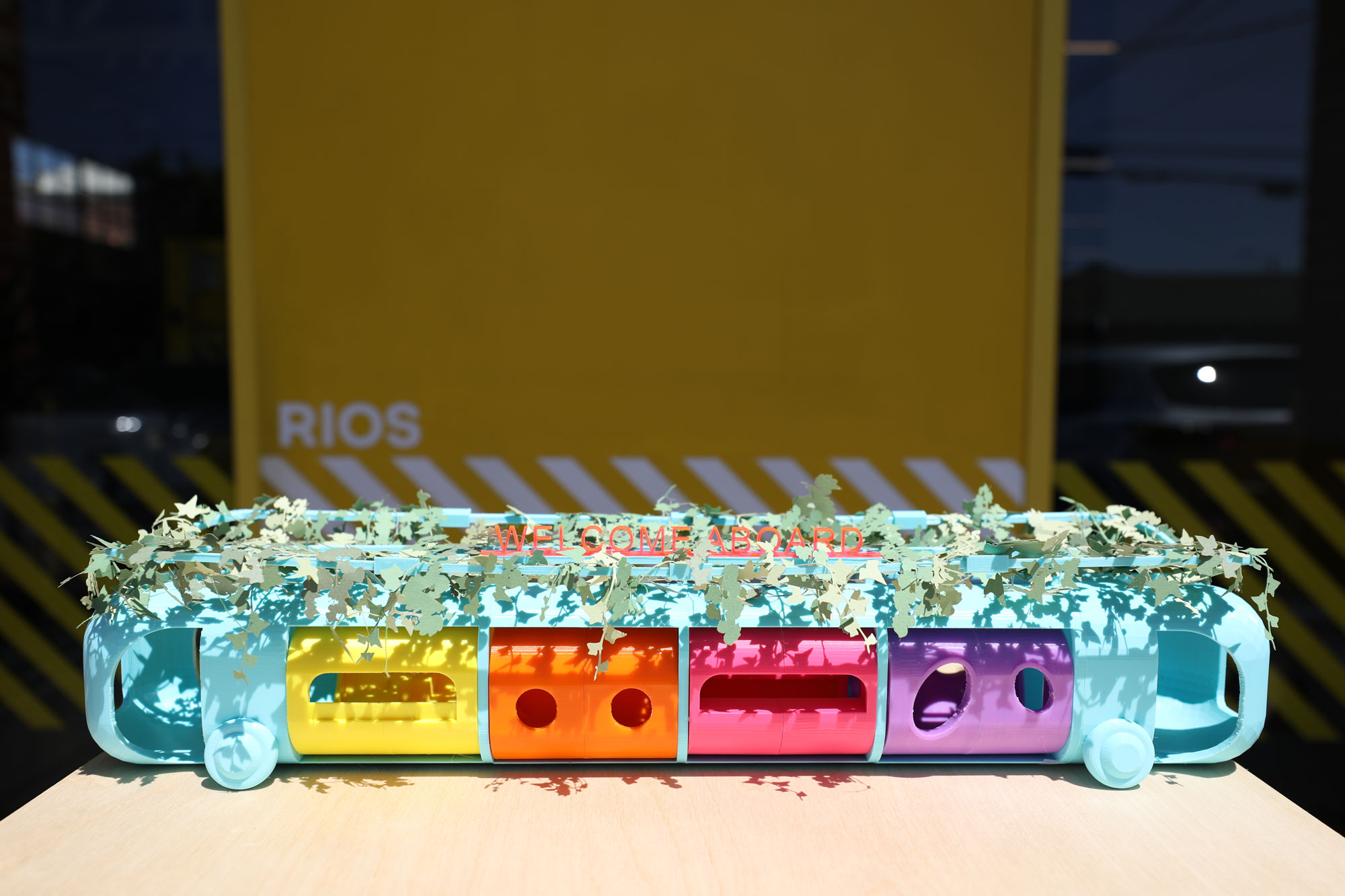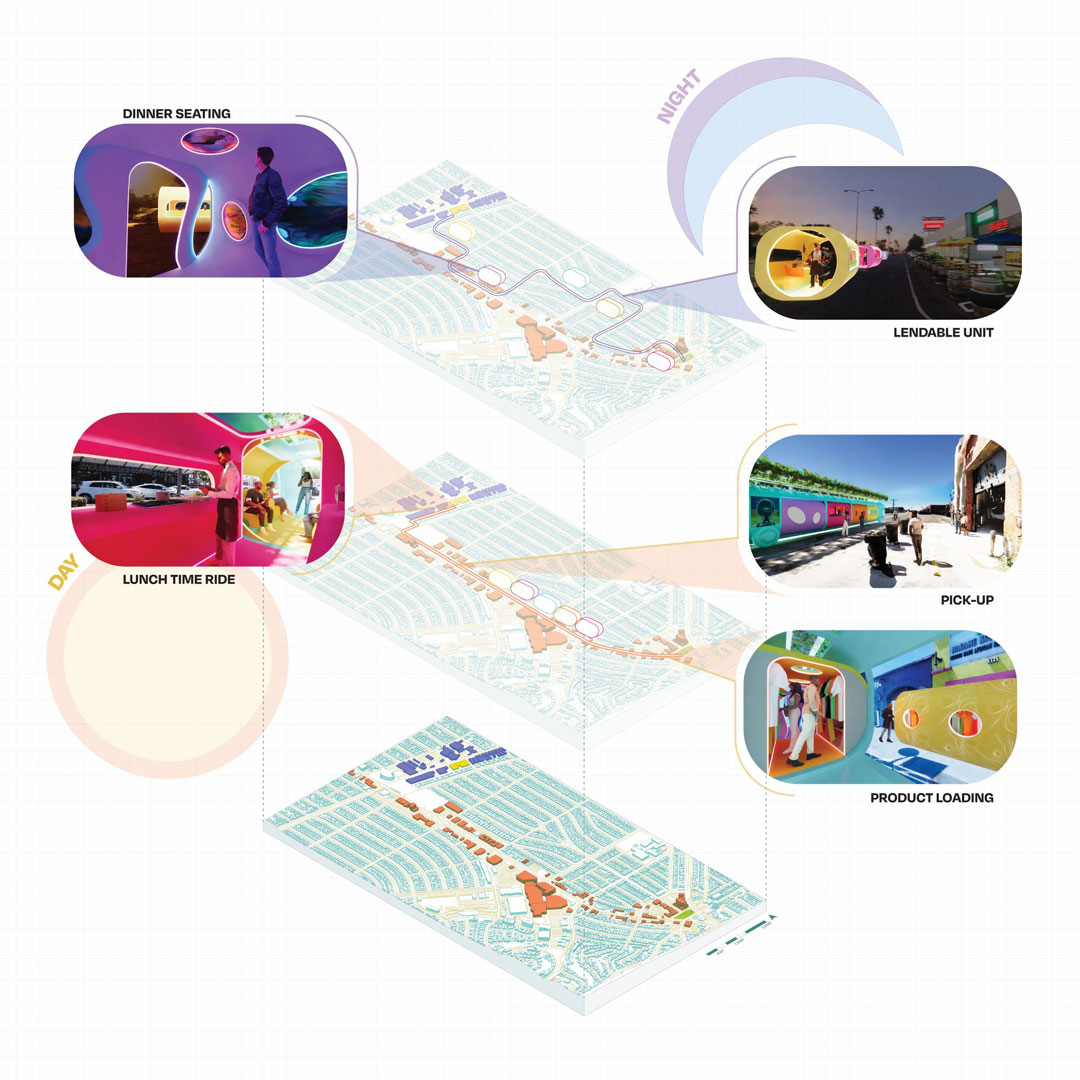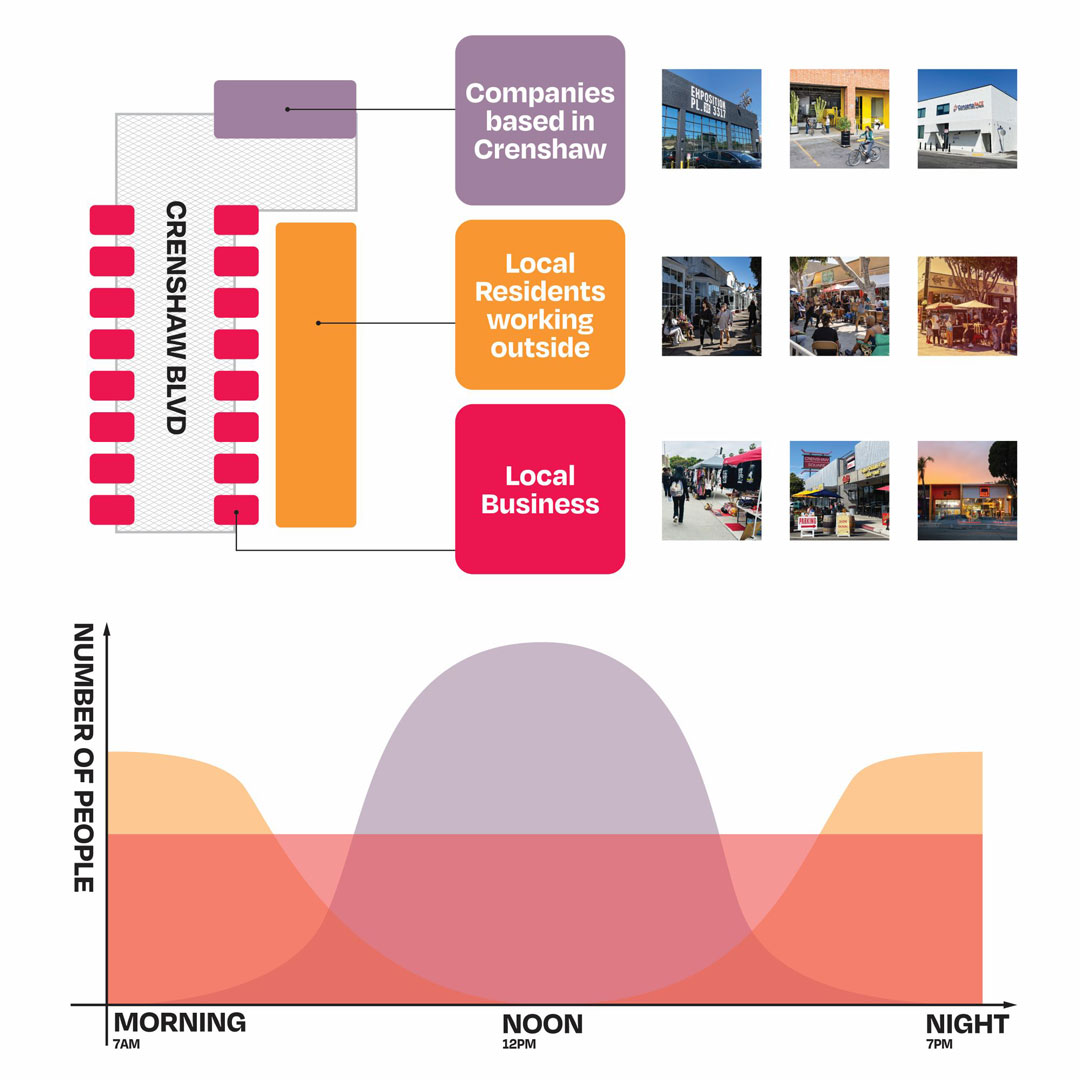 Group C – Slow Street System
RIOS Intern Group: Luis Flores, Jiayi Zhang, Juliet Chui, Qinyi Wu 
RIOS Team Leads: Preema Modi, Eric Foster, Christine Chang
The Slow Street System promotes community growth and business revitalization, using the existing roads in the Crenshaw area as a framework to host a range of new amenities. The design incorporates public art, dynamic lighting, new plantings, and movable furniture into the urban landscape, evoking an inviting atmosphere and connections to nature. Within this framework, new spaces for communal gatherings and activities weave a stronger sense of community into the urban fabric.
In addition to these physical components, the Slow Street System represents a shift in mindset that emphasizes the importance of creating a space where people can connect and thrive in their surroundings. Through dynamic, year-round programming, previously unused spaces such as side roads and alleys can be activated. The result is a safer, more walkable environment that encourages residents and visitors to engage with the community at a more relaxed pace, fostering a sense of belonging for everyone