Thank you for your email. I am not working the afternoon of Friday 5/29. I'm busy in my garden. I will respond to your message when I return on Monday. Thank you.
By Mark Rios & John Pearson
In the current pandemic, much is uncertain, and things may feel generally unsettled. We have an inherent desire to control our surroundings and gardens are an easy place to shape and connect with the earth. While we are minimizing our time in public and maximizing our time at home, we started thinking about the many health benefits of the home garden. The home garden can be an amazing asset to your wellbeing and you don't have to go any further than your backyard to reap the rewards. Studies in environmental psychology show that there is a tangible and measurable link between human access to the natural world and reductions in stress, anxiety, and depression. Scientists have found that exposure to nature increases wellness, productivity, and creativity.
People who spend time in the garden report stronger feelings of meaningfulness in their lives and are more likely to meet recommended physical activity guidelines. There is a long list of tasks when caring for a garden and they all come with a gratifying feeling of accomplishment when completed: digging, weeding, mulching, pruning, deadheading, harvesting, sharing.
Several people from our office have utilized this time to propagate vegetable gardens, echoing the great Victory Gardens grown during the food shortages that accompanied World War II. Growing crops at home reduces trips to the grocery store and can make us feel empowered. Consuming vegetables you grow yourself can improve your health by reducing your exposure to fertilizers and pesticides. Vegetables that ripen in the home garden have more nutrients than those bought at the supermarket, which are often picked early for shipping. Increasing your vegetable intake can also have long term health advantages that vitamins and supplements cannot provide.  
When you are looking to sow a productive garden of your own, the best advice is to start by finding the sunniest spot in your garden, ideally receiving six or more hours of direct sunlight a day. Please remember that your vegetable garden does not necessarily have to be in your backyard. We know some incredible homes that have converted their thirsty front lawns into beautiful and productive plots.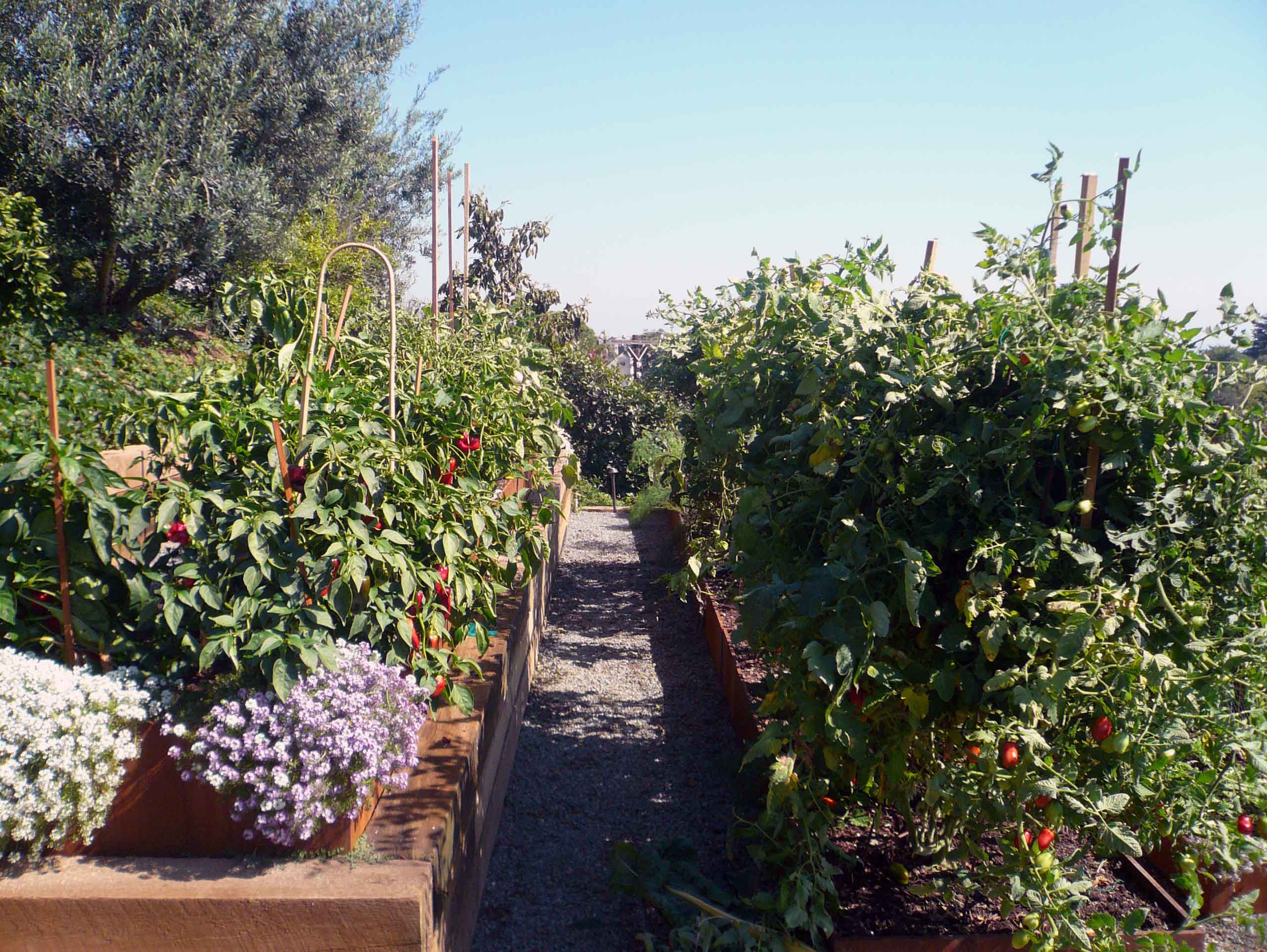 We are constantly reminded of Michael Pollan's mantra for healthy eating, "Eat food, not too much, mostly plants." If vegetables are your goal, a raised planter will produce the highest yield and the extra height will reduce any strain from having to bend fully to the ground. Make sure you use good soil and think about what you would like to grow in your garden. We asked our friend Natalie what she had planted in her garden this year and she reported back: Broccoli raab, flamboyant French breakfast radishes, Charentais melons, Thumbelina baby ball carrots, Iona petit peas, and Jade green bush beans, all grown from seed she ordered online. It's truly up to you, the world is your oyster mushroom.
Pests may be a problem, so chicken wire should be installed beneath the planter to prevent any unwanted vermin from entering below and mesh netting may be necessary over your plants if you find squirrels or birds are stripping your crops bare. Within a few months you will be able to enjoy the fruits (more likely vegetables) of your labor.
If your kids are tired of being indoors, invite them to help with the garden. Outdoor spaces are vital parts of childhood development. Here they can learn about experimentation, farming, environmental impact, and our connection to the land at an early age. Gardens are places to be adventurous, try new things, get messy, and make mistakes. Here we can teach children that things do not always have to be perfect. Certain plants will flourish and others will flounder, but we can always take delight in trying again next year. Promise us you will plant something you have never tasted before – gardens are an opportunity to explore the culinary delights the world has to offer through food you've grown in your own backyard.
Your garden can influence the lives of people outside of your family. It can become a medium for generosity if you choose. There is nothing more charming than presenting a friend with an armful of cut flowers, a pie made from fruit you picked, or a glass of freshly squeezed lemonade on a hot summer day. Your yard can also be a gift to your neighborhood. Your garden is your face to your community, your first impression that can impart something on others whether it happens to be beauty, novelty, or an emotional reaction. Whether you like it or not you are helping create a place and it certainly will be a benevolent and generous one.
Re: your last email. The garden is looking great. I should have a bunch of lemons and tomatoes to share when we can get back into the office. Will trade for carrots, spinach, or snow peas.