TUSTIN, CA – June 19, 2019 – RIOS, the multi-disciplinary award-winning global design firm, announced today along with owners and developers, Lincoln Property and Alcion Ventures, that phase one of FLIGHT at Tustin Legacy has been completed. The transformative project which broke ground in Summer 2017, exhibits an innovative approach to the traditional office park storyline. Featuring four four-story open plan office buildings sized between 90,000-145,000 sq. ft., in addition to four incubator-style office buildings, a 12,000 square-foot chef-focused food hall, indoor/outdoor meeting spaces, and a conference center, FLIGHT also features walking trails and native landscaping that link a new style of workplace to an abundance of outdoor spaces.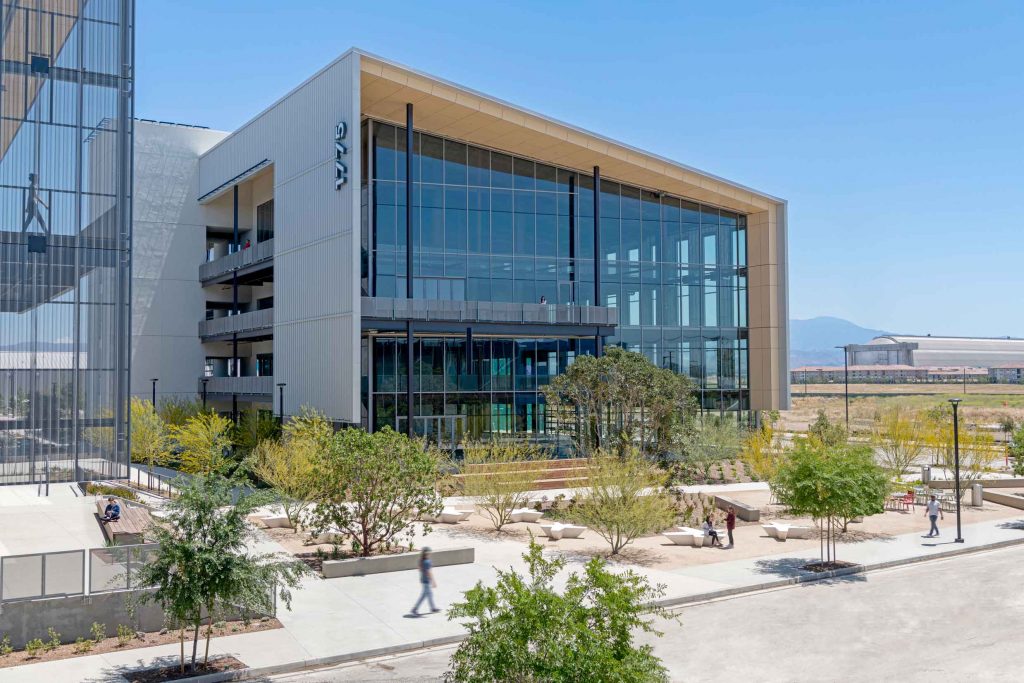 Inspired by the design of the historic hangars and military barracks of the former Marine Corps Air Station that once occupied the site of FLIGHT at Tustin, the redevelopment project strategically introduces the first purpose-built creative mixed-use space to Southern California's Orange County, offering a dynamic alternative to the traditional office campus environment. RIOS is responsible for the urban planning, architecture, interior public spaces, and landscape architecture for phase one of the project.​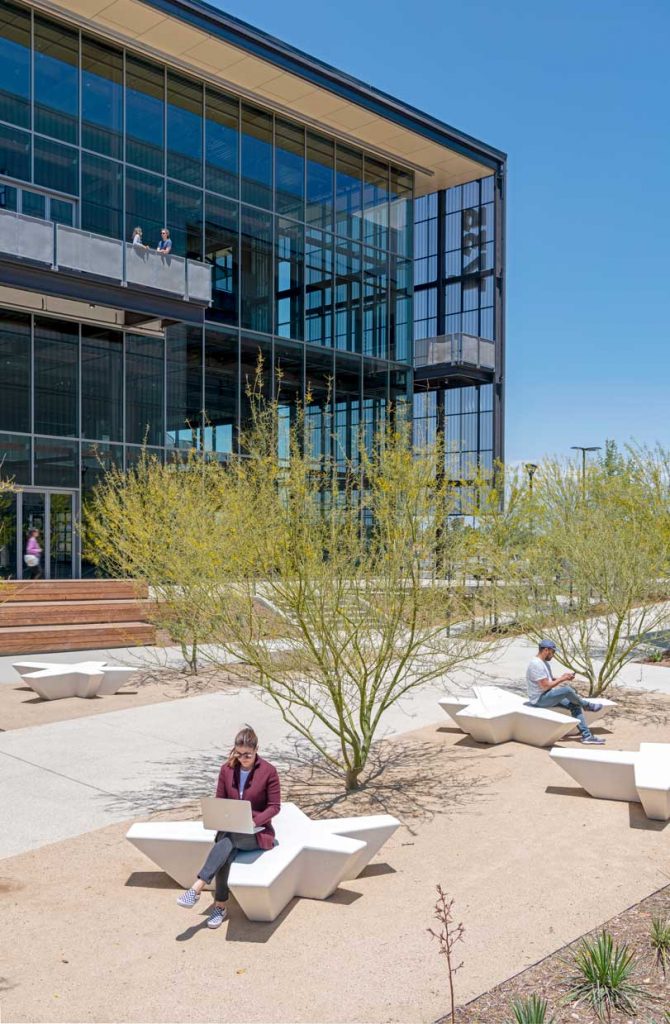 "FLIGHT is a prime example of how we can redefine work life and the traditional office campus layout through design that flexibly accommodates multiple types of tenants and connects them to the greatest amenity – the Southern California climate — while working within a familiar building type," says Mark Motonaga, Creative Director at RIOS. "We've introduced a collaborative environment for tenants that will allow them to connect to outdoor spaces, provide inspired indoor and outdoor office environments that encourage curiosity and creativity, while exploring the boundaries of efficiency and productivity. We're thrilled to introduce this type of environment to Orange County for the first time." 
Each building at FLIGHT sits within a landscape that transforms Orange County's traditional picturesque and auto-centered open space into active pedestrian landscapes that promote social interaction and alternative spaces for work and collaboration. The design uses active landscape strategies including exterior amenities to diversify the outdoor workplace experience.
Each building is designed with adaptable, tall, uninterrupted and light-filled spaces that will offer tenants the ability to customize the building interiors according to their business needs. The larger hangar-like structures feature a unique design parti. Rather than concentrating the lobbies, elevators, stairs and services at the center of the building as most commonly seen in traditional office parks, RIOS has positioned them at the perimeter of the spaces to produce more usable interior space while maximizing the indoor/outdoor lifestyle. Sliding and roll-up doors open to balconies and terraces that overlook a vast array of outdoor rooms, parks, and amenities with exterior stairs that provide direct access to plazas which act as outdoor lobbies and extensions of the workplace. The layout cements the design firm's approach to creating pedestrian-friendly access throughout the project.
Additionally, the opening of phase one marks the debut of the 12,000-square-foot Mess Hall Market, a chef-driven food hall that once again reconfigures the traditional approach to office campus design. The market offers world-class dining experiences from morning-to-night featuring a mix of local favorites and newcomers to the Orange County-area. With 10 tenants, including a full bar and coffee shop, the food hall features various cuisines including, Saigon Kitchen, a Vietnamese restaurant; Vaka Burger, an L.A. haunt that once operated out of a liquor store; the Sandwich Society, a soup, salad and sandwich establishment; Big Parm, an award-winning food truck turned international brick and mortar; Fonda Moderna, a Mexican restaurant that offers homemade food with a modern take; Slapfish, a fresh seafood chain; The Little Greek, a classic Greek restaurant with a twist; The Drink Bar, a Southern California-style bar; and the Lost Bean coffee shop.
Additional tenants include collaborative coworking space, Work Well Win and e-commerce provider, Branded Online.
###