Steelcase: Design a Custom Bassline Table
By Nicole Robinson
RIOS recently participated in a coffee table design competition hosted by Steelcase, where ten Los Angeles firms developed and fabricated a custom Turnstone Bassline table top, a standard product offered by Steelcase, to be auctioned during a fundraising event on March 27, 2019. All funds were donated to the Pablove Foundation, an organization that invests in pediatric cancer research and improves the lives of children living with cancer through the arts.
In response to the Bassline brief, we were interested in exploring and reacting to the traditional flatness of a table and were looking to challenge this by introducing visual depth. As part of the 2019 RIOS reseaRCH Initiative, "RE," we explored materials that were either recycled or could be reused in the future.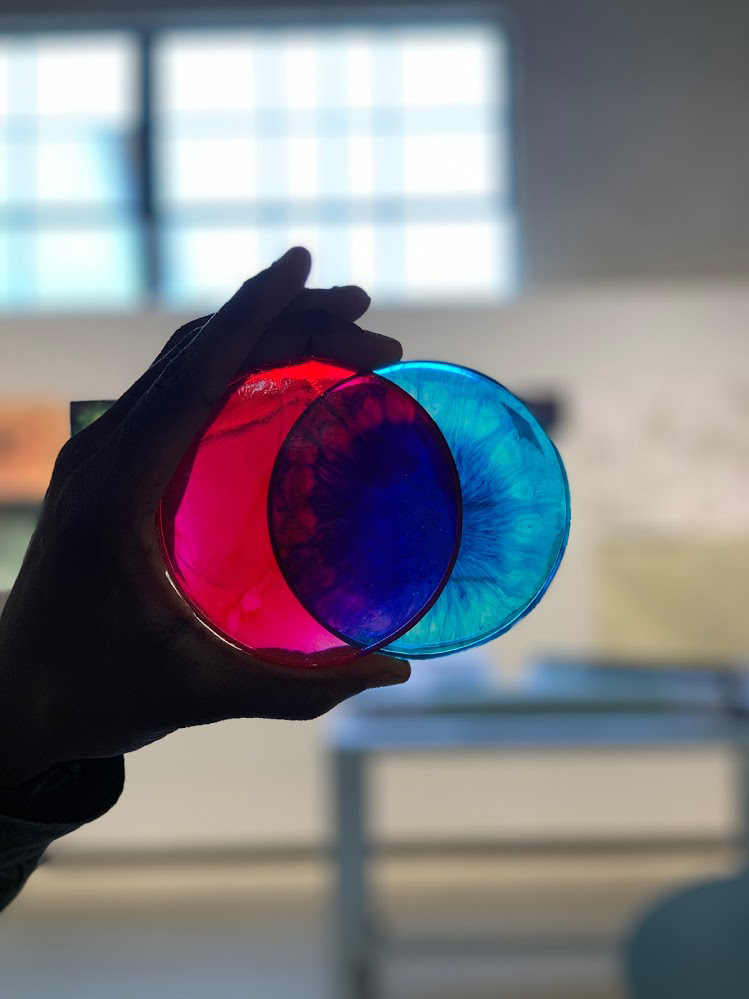 Using renewable, bio-based resin from Entropy Resin provided us with a method to archive recycled materials from our profession in suspended animation. We specifically used Entropy Resin because they are the leaders in the industry when it comes to lowering their impact on the environment. The raw materials that are sourced for use in the epoxy resins they produce are byproducts and waste from other industrial processes. This was a great way for us to directly incorporate re-purposed waste into our final design.
In our initial table studies, we explored ways of generating a sense of depth to challenge the 2D surface of the table. We experimented with various materials, forms, part aggregations, opacity, and translucency in a range of colors using resources from our materials library.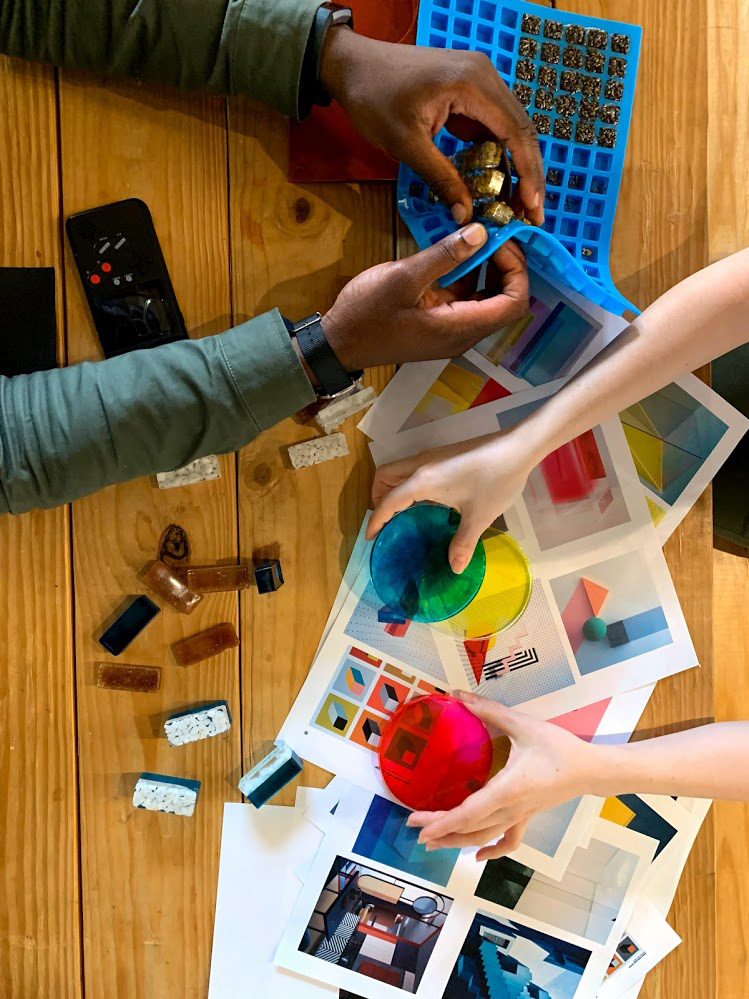 Our final design incorporated color to further distinguish the two opposing patterns and exaggerate the moire effect. The patterns were made from acrylic sheets that were laser cut to produce the final design pattern. We then glued the acrylic pieces together to create one large circular grid.
There were many lessons learned about the challenges of the resin and acrylic materials we chose, but we successfully navigated many of these challenges in the final table. Once the top is moved in either direction, the interaction of the two patterns is revealed. The stacked layering and the effect of the moire is evidence of the space and depth captured in the table top. Moreover, the substrate pattern can be interchanged creating endless possibilities of pattern combinations. The table itself can continue to evolve and transform over time.
Table Design Team Members: Nicole Robinson, Evelyn Tring, Dami Olufowoshe, Michael Gregg, Anna Nuutinen
Shop Assistance: Asami Morita, Ryan Vasquez
Senior Design Review: Melanie Freeland, Sebastian Salvado, Huay Wee